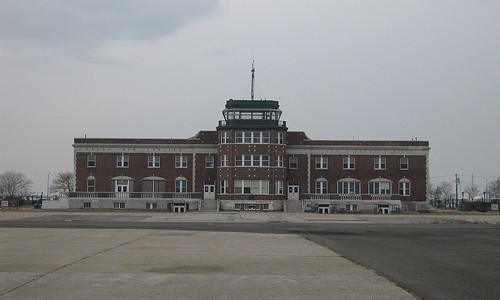 Are you looking for accommodation for your next shopping trip to the Big Apple? Look no more! It might not be a 5 star ultra hip hotel designed by Phillippe Starck or owned by Ian Schrager, but if you're looking for something different, then read on. According to US Home Land secretary Mr Salazar, former city airport Floyd Bennett Field in Brooklyn, NY will be turned into the largest urban campsite in the US by the National Park Service which has looked after it since 1972. Mr Salazar said: 'We want to make New York the leading example of what we can do around the country with urban parks'.
Camping here is like getting a two for one deal. This National Park doesn't only offer an outdoor experience, it's also drenched in History. Some of the great names in aviation history touched down and took off from Floyd Bennett. There is Floyd Bennett himself of course, but also Howard Hughes (remember the movie The Aviator?) (With Leonardo di Caprio) and Wiley Post used it to break some world records. The famous Amelia Earhart, Jackie Cochran and Laura Ingalls also used this airport back in the day.
The thought of urban camping might be off putting if you're more a Grizzly Adams than a Carrie Bradshaw(although the latter might feel just as out of place here). However don't think that you'll be lying awake counting sirens instead of sheep or pitching your tent under sky scrapers and not trees. This place which will boast up to 600 camping spots is going to be planted with lots of trees, grass and shrubs that it actually won't feel as if you're in a city at all. It's really just like rural camping minus the scary animals.
Okay, I admit glamorous it ain't, but think of it this way: Camping at Floyd Bennett Air Field will at least save you a couple of bucks on accommodation to buy that pair of Manolo Blahniks!
To find awesome flights to New York go here.