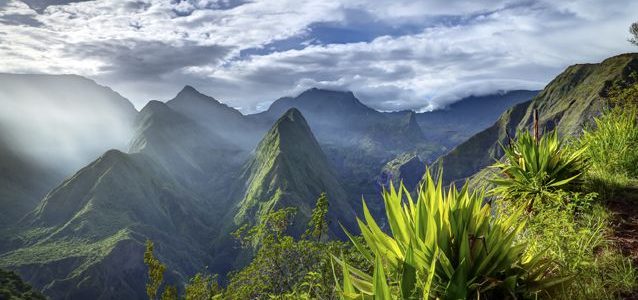 With its tropical beaches lapped by the Indian Ocean and rugged hinterland of forest-cloaked mountains, the island of Réunion is nicknamed 'the Hawaii of the southern hemisphere'.
The topography of this perfectly formed holiday getaway is extraordinary, including a still-active volcano, Piton de la Fournaise, with wrinkly lava fields reaching the sea and three inhabited volcanic craters or cirques, their steep rock walls riddled with gullies and gnarly peaks.
Adding some adventure to lazy hours of lounging on the white- and black-sand beaches, you can hike to the rim of le volcan (the volcano) or drive the twisting pass up the amphitheatre of Cirque de Cilaos. Thanks to this dramatic scenery, 40% of the 2500-sq-km island is a UNESCO World Heritage Site.
Easy Access
For South Africans attracted by the Réunionaise cocktail of activities, sunbathing and culture, Air Austral now flies direct from Johannesburg every Wednesday, Friday and Sunday. The flight takes just four hours, and tickets including connecting flights from several South African cities are available.
What's more, South Africans don't need a visa to visit this multicultural island, where Creole, African, Indian, Chinese and French influences mingle like shoppers at the colourful markets.
In the capital Saint-Denis, the diverse architecture left by centuries of immigrants includes religious buildings from a Catholic cathedral to a Buddhist pagoda; Creole mansions with trademark filigree-adorned verandas; and the grand Préfecture, formerly a coffee warehouse and the French East India Company headquarters.
The many museums cover subjects from traditional Indian Ocean musical instruments to the 19th-century sugar and coffee plantations, offering insights into an island colonised by France in the 1600s and occupied by Britain during the Napoleonic Wars.
Culinary Isle
In such a sensory place, where pineapples and mangoes fill the markets and ice cubes clink beneath the palms, eating is a pleasurable route to the heart of Réunionaise culture. Feast on fresh marlin, swordfish, tuna and sushi in beachfront restaurants; try home-cooked, rainbow-coloured Creole dishes such as cari curries in cosy guesthouse restaurants; fill that gap with croissants and cakes from the bakeries; and dine in style on contemporary interpretations of traditional dishes, from trout flambé to lobster ravioli. The island's story is told by the mix of spices from Madagascar, India, China and beyond, the French culinary sophistication and the exotic ingredients.
Plus there's more – combine Réunion with Mauritius
Seamless Air Austral connections from Réunion to nearby Mauritius – another visa-free destination for South Africans – give sun seekers a holiday double bill. Mauritius is justly famous for its dazzling sapphire waters and luxurious beach resorts, where you can dive to the coral reef, kitesurf, sea kayak, and glide across the lagoon by boat.
On dry land, sample Creole cuisine and seafood such as the popular octopus salad, wander the tropical orchards of Château de Labourdonnais, and hike old-growth forests in the Black River Gorges National Park – home to the endemic Mauritian kestrel and pink parrot. Adding to sights like Triolet's 19th-century Hindu temple and Grand Bay's shopping and party credentials, Mauritius is building a reputation for adventure activities including zip-lining, sea-karting and electric mountain biking.