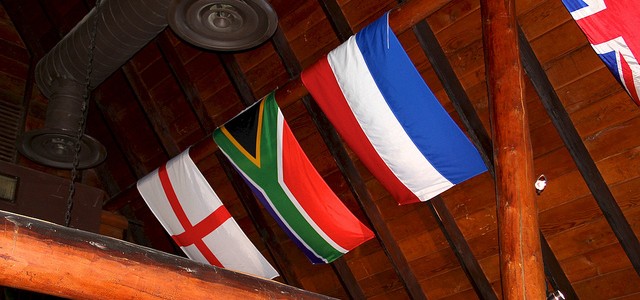 We speak 'wiff' a strange accent but we're not Australian. We like our soccer (not football), rugby and 'pap en wors'; we also have a strong presence in the United Kingdom and London.
South Africans have long been making the pilgrimage to the UK. Be it for leisure, business, temporarily or permanently the chance of bumping into a South African on the tube or in a Wimbledon pub is very likely.
While stricter UK Visa laws have made it increasingly difficult and less affordable to just pop over to jolly old England, London still attracts South Africans in their droves. As a result, 'South Africanisms' have started popping up all over the UK bringing joy to expats and locals alike. After a bit of hardcore research (mainly some Skype chats and a few group emails to friends in the UK), I've found some South African shops and restaurants that will come to your rescue when homesickness strikes. If you're in London and find yourself craving some tastes from home then read on.
South African Shops in London
It's a well-known fact that you don't have to stray too far from the nest to find South African 'delicacies' like biltong, Aquafresh and Ouma Rusks in London. That's right – we're setting up shop in London and we're doing pretty well!
Many SA shops are located in South West London as there is a high concentration of Saffas living in this area. You'll find plenty of unique, South African stores in areas like Fulham, Putney, Wimbledon and Southfields. Some of the most popular South African shops in London include Savanna and Snoggys.
Other stores like Tesco's in the Wimbledon Centre Court Shopping have caught on to the South African 'Local is Lekker' idea and stock a limited range of South African products. While prices are slightly more expensive, what Saffa is going to pass up his/her chance to enjoy a steaming cup of rooibos tea during a chilly London winter?
Most bars in SW London have started stocking Saffa beers, spirits and ciders too.
Explore more South Africanisms in London by visiting the Rainbow Nation website.
South African Restaurants in London
Spur, Nando's and more recently our renowned Vida E Caffé have joined the London rat race bringing a nice South African flavour to areas like Earlsfield and Oxford Street.
Spur in London
Spur has always been a popular choice at home and it's no different in London. Follow the link to visit the Spur UK website and find a restaurant that's close to you. I have it on good authority from a friend that the London Spur doesn't sing on your birthday… though I could be wrong.
Nando's
Nando's is well-known and loved but everyone, not just Saffas.
Cape Town Fish Market
The fresh fish restaurant chain from Cape Town can now be found in London. CTFM is located in central London and brings a fresh taste of South Africa to its customers with its chic yet informal surroundings. Find out more at their official website.
Chakalaka Restaurant
Chakalaka is a South African restaurant in London stocking brilliant local cuisine and drinks. It's named after the well-known spicy vegetable relish and can be found in Wimbledon, London at 143 – 145 Haydons Road, SW19 1AN.
If you're a South African wanting to go to London then I know you're going to be after a cheap deal to get you there. Go straight to Travelstart to find the cheap flights direct to London Heathrow from South Africa. Make sure you get your UK Visa before you go but remember to book your tickets before you go for your Visa.
Image: Paulo Fierro on Flickr