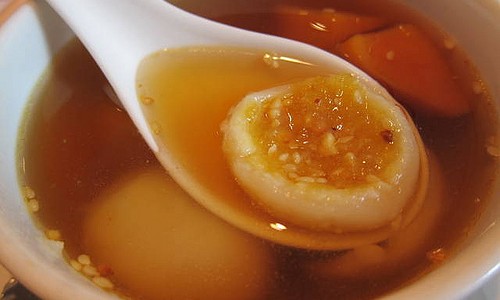 Hong Kong is an incredible melting pot of flavours. The city is as beautiful as any other and offers so much in terms of culture, history and especially food. Once there you simply must try all or some of these out of this world dishes:
Black Sesame Tong Yuen
This dish is rather fantastic for breakfast or dessert. This is glutinous rice balls filled with sweet black sesame or sometimes even red bean paste, then finished with chopped nuts. It might not look jaw-dropping, but it is really delicious!
Macaroni in Tomato Soup
In the mood for Hong Kong's best comfort food? This yummy hot breakfast consists of exactly what it says, macaroni and tomato soup. Sometimes ham, carrots or peas are added. Have it hot and steaming!
Coconut Juice Smoothies
This is a blend of fresh coconut juice, fresh fruit, taro and rice balls. The glutinous balls in the bottom of the glass is rather tasty.
Milk Tea 
This is a traditional cold black tea with added evaporated or condensed milk. Well worth a try, especially for those with a sweet tooth.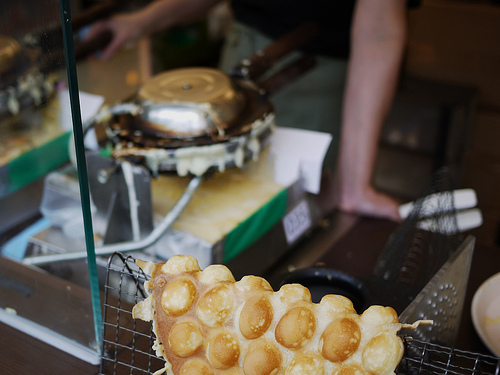 Eggette
Called a gai daan jai in Cantonese, this egg custard waffle is to die for. Made in a waffle-like pan over a hot flame it makes for amazing street food. Eat this while strolling the streets of vibrant Hong Kong. You will love it!
Sweet Rolls
Another marvellous eat-on-the-street cuisine. They are very cheap and serve well as a quick snack. They are also very inexpensive. It is basically made from a sliced bread roll, which is toasted, buttered and finally drizzled with sweetened condensed milk. Make sure you get it hot!
All images via Flickr