Update: There are no remaining departures for G Adventures' West Africa Cruise from Cape Town to Marrakesh. Get updates on this trip.
Usually when we set out to review a holiday, hotel or airline we have something to benchmark it against. This was not the case on Sunday, 6 April when we were invited to view G Adventures' MS Expedition while it was docked in Cape Town harbour on a balmy autumn day. And while we weren't lucky enough to be leaving port on this occasion, we were fortunate to be given a bow to stern tour by its accommodating and personable crew who were only too happy to show us their pride and joy. In what can only be described as an alternative travel style supreme, the M/S Expedition must surely cap the crop of these types of unique and exploratory adventure holidays.
Watch our video of the Expedition in Cape Town!
The 2014 cruise marks the second year this unique voyage takes place. It's a 32 day trip from Cape Town to Agadir, Morocco passing 18 countries along the way. On its latest voyage, the ship sets sail from Cape Town on 7 April, making its way up the west coast of Africa. You can track their progress here.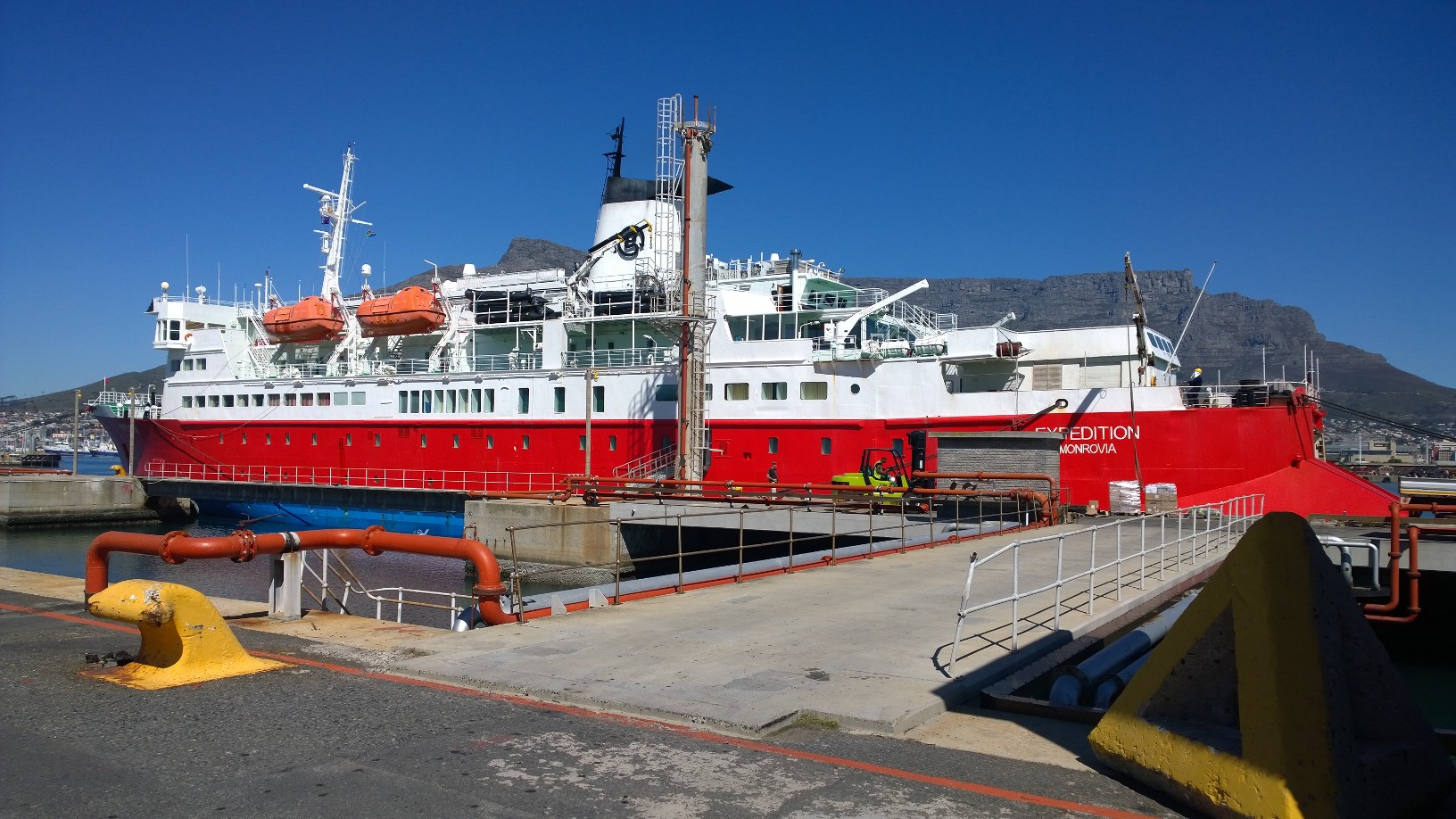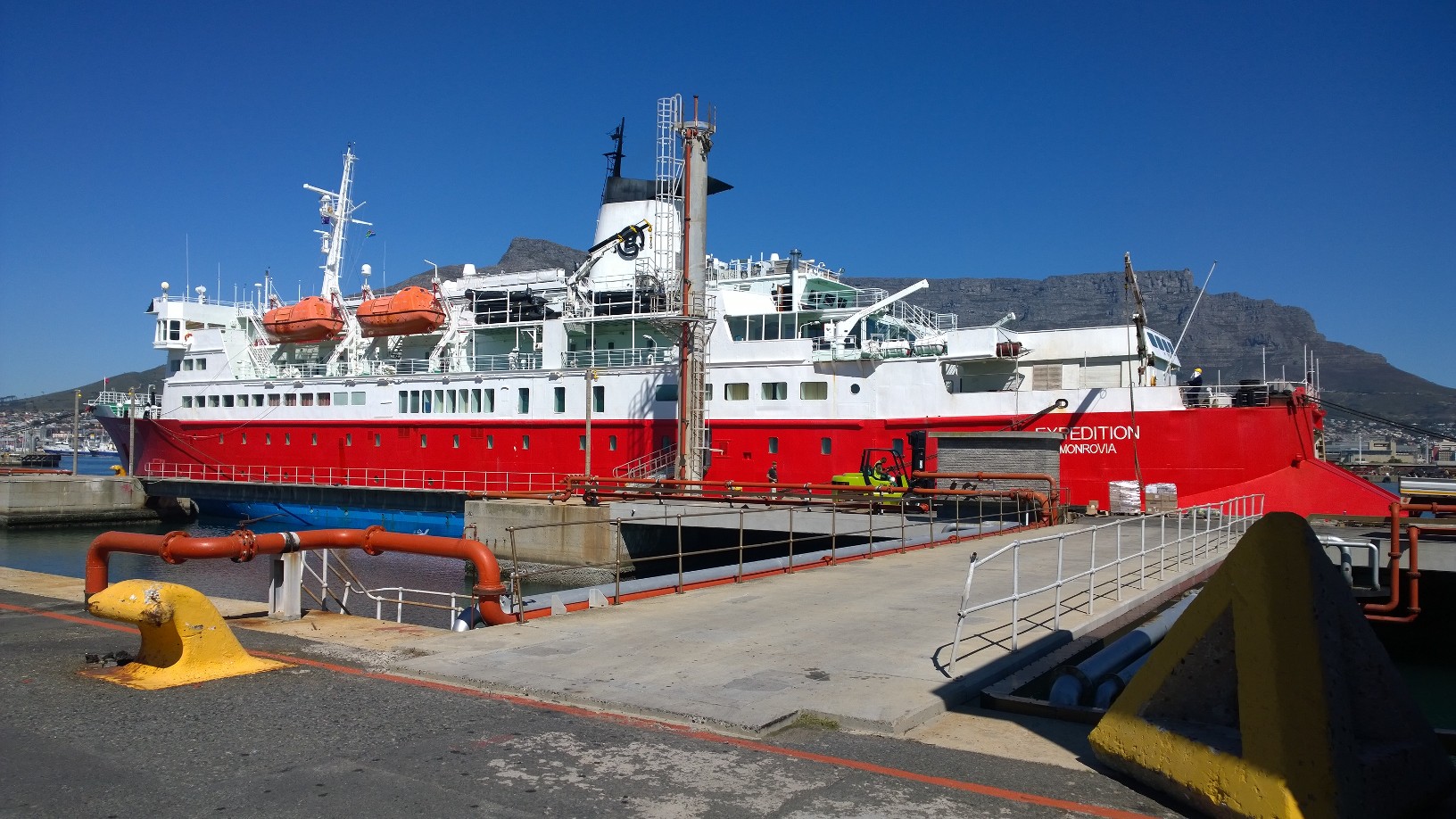 On boarding the vessel we were met by Conrad Hennig – the Expedition's resident marine biologist. Conrad is a passionate South African who joins a multinational crew of experts from various fields of study who accompany guests on the cruise, offering rare insights and a wealth of knowledge all the way.
After meeting Conrad and listening to him fervently impart info about the West Africa voyage and life onboard the Expedition, it became apparent that the true value of a trip of this nature is in the diverse range of people you meet on board. For example, the world's foremost authority on African masks is on board the latest adventure; as is Gary Arndt of Everything Everywhere (follow the Expedition on his blog). He was recently named Travel Photographer of the year by the Society of American Travel Writers.
I thought Dawn Jorgensen of The Incidental Tourist was pretty accurate when she said of G Adventures' West Africa trip, "You have no idea you really really really need something, until you see it."
If you are interested, G Adventures trips are bookable through Travelstart.co.za. Call us now on 0861 878 278 or send us an email travelbar@travelstart.com to make enquiries.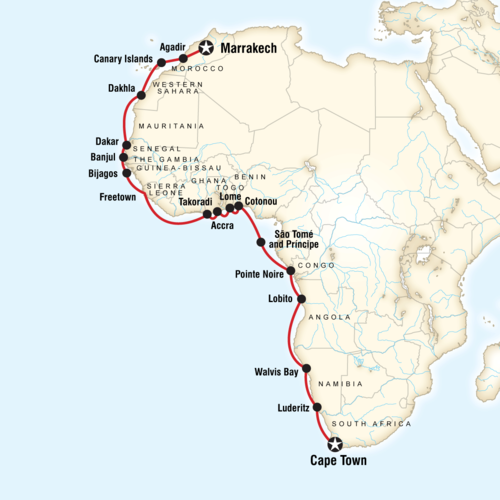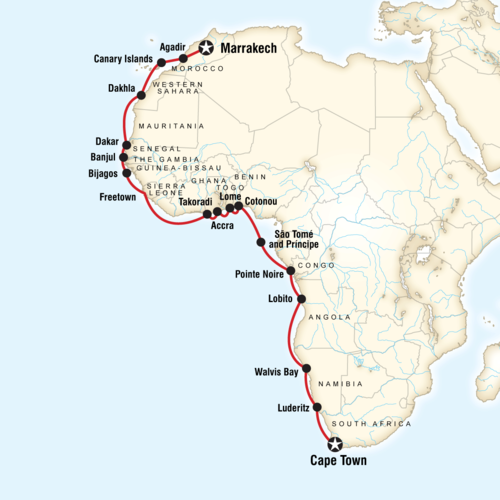 About the M/S Expedition
The first thing you need to understand about G Adventures' Expedition is that it does not offer the plush interior of your typical commercial cruise liners such as those operated by MSC, Princess and the likes. It offers a cruise experience of a different sort – one where you'll be treated to daily lectures on sea days and have the chance to rub shoulders with naturalists, historians, anthropologists, and ornithologists; and before you think I'm being a bit too ominous, let me just say the vessel is very comfortable with space for 130 people (there are 90 passengers on its current voyage), a gym, a Lonely Planet sponsored library, a large lounge and bar area, a dining area, and the Polar Bear Bar where passengers and crew come together to rock the boat in a bit of after dark seafaring merriment. Heck there's even wine tastings, hosted by one of the Cape's foremost sommeliers, on its latest mission. In addition to these homely creature comforts, the vessel comes equipped with some pretty awesome toys such as 12 Zodiac dinghies for close-to-shore explorations, as well as some state-of-the-art sea kayaks.
Two of the most unique things about the Expedition is that it is owned by G Adventures (as opposed to being leased which is usually the case) giving them more control over the vessel and ultimately making a better experience for their guests.
Secondly, the ship operates on an 'open bridge policy' meaning passengers are invited to come up to the bridge – the focal point of the vessels day-to-day operations – to get more acquainted with the professionals who steer the ship.
Overall, M/S Expedition and her crew are fully equipped to meet the demands of cruising in some of the most far-flung regions on the planet. The vessel is fitted with the most advanced stabilizers and bow-thruster, designed to handle rough conditions with optimum comfort. And with a top speed of 15 knots, few ships can move through the water as quickly.
The price
The 32-day trip from Cape Town to Morocco is priced from £10, 699 per person sharing (or R186 500 – April 2014 conversion).
Before you gasp and fall overboard at the price, have another glance at the map above – that's 16 ports in 14 different countries – the majority of them largely unexplored by Westerners. In addition to its attractive itinerary, have you considered the nightmare of trying to get visas for all these countries? A logistical nightmare which G Adventures takes on, on your behalf.
The only amenities not included in the price of the West Africa trip are beverages and Internet. And unless you're willing to pay US$20 for 10MB, then you'll probably be inclined to forego the luxury of connectivity for the cultural enrichment and bucket list destroying sights offered by the vessel and its crew.
Although this is only the second year the West Africa trip has been run, it has quickly developed a reputation as one of the most desired tours in G Adventures' already impressive portfolio. This particular journey is also only doable once a year. MS Expedition is known more for its explorations of the polar regions, and the West Africa expedition came about as a result of the vessel having to reposition itself twice a year – during the months of October through March it is in the southern hemisphere exploring the Antarctic out of Montevideo and Ushuaia, and during May through September it is in the northern hemisphere discovering the Arctic region.
Lifetime memories and the most unique experiences are found in the cultural enrichment afforded to one by taking a trip of this sort. Places where most globetrotters avoid and most tour companies don't even think of visiting make up the gamut of stops on this one-of-a-kind expedition.
---
On behalf of Travelstart I would like to thank Helen and Dawn of Development Promotions for getting us onboard the ship, to Jo of G Adventures for facilitating the tour, and Conrad Hennig and Josi Silva (Hotel Manager) of the MS Expedition for the fascinating tour of their best in class vessel and friendly hospitality.