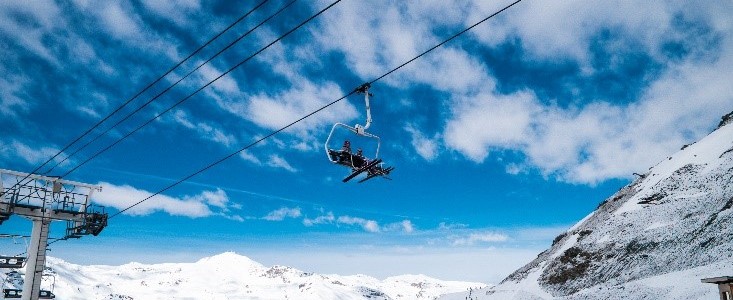 Nestled between snow-filled mountains in the heart of the French Alps, Val Thorens – the highest ski resort in Europe – is a place that needs to be experienced by all wanderlustful-Instagram travellers. Whether you're searching for adventure, or looking for a time-out, Val Thorens provides something special to all who visit. A direct flight to Paris from Johannesburg, followed by a one-hour connecting flight into Geneva, ending with a luxury coach ride will get you to the heart of this breath taking ski village with the French Alps on your doorstep.
I recently visited Val Thorens as part of #SnowClub15, which would be my first time in the French Alps, and my first time snowboarding. Besides being a great destination for snowboarding and skiing, Val Thorens' picturesque mountains and scenery make it the perfect place to snap some awesome Instagram pictures.
Instagram is my foremost travel companion. It provides an opportunity for travellers of all ages to document their travels through photos, where they can share them online. It includes your family, friends and followers on your adventure, no matter where they are in the world. Photographs, whether taken with a camera or smart phone, during travels, mean that memories live on in a traveller's mind long after they've touched down back at home and laid their head on their familiar pillow. Being my first time to the Alps, and a noob on a snowboard, I thought I'd share some of my experience through pictures, that'll hopefully help other beginner boarders out there and those Instagrammers heading out to the Alps (or any snow holiday, for that matter) for the first time.
Top 6 hidden gems and things to do in and around Val Thorens
Mission around the village, explore the backroads, and get a bit lost in between all of the hotels – you get the best photos here.
Strap on your snowboard or skis, head up the mountain and go down a slope by yourself at least once. Be brave and have a few YOLO moments!
On the way down any slope, savour the moment and take in the silence. There's something awe-inspiring about being surrounded by snow-filled mountaintops and taking in that view. With the fast-paced life and buzz of the urban jungle, this (silence) isn't something we get to experience often. Savour it.
While a white-out means you won't be able to head out and snowboard or ski confidently (especially if you're a noob like me) it IS a great opportunity to head out and snap up some awesome photos. A white-out blurs most of what's in front of you, but it also gives you the best light.
Visit the local shops and try on gear. You'll probably end up spending a lot of money, but its well worth it!
The Club Med Val Thorens Sensations Resort, which is where we stayed, makes for an incredible base for a snowboarding trip in the Val Thorens region, and has many of its own hidden gems scattered throughout the resort. With direct access to the slopes (it's ski-in ski-out) and its location high atop the slopes, it's ideal for avid snowboarders and skiers. There's Wi-Fi throughout the resort (which is a big win for Instagrammers and those who need to stay connected) and the atmosphere is the perfect balance if you're there for business or leisure. The 10 metre rock climbing wall in their lobby is also a big win, and there are so many hidden spots throughout the hotel that make for ideal Instagram shots.
Gareth Pon's top 4 Instagram photos snapped in Val Thorens …
In Val Thorens, part of the adventure is finding the hidden pathways
Because no snowboarding adventure is complete without a "Mask Selfie"
When you're not on the ground floating on the snow, you're up in the air flying over the mountains
Kit for the week; arranging it neatly so you know where everything is
Top 3 tips for snowboarding "noobs" who are also avid Instagrammers/photographers
Carry your phone/camera with you ALL the time. But take a mobile one; your big fat DSLR will probably break. This is a village for adventure sports, after all.

When you're learning to snowboard, don't be scared of falling. The sooner you get over your fear, the faster you'll learn to board.

Leave your inner off one of your hands, or don't use gloves at all. You might miss a moment/shot because you were too busy trying to get your glove off to take the photo.
Gareth's top 3 moments from his trip to Val Thorens
1. Taking the chair lift for the first time. It's a bit of a scary experience because you really have nothing holding you on that chair besides the bar in front of you. Once you've gotten over that fear (which happens fairly quickly if you hop on enough chair lifts), you come to appreciate what's around you.
2. Lying in the snow for the first time was amazing. Since I had never been in snow before my experience was made up of two "first's": learning to snowboard and being in the snow.
3. Stopping to rest in between the boarding is amazing. It may sound crazy, but when you've been snowboarding for, say, four hours nonstop, your legs are dead. Stopping to rest a bit gives you a moment to take in the beauty around you and appreciate the moment.