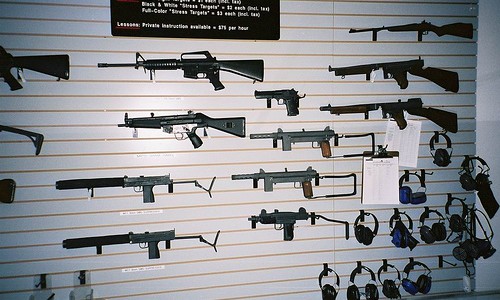 Jaded travellers who think they've seen it all, might want to check out a new attraction in Las Vegas. The city of sins is now the proud new home of Machine Gun Vegas, the fire arms experience. This brand new spanking 'gun lounge' offers trigger happy visitors the chance to play with a wide range of different fire arms. And you ain't shooting with no blanks at this place either.
Guests can choose from different packages. Go wild with the World @ War package which includes a semi-automatic handgun and the MP 40. Or how about the Seal Team VI package that lets you go nuts with the famous Navy Seals' most favourite toys? If that's still too tame for you, then the Compound package is undoubtebly the package for you. It includes the use of no less than 16 different firearms which can be fired on two private firing lanes and comes with much needed, complimentary refreshments. All these and the other packages at Gun Lounge Vegas come with a complimentary T-shirt.
And ladies, if you thought that Machine Gun Vegas is  just for macho men, then you're wrong. Ditch the purse and pick up an UZI with the Femme Fatale package. You get to fire 25 UZI rounds and 20 rounds with a hand gun of your choice.
If you want to turn the Machine Gun Vegas experience into a fun family day out, not to worry. Kids are never too young to learn how to tote guns and at Machine Gun Vegas they can have fun with the Kids package. This comes with a couple of rounds for laser guns and rifles. Who needs Disney when you've got guns?
Prices start from $699 per person. For more information and to reserve your favourite package, surf to http://machinegunsvegas.com/ or call 1-800-75-shoot.
And then they wonder why there is so much gun related crime in the USA… All I can say about this is: Only in America!!