Linda Markovina is working as a freelance Photojournalist, Travel and Fiction Writer. She considers herself to be the better looking half of Moving Sushi and the only one who is ever online. She blogs on behalf of Moving Sushi for Getaway Magazine, The Africa Report, Kiss from the World and writes travel guides for Buggl.com. Her main loves are writing about travel, the natural world around us and how we as people interact with it, as long as it's not anything to do with snakes. Snakes give her the willies. Catch up with her on Twitter @moving_sushi.
---
Part 1: Gorilla Trek
Every time she looks at me I trip over some godforsaken jungle vine. I am amicably bashing my way through thigh deep jungle growth with the dexterity of a baby rhino, but the minute my poor guide Mary turns around to see how I am doing-there I go, arse -about -face.  Clutching my walking stick Mary holds onto my hand and guides me down a vertical embankment of slippery forest growth.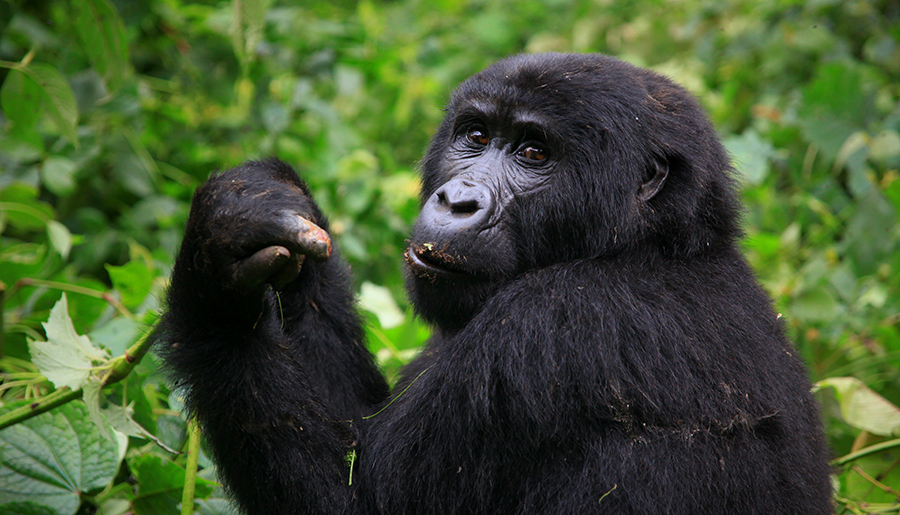 Back-sweat that is progressively joining up to your butt-sweat, neither of which you have any control over because you are climbing hand over jungle log in the outdoor version of a sauna. High humidity, high altitude and jungle overgrowth with little to no wind is not for the faint of heart.  Especially considering the reason we are here is moving in a home range of 10-30km, and the home range we have been tasked to find is on a vertical mountainside. Slow persistence is the key and the reward is an hour-long Gorilla encounter that will make every awkward step feel so worth it.
I constantly tell Mary that she probably thinks I am ridiculous. She reassures me she doesn't as I trip over another hidden log and land up in her arms mid downward spiral.  Mary is one of only three female guides in the 350km2 Bwindi Impenetrable Forest, home to the family of Highland Gorillas called Bitukura, one of three families, which we were tracking. Habituated in 2009, 300 of a worldwide count of only 700 Gorillas make up the Ugandan population.  Surrounded by nearly 200-400 rural people per km2 living through subsistence and illegal farming these Gorillas natural habitat is slowly being whittled away.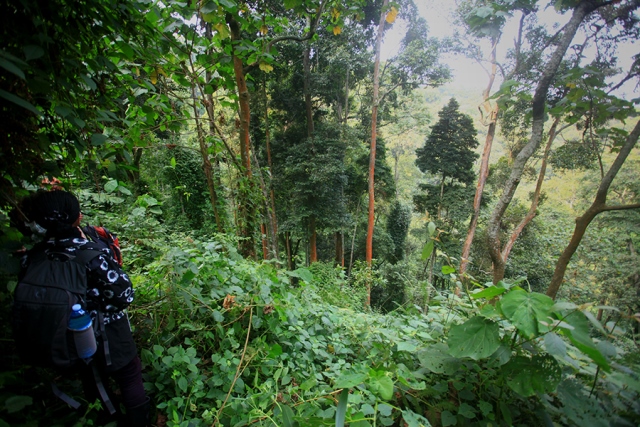 After moving along like an ant army through the jungle brush we get our first sighting. Well, not really a sighting. A more accurate description would be a pelting and some serious verbal gorilla warnings that we are getting close.  A gorilla is an incredibly powerful creature when you come face to face with it in tightly packed spaces.  Languidly munching away with her new born baby in her lap, a young female paid us no attention as our group of 12 buried into trying to get a limited view. One thing you don't realize is that to an untrained eye you would only really spot these primates when they were pretty much within breathing distance of you without even realizing it such is the heavy density of the Highlands forest.  Never really moving more than 1km from their nightly resting beds as one Gorilla began to rustle and emerge, so another would until we finally got an incredible sighting of the majestic silverback. The male, weighting in at a whopping 250kg stared us down with indignant nonchalance, before easily moving within touching distance up the hill side directly next to us.  As per park rules you are only allotted one hour per day to spend with the Gorillas and that hour fly's by before you can swap your camera lens.  They do this, because even though some of the groups are habituated they still need to be left alone to go about their daily business with minimal interference from a marauding tourist herd- although these kinds of hour tours do seem to occur throughout the year, so one wonders how much impact we actually have on them? Especially considering that gorillas are incredibly closely related to us and we run the risk of transmitting human diseases.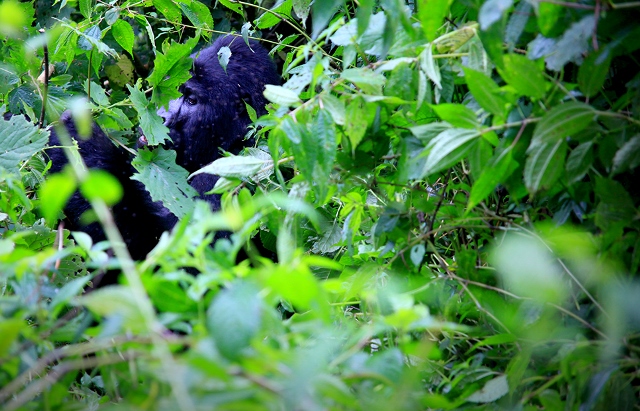 Gorillas can cast quite a spell on you; they seem so amicable, genteel and toy-like that it can be very easy to forget the sheer power behind one hand swipe from a grown male or female.  A male Gorilla can lift more than 1 ton of weight, enough to dispatch you very easily. A fact I was suddenly reminded of as we started the trek back and in the thickets ahead one made a rush at a porter, who with a bit of air stick waving and standing his ground managed to avoid any direct conflict. They may be habituated, but they are most definitely still very, very wild.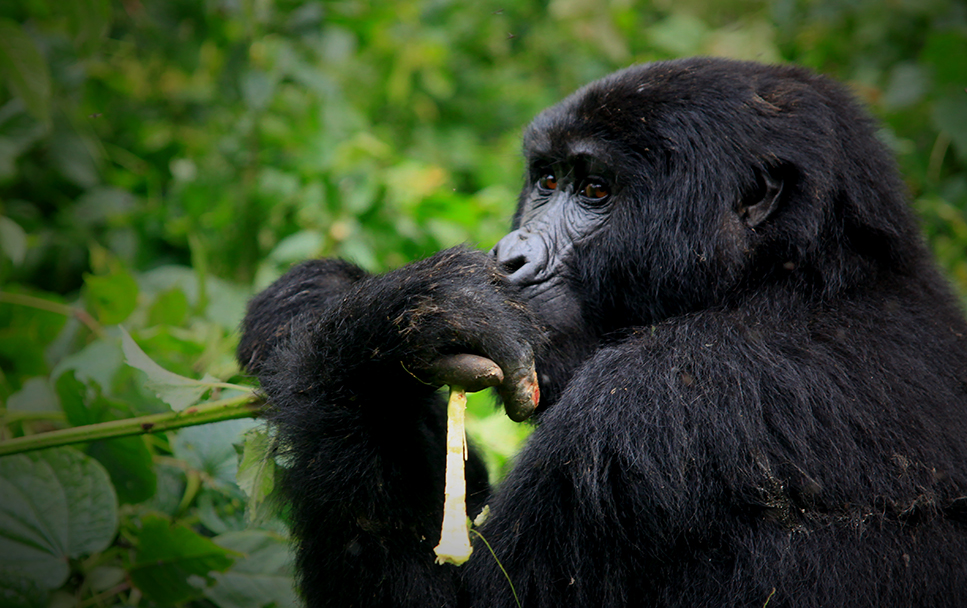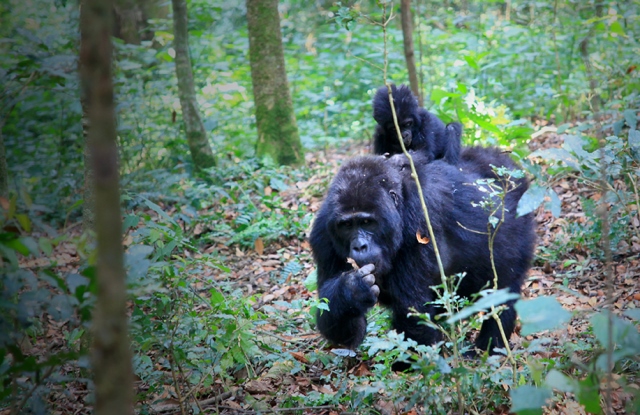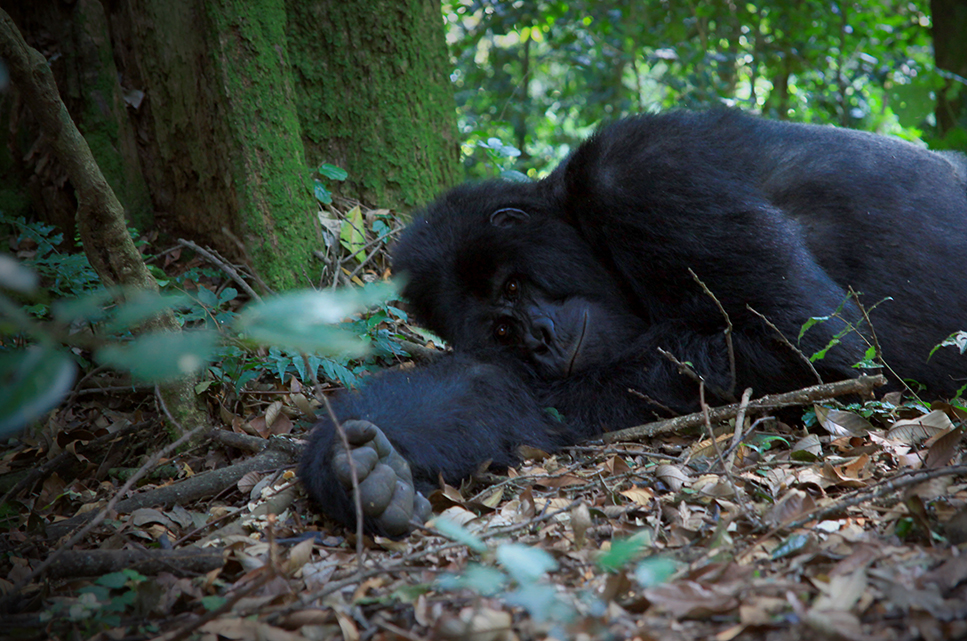 I love it when you reach that part of a journey when the place you are travelling in starts to take on the feeling of familiar. The corners of the streets no longer hold a slight tinge of danger, the smells of the earth and kitchens cooking up food become comforting and not alien. With a rather traumatic history in its wake Uganda is surprisingly not holding onto it's past, littered with the ghosts of Idi Amin and some very bitter civil wars that saw a lot of people lose their lives.  It's not that people don't mind talking about the past, but unlike in other countries where museums and remembrance monuments have been erected Uganda does not openly display its history. All you will find in Kampala to draw a line to its past are a rather decaying Palace with a few crumpled old Rolls Royce's once owned by the king, some photos and of course Amin's torture chambers made up of an open bunker hidden past a few communal barrack houses.  The book by Andrew Rice, "The teeth may smile, but the heart does not forget. Murder and Memory in Uganda" I think aptly sums up the Ugandan approach to dealing with public memory of pain and loss.
Kampala may on the surface look like organized chaos, but it is a city driven by an inconceivable amount of trade happening day in and day out in the streets. Some70% of locals rely solely on trade as their main source of income. Stalls, shops, furniture and clothing matuikis jammed by the hundreds in-between the emerging super malls and palatial Kololo Hills housing for the rich and the in-the-know-wink-wink-nudge-nudge. It's quieter and more attractive neighbour, Entebbe, may be home to the main airport but it feels like a different world with its leafy lined streets and is by far my favourite area. Sitting on the shores of Lake Victoria, one of Africa's biggest natural water bodies, sipping my Nile Special I am comfortable and secure in the world I have created for myself in my Ugandan travels.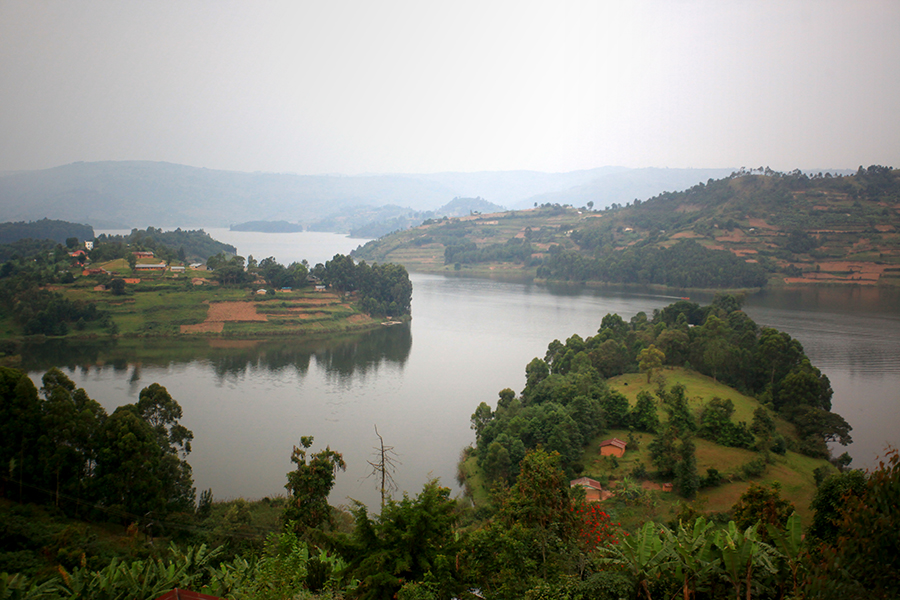 One thing people always seem to be searching for is the extras in life. We take things to stimulate and suppress emotions, we partake in activities to kick in adrenaline or numb us into a state of poolside drowsiness; but riding pillion on a 'boda boda' up Tamil Sado Street past the newspaper stands, past the 'Friends Pub" and sound blasting evangelical churches alongside echo's of rap star Akon's 'Chop my money', I feel strangely settled and balanced. Uganda has a natural ease to it once you let your guard down and start going with the flow instead of forcing it to fit into a European sense of time. When people who have come back from travelling to Uganda say that the Ugandans are some of the friendliest people they have ever met, they are not kidding.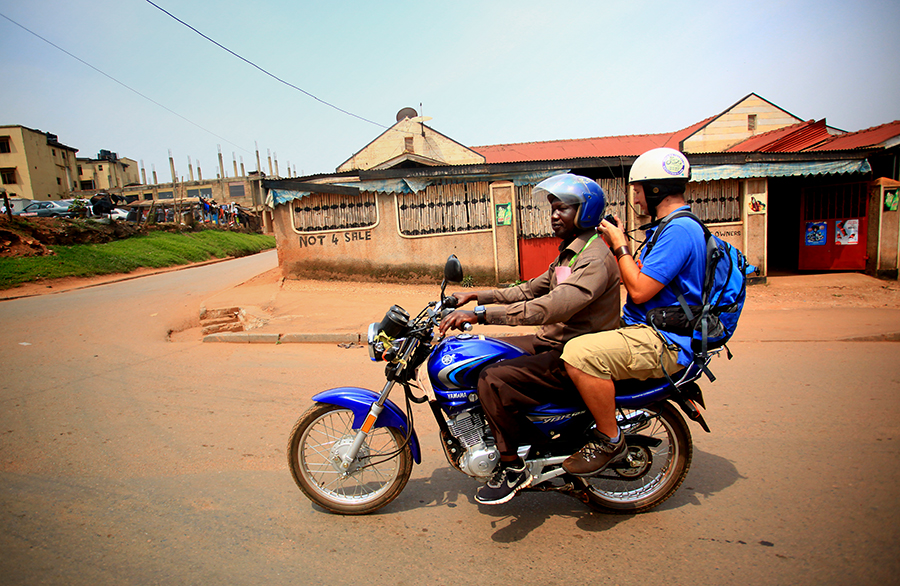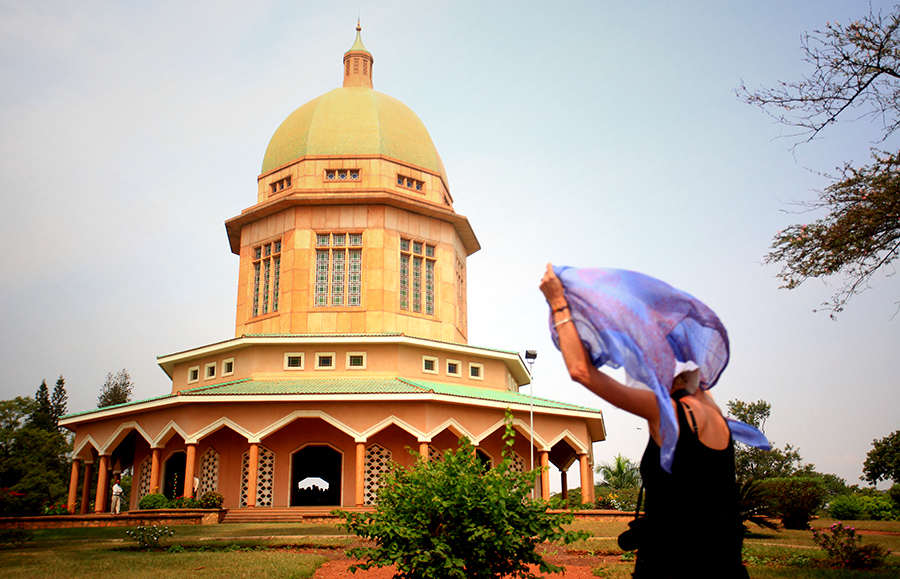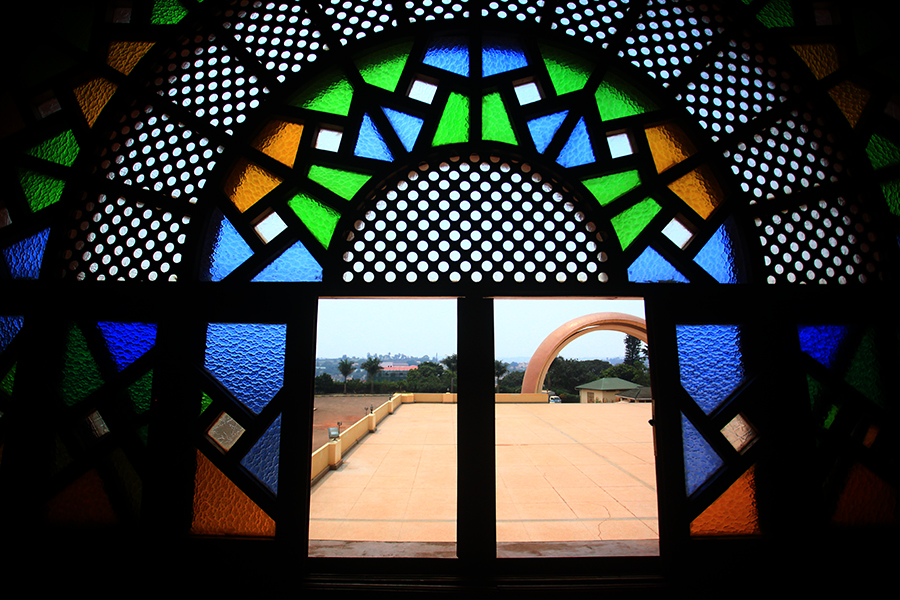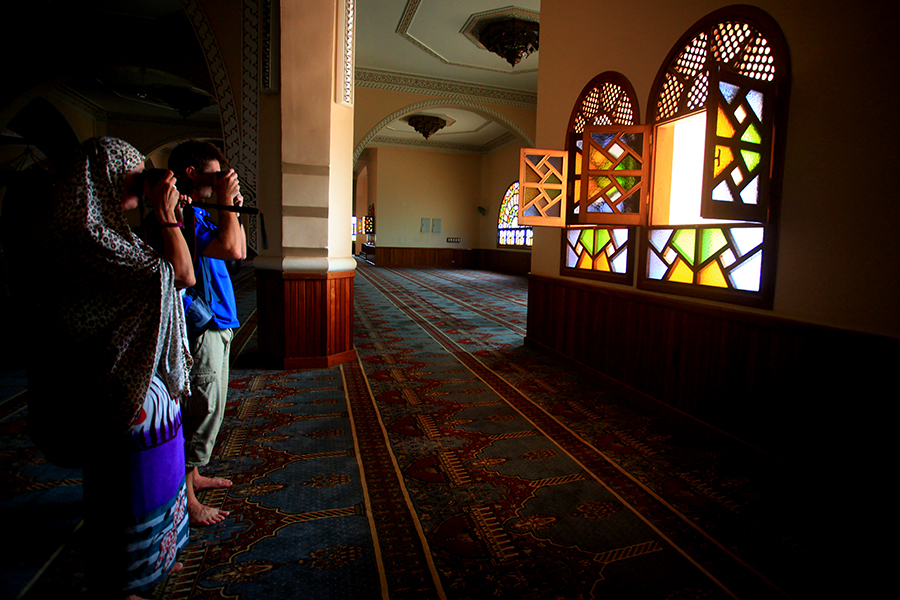 Do your homework, bring a friend or go solo. Mostly be realistic about what you are getting and what you are not. Make sure that the type of travel you are doing suits your needs and you will have a really great time. I can highly recommend it; it's better than any barbiturate by far.
---
Part 2: Mini Guide for Travel to Uganda
Where to stay: Entebbe & Kampala
Entebbe offers a variety of options to suit every budget. From backpackers to well-appointed B&B's, a good go to is Green Valley Guest house which has basic backpacker fare and a campsite, or you can stay for pretty cheap inside the Botanical Gardens in one of their 'bandas' or dorms.  B&B's tend to be on the expensive side, but they are cheaper than most of the hotels, and are pretty clean and neat. I stayed at The Colonial and Carpe Diem – both were excellent.
Green Valley: info@greenvalleyentebbe.com
Botanical Gardens: +256 414 320 520, +256 414 322 169 / 171 / 172
Carpe Diem: carpediem.uganda@gmail.com
The Colonial: claire.annex@gmail.com
In Kampala the main backpacker is Red Chilli Backpackers, just phone ahead to book a room because it is very popular. As with any big city there are a wide variety of hotels some with heftier price tags than others. Anything around Kololo Hills is going to cost you so try and find accommodation in the surrounding areas if you need to watch your wallet.
Red Chilli: reservations@redchillihideaway.com
Getting there / Getting around
Fly direct between South Africa and Entebbe, Uganda on SAA. It might be cheaper to fly RwandAir from SA to Uganda – the flag carrier of Rwanda has a very good safety record.
Traffic in Kampala is world renowned for being very, very bad. To put this into perspective, Entebbe Airport is about 45km from Kampala and in rush hour it can take nearly 4 hours to get in or out. And heaven help you if the president or a high ranking official wants to go to the airport. Take time allowances to travel between Entebbe Airport and Kampala, don't get caught short.
Visa
Panic not my friends; Uganda has a very simple and easy to use visa at the border system. Some people might feel more comfortable getting the visa in their home country, but really the visa is easy to get on arrival. Have $50 handy and join the right hand side queue as you get into the arrivals terminal where you will be ushered to the waiting customs official. Easy as that. This is not always the case, but on occasions it has been known to happen where your bags might get searched as you go through customs- make sure you keep your ticket stub with you to prove that the bag you are carrying is your own.
In addition, Uganda, Kenya and Tanzania have recently approved a joint tourism visa that grants you multiple entry to all three countries for a certain length of time. The visa costs around $50 dollars and I can highly recommend it if you're travelling East Africa on a South African passport.
Money matters
As of March 2014 the exchange rates are:
Rand-Ugandan Shilling: 1 – 250
US Dollar: 1 – 2000
Pound: 1 – 4200
I had the odd dollar with me, but pretty much just used Ugandan shillings to pay for everything-which I drew out on the road as we went along. If you use MasterCard try Barclays or standard Visa, just check for the logo on the inside of the ATM's. Sometimes they do run out of money after pay day or towards the end of the week, so make sure to withdraw cash where you can- especially before you get to Lake Bunyoni as there are no ATM's close by. It's Uganda not the sticks; you don't need wads of dollars to get around.
General
A Boda Boda is a motorbike taxi and a special hire is a normal car taxi. Piki Piki is a covered motorbike with three wheels that can fit two people and a Taxi is a mini bus.
Sanyo and Capital FM play the most incredible 90's music all day long. If you are a fan of that era you will be bopping your head in all the traffic jams.
Head to a shop called Kampala Fair directly behind the Acacia Mall. It has some incredible clothing, and if you are there for a few days they can custom make you bright dresses, hoodies and jackets.
One thing I cannot recommend enough is going on a Walters Boda Boda tour. It is probably one of the best value for money tours in the city, never mind the fact that the guides are brimming with local knowledge on every nook and cranny. It's exceptional as I have yet to come across an African city that has this kind of tour in it. For those that are weary of riding motorbikes, I have been riding them for a long time in various cities, and while it does come with risk, the drivers are wonderfully careful. If there was an accident then they would be out of business, so they take every precaution. Contact: waltersbodaboda@gmail.com.
Dealing with sensitivity in Uganda
Look guys, I'm not going to start filling you heads with gorillas in the mist and beaming happiness of travel without at least addressing some of the more complicated issues within a country like Uganda. It's not in my nature.
There's a Kenyan Proverb that states 'Travelling is learning' and I really agree with this. As travellers, in whatever form and degree we choose to travel, we ultimately expose ourselves to different ways of life, different cultures, practices and mindsets. Sometimes they are engaging and open us up to challenging the way we see ourselves, and sometimes they don't. In fact sometimes it's the complete opposite. But what I think always makes your trip, is going with an open mind and asking a whole lot of questions as you go.
One thing I would caution you to be very wary of is orphanage tours in the Ugandan region of Lake Bunyoni. With a lot of the packaged overland tours you are going on, at some point, you will encounter a delightful young person come up to your group and plead a case to come and visit a particular orphanage (there are many) and only donations are required. Please, please, please do your research, ask questions and don't go blindly into this. There are some that are completely valid and honourable, but there are many that are pure scams that do far more harm than good and don't benefit any of these children at all.  You don't need to donate right on the spot, and I know it's hard not to. They are kids for goodness sake; a lot of things are orchestrated to make you feel good. But hold off and get online and ask other travellers what they think before you decided to donate. Ask local journalists and go beyond page 3 of Google, for people in the know about the area there are a large group of scammers with 'schools' about and you are doing nothing but line their pockets.
Uganda at the moment has been the focus of the international community for all the wrong reasons because of it's passing of a very draconian bill that criminalizes and dehumanizes gay and lesbian people. Uganda is just one of 37 countries in Africa that hold onto this way of thinking and sometimes it's not terribly easy to want to bring your tourism money into a country that you might feel does not deserve it because of their internal policies. I was in Entebbe as this bill was passed, just a few miles away from the house where Museveni signed it. It was incredibly awkward to have to sit and listen to some people condone openly what is, in my opinion, sanctioned bigotry and hate.
Remember though, our own home countries are not stellar examples of social perfection either. Before we pass all social judgment on a whole population don't forget these same prejudices exist in most of our home countries, some to greater degrees than others. There are many Ugandans who are wonderful human beings. Boycotting a country for travel might feel like the right option for you if you so choose, but personally I feel that problems like this exists all throughout the world and if I had to stop travelling because of it I would probably have to move to the moon. What I think is a good thing to do is be an ambassador for love and tolerance; spend your money where you feel based on the humanity of the person/group on the receiving end. With the Ugandan gorilla population in mind, I think this is why I love dealing with animals more than people; they are much less complicated and more understanding.
---