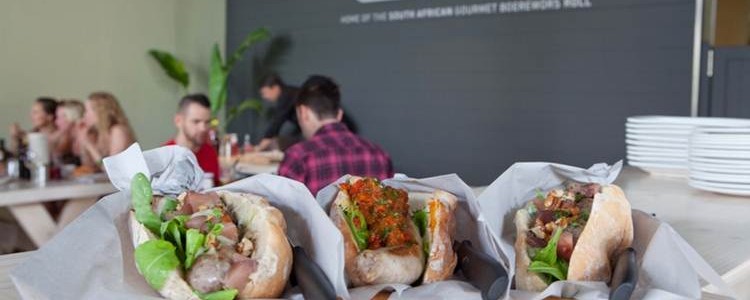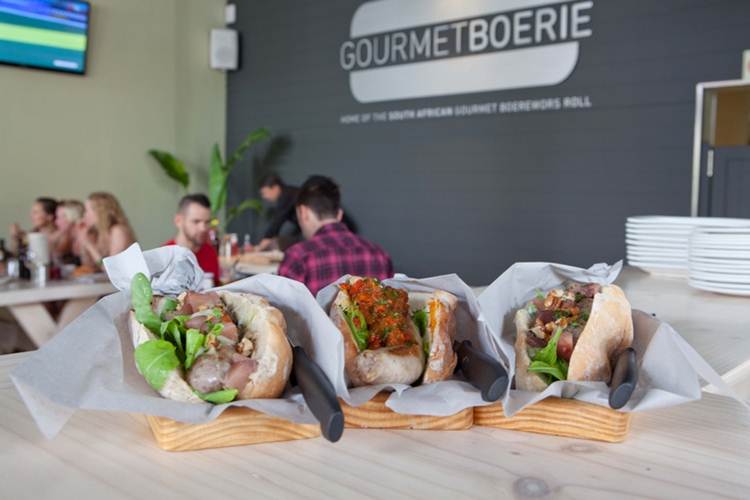 Since I love trying new foods and restaurants; I decided to ask a couple of questions to the people at Cape Town's hottest new restaurant, Gourmet Boerie:
When did you open your doors?
Gourmet Boerie opened on Kloof Street in Cape Town on the 5th of November 2012.
What is your restaurant's vibe?
The vibe is very very South African, from the food we serve all the way through to the interior design. Long SA pine tables fill the main dining area creating a great social atmosphere. The space is modern, with clean lines, contrasted with a fresh organic look and feel. Local nostalgic imagery and branding fill the walls, creating the perfect South African experience.
What inspired you to open this restaurant?
Boerewors, what it stands for and what it represents to all South Africans. It's rich culinary history and it's so very uniqueness to South Africa. Boerie rolls also have an unbelievable ability to bring people together, which was a great source of inspiration for us to take the idea and go all the way with it.
What would you always recommend people try?
Our best sellers so far are the Mexicano (Tomato salsa, sour cream, guacamole, jalapeño chilli, coriander and cos lettuce), and the Hangover (Bacon, caramelised pineapple and avocado with cheese sauce). We also have a great selection of South African desserts with the Mini Dessert Platter being the favourite, a selection of homemade malva pudding, milk tart and apple crumble served with vanilla bean ice cream. All incredible!
Price range?
Our Gourmet Boerie Rolls, which all come with a small side of shoestring chips are priced from R35 – R60.
Should you book?
Bookings are not necessary.
Contact Details
Address: 8 Kloof Street, Gardens, Cape Town
Opening Hours: Tuesday – Saturday, 11:00am – 10:30pm
Phone: 021 424 4208