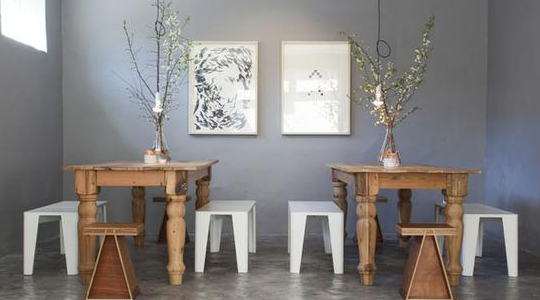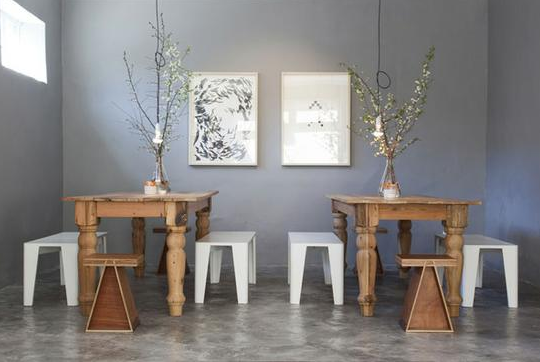 Woodstock is famous for being the slightly dishevelled neighbourhood that's home to the Neighbourgoods Market, aka The Biscuit Mill, Cape Town's favourite spot to see and be seen on a Saturday morning. This part-industrial, part-hipster area might not quite be ready for the gentry to move in, but there are some winner lunch spots for the many people who work in offices and studios in the area.
Here are the top three (as voted by me):
1.    Superette. 
Attached to the very cool What if the World gallery, Superette is filled with simple tables and benches, interesting artwork and homemade products for sale – think plum cordial, homemade lemonade, organic flour and beautifully quirky ceramics. The menu, scribbled on a wall-sized blackboard, is simple but delicious: mainly variations on their famous sourdough bread. The best dish, for my money, is a zingy mushroom / cream toast / rocket combo on toasted sourdough – something to write home about. Their homemade lemonade is also a treat.
2.    The Deli, in Main Rd Woodstock, has communal dining on long wooden tables, with a vast array of salads to choose from, as well as some delicious pies, quiches and homemade goodies. There are lunch specials every day, or you can choose from the display, and there's a lovely sense of community that pervades the place – which probably comes from sitting right next to strangers!
3.    The Kitchen, directly across the road from the Deli (although not related) is a lesson in quirky design and décor. More of a take away spot than a sit down, because of the limited seating space, the Kitchen is home to the famous Love Sandwich. As their website says: "During the week we serve our legendary Love Sandwiches (possibly the best sandwich you will ever have), a host of exciting Salads and all manner of delicious things for coffee or lunch." Try them out!
Of course, all three of these spots are home not only to wholesome, fresh and delicious lunch options, but scrumptious sweet treats – from brownies to miniature cakes, shortbread and biscotti. And if you need some retail therapy, you can pop into the Biscuit Mill complex, which is full of interesting spots to browse around. While it might be a poser's paradise on the weekend, during the week the Biscuit Mill is just another one of Cape Town's fabulous places to shop. While away an hour in Abode, full of fun and functional homeware, or shed some light in your life at Antique Hardware and Lighting; see artists at work in the Clementina Ceramic Studio or pick up some African treasures at Heartworks; indulge your inner child at Mu & Me or stock up on gourmet preserves, pickles and delic specialities at Oded's Kitchen. It's all waiting for you to explore on a post-lunchtime-stroll!
Image: Superette