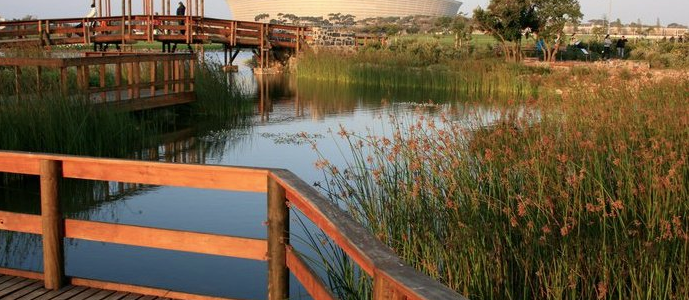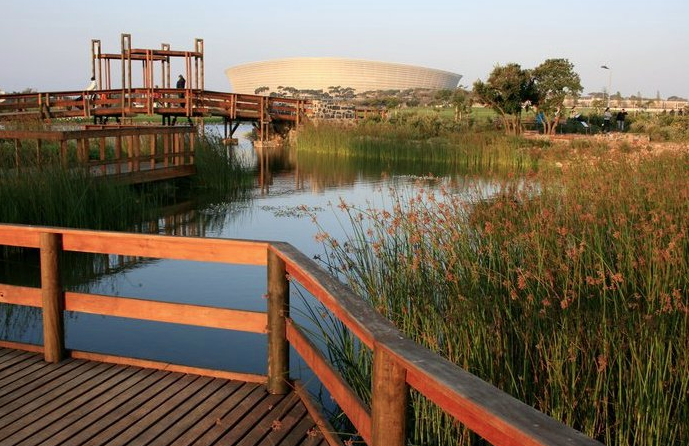 Most people who live in Cape Town will boast proudly about the Stadium built for the 2010 Soccer World Cup (which we privately believe to be the most beautiful one in South Africa – an opinion held by every city in South Africa!)
But now Capetonians have something new to boast about – and it's right next door to the Stadium. The Greenpoint Park and Biodiversity Garden is a public park that has been built as a shared community space for everyone living in the city. When it opened in February 2011, it was hailed as 'Cape Town's Central Park' and while it isn't in any way as vast as Central Park, it is just as central to the city. It's a space for picnics, walking dogs, walking children, playing sport and riding bicycles.
What sets the park apart from other green spaces, though, is its biodiversity garden. The garden is separated into People and Plants, Wetlands and Discovering Biodiversity, each of which has information boards with facts, pictures and diagrams. The 'flower' beds aren't home to flowers, but vegetation types, and illustrate what type of plants grow in sandveld, renosterveld, mountain fynbos and coastal areas. It's an up close and personal experience, and the garden invites you to touch and smell various plants, with beaded animals and metal sculptures dotted all around – much to the delight of the children running to spot each new animal!
Birds and butterflies flit about, and there's an interactive display of how huts are built for kids to explore, as well as all the creatures dotted around the grounds. The medicinal plants section is particularly interesting, with lots of facts about which plants where commonly used for which ailments (and some warnings about consulting a doctor before use!)
But what's most delightful about the Greenpoint Park is that it's a wide open expanse of nature for city kids (and adults) to call their own. It's cleverly laid out, beautifully put together, and entirely free for the public of Cape Town to explore. What a gift to the city!
As the executive mayor of Cape Town, Alderman Dan Plato, said when he opened the park, "We talked much about the legacy of the World Cup. Where we are gathered tonight is a legacy. It belongs to all Capetonians."
Feel like a Capetonian and take a picnic along to the Greenpoint Park, to enjoy as you haze on the views of Lions Head, Table Mountain and the Stadium. The park is open from 7am to 7pm every day.
[boilerplate bytitle="text"]