It's no secret that regular air travel for the average South African household is either an honour or a fantasy. The idea of visiting neighbouring countries from the beautiful yet remote Mother City involves planning a tedious three-day bus trip or biting the bullet and saving for months to afford a flight ticket. Thanks to RwandAir, more of us can now afford to "fly the dream of Africa". Similarly, with a slogan like that, there's no stopping the young and vibrant Rwandan flag carrier airline from making the African dream come true one affordable flight at a time. So whether you are a university student returning home for vacation or keen on exploring what lies North of Limpopo; a flight to Harare is now a meagre three hours away.
We had the pleasure of flying the newly launched Cape Town to Harare route, and we can only say that the experience was nothing short of astonishing. It took a little over three hours to get to Harare, the warm capital city of neighbouring Zimbabwe. RwandAir undeniably has a 360-degree approach to service excellence from the friendly flight attendants to the comfortable seats with coveted ample leg room and not forgetting the scrumptious meals. Back to the food—you can expect to taste the fine flavours of Africa from comforting curries to succulent grilled steaks and a special mention goes to their popular farm fresh vegetarian options.
What to do in Harare
The beautiful and serene city of wide avenues, bright purple jacaranda trees, brick red soil and friendly locals, is quite contrarily no stranger to hardship. Harare city centre is dotted with dilapidated structures and potholes which serve as a constant reminder of the poverty stains left after the nation was hit by hyperinflation. For those eager to explore it, there is no cause of concern as the streets are extremely safe for tourists and its inhabitants are always happy to offer help where necessary. On the lighter side, beyond the heart of the city are little diamonds waiting to be discovered.
Here are our top Harare must do's:
Amanzi
A high-end restaurant situated in Highlands, a suburb in the northern part of Harare which comes well recommended by tourists and locals alike. Set in a wonderfully refurbished Victorian house surrounded by lush green lawns speckled with stunning African art and crafts. Its spectacular interior décor is a juxtaposition of colonial remnants with dominant African influences. The food offering features a global fusion of dishes on both the tapas and a la carte menu. Expect local delicacies like roast quail, oxtail, ostrich carpaccio and lots more. Pop in on a Thursday evening to enjoy a cocktail and live entertainment.
Chengeta Lodge and Pamuzinda luxury Safari lodge, Selous
After an easy one hour drive out of the city centre you will find this natural haven. If you are looking for a luxurious safari, then Chengeta and Pamuzinda luxury Safari lodges are a great option. From only 79USD  (R1,225) per night you can experience serenity at its best. The sister lodges offer great dining, game drives, canoeing and other actives that will put you in touch with nature. If you just want to relax by the glistening pool or have a romantic stroll across the beautiful properties, it really is all up to you. Look out for the resident giraffe who will grab any opportunity to pose for photographs!
Avondale Flea Market
Stock up on local crafts and colourful souvenirs at this large market which offers a wide array of curios as well as second-hand bits and bobs. The market is located behind the Avondale shopping centre which is 3.5km from Harare city centre.
KwaMereki
When in Harare do as the Hararians do! This is one of the longest standing braai spots situated in the township of Warren Park—very close to the heart of the city. Unlike the idea of most townships Warren Park is a friendly and welcoming area. Pack your favourite music playlist, a box of cold drinks and make your way to the braai spot. On arrival, you can choose a selection of meats which will be barbecued for you and served with pap and a fresh tomato and cucumber salad. Note that this is quite a casual setting so consider bringing your own outdoor chairs and look forward to competing with a selection of beats coming from various car sound systems.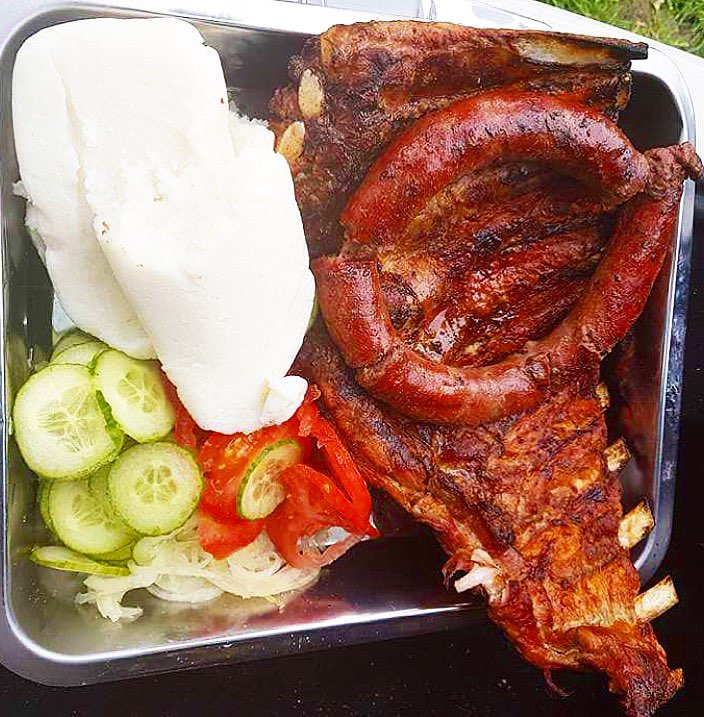 Chapungu Sculpture Park
There is a real reason why the name Zimbabwe loosely translates as "the large house of stone". Not only does this refer to the medieval empire of Great Zimbabwe (present-day Masvingo) which was the largest man-made stone structure in precolonial Southern Africa. It also sheds light on the phenomenal craftsmanship of the Zimbabwean artists. Expect to find fascinating sculptures of all shapes and sizes as you walk through this art park which is a strong refection of culture encapsulated. See physical depictions of how the ancient tradition of stone sculpting has been passed down for many generations and while you 're at it buy something beautiful to bring home!
The Hawks bed and breakfast
If you are looking for an affordable home base close to the city then this is a great option for you. The B&B style accommodation is located in Hillside which is central suburb in Harare. Their rates per room start from 50 USD (R777) per night. It's a clean, simple and super spacious and safe space.
Domboshawa
Put on your hiking boots and let your spirit of adventure run free as you make your way up the beautiful balancing rocks of Domboshawa, which is only 30 km north of Harare City. Expect to uncover ancient rock paintings and earn amazing views of the lush green surroundings. This area is perfectly safe and great for sunrise, picnics and sundowners. It's a fairly easy hike so the kids can come too. For a slightly more challenging climb drive an extra 9km to summit Ngomakurira which is slightly steeper and offers sightings of shy antelopes. Go on foot or take your mountain bike with you.
Sam Levy's Village / Avondale Shopping Centre
A casual shopping centre in the posh neighbourhood of Borrowdale featuring an assortment of local and international retail stores, cinemas, grocery shops as well as some of Harare's trendiest cocktail bars and cafes. If you are looking for a trendy upmarket scene then you'll love what the Borrowdale area has to offer.
How much does it cost to Fly to Harare on RwandAir?
On average with RwandAir you can expect to pay plus/minus R5,199 including all airport taxes (subject to availability) (342 USD) for a return Economy Class flight between Cape Town and Harare (excluding blackout dates and public holidays). You're probably wondering why this is so amazing, well until RwandAir launched this route, there was no direct non-stop flight between Cape Town and Harare. Most travellers would have to take the bus for three days or fly via Johannesburg with international carriers which would usually cost an average of  R8,000 (525 USD) for a return trip. Now, with R8,000 Travelstart gets you a return flight on RwandAir including onboard meals and two 23 kg checked bags. Plus, you'll even have a sweet R3,000 (192 USD) to spare for shopping or whatever else tickles your fancy!
RwandAir Flight Schedule & Check-in
Flights from Cape Town to Harare depart on Mondays, Wednesdays, Fridays and Sundays.
At the moment you cannot check in for your flights online for this route so make sure that you arrive at the airport 3 hours before your departure time. Check-in counters will close one hour before departure time.
RwandAir Baggage Allowance
If you fly frequently, you will agree that RwandAir has a very generous baggage allowance, so don't hold back on the gift shopping bags.
Checked Baggage
Economy Class passengers are allowed: 2 bags each weighing a maximum of 23 kg
Business Class passengers are allowed: 2 bags each weighing a maximum of 32 kg
Hand Luggage
Each passenger is allowed to bring one bag weighing a maximum of 7kg.
Visa Requirements
South African passport carriers can travel visa-free to Harare, Zimbabwe for tourism purposes for a maximum of 3 months.
Cash requirements
Make sure you come with your already exchanged US Dollars in cash for your daily transactions, most establishments will also accept credit and debit card payments.
Have you visited Harare recently? If so, please share your experiences in the comments section below!
*Disclaimer!
All information on this blog page was correct at the time of publishing and may change at any time without prior notice. Travelstart will not be held liable for loss or inconvenience resulting from the use of out-dated or incorrectly noted information.