Rated among TripAdvisor's top ten Mozambique hotels, the newly opened five star Diamonds Mequfi Beach Resort in Pemba is a superb choice for anyone looking to take some time out of life's normal hustle and bustle and recharge their weary batteries.
Incomparable to the likes of overcrowded Mauritius, Seychelles and other busy beachside destinations, we found Mozambique's newest gem the contemporary Diamonds Mequfi hotel to be a tranquil resort where total relaxation, untouched natural beauty and understated luxury are the order of the day, and where the hospitality is unrivalled. With no detail too small and no request too big, the warm, willing and thoughtful staff take pride in anticipating their guests' needs and going the extra mile to make their stay a special and stress-free one.
Landing in Pemba, we were both charmed and grateful to be greeted at the airport with fresh towels and cold bottled waters before beginning our 45 minute 4×4 transfer through the villages and to the resort.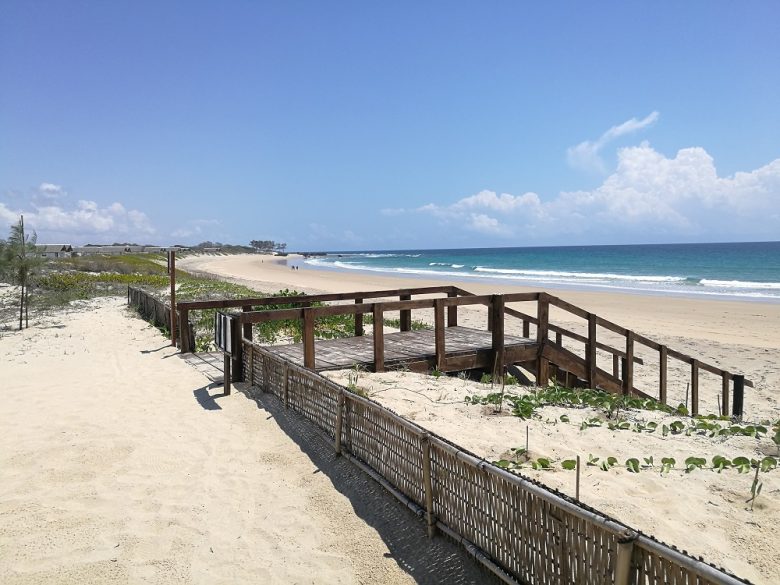 After revitalising cocktails upon check in we were golf-carted to our deluxe rooms, where cool air-conditioned bliss awaited. Premium fittings and modern, luxurious furniture that we wished was adorning our own homes, it's evident that no expense has been spared in the decorating of the Diamonds Mequfi rooms and suites.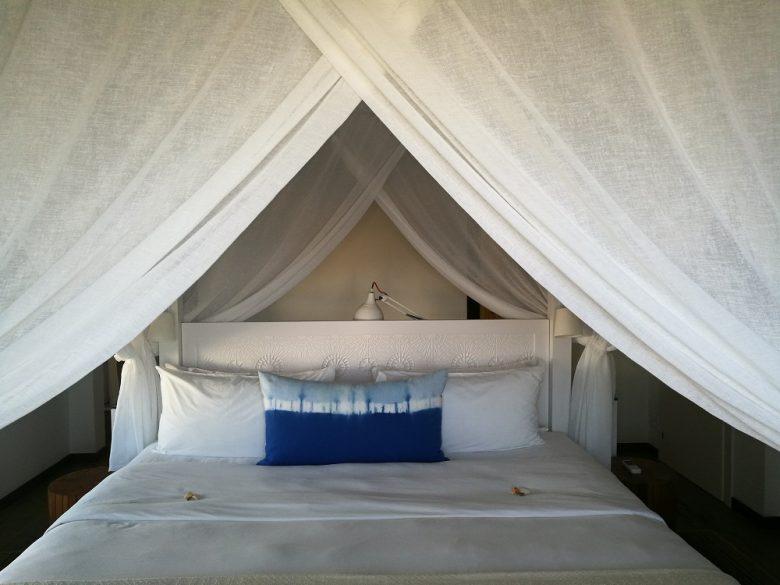 Collapse your weary body onto the king-sized four poster bed and prepare for the best sleep of your life, with the highest quality, crisp fresh bedding luring you in. Enjoy the free WIFI in your room and public areas, and flat screen TV's with satellite. Wash away your worries in the potent indoor and outdoor showers before stepping into the ever-indulgent prerequisite white bathrobes that hang in the closets. If you're too languid to head over to the pool or the beach, why not chill out on the day beds on your own private porch, help yourself to the welcome canapes, an eye-opening Nespresso or South African wine from minibar.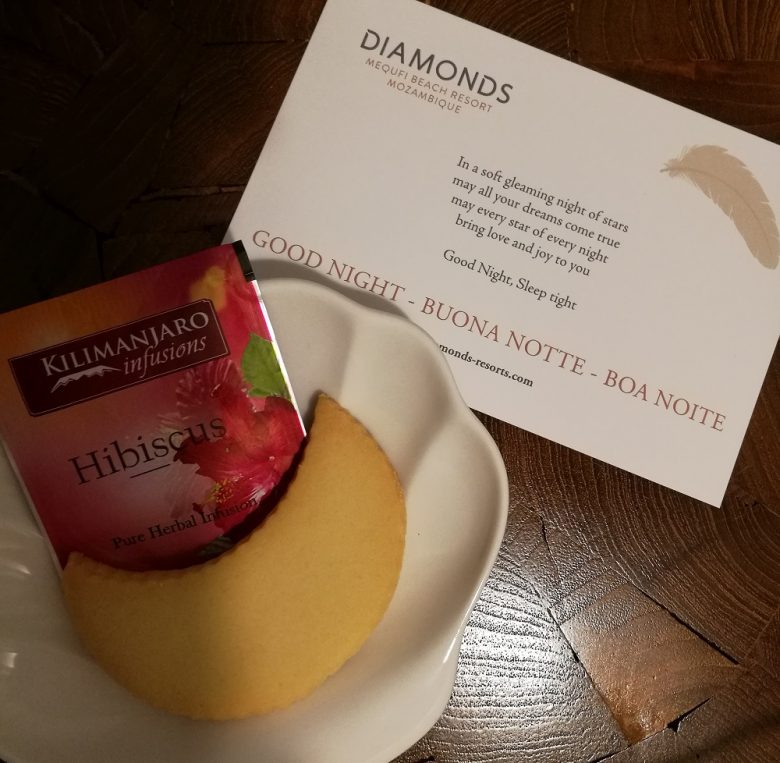 Located along a stretch of pristine white beach with a lush lagoon draining into it and the rural villages nearby, at Diamonds Mequfi you can do as many activities – or as little – as your heart desires. If the warm, inviting azure ocean beckons, have fun snorkelling, ask the activities manager to arrange a fishing trip, head out on the catamaran or try your hand at stand up paddle-boarding. During high tide, grab a kayak and paddle upstream where the leafy lagoon's edge is a shady oasis of green. If the wind is up, you're in luck- it's the perfect conditions for blokart, essentially a go-kart with a sail which is powered by the wind, a truly entertaining experience that becomes ever more thrilling the stronger the wind.
Newly built and beautifully maintained stables house the most beautiful horses from South Africa. Whether you're an experienced rider or young child, the lovely stable manager and her ready steeds await to take you on the horseback adventure of your choosing, from a short 30 minute ride along the beach and through the lagoon, to a five hour outride including refreshments, lunch and a visit to the neighbouring property.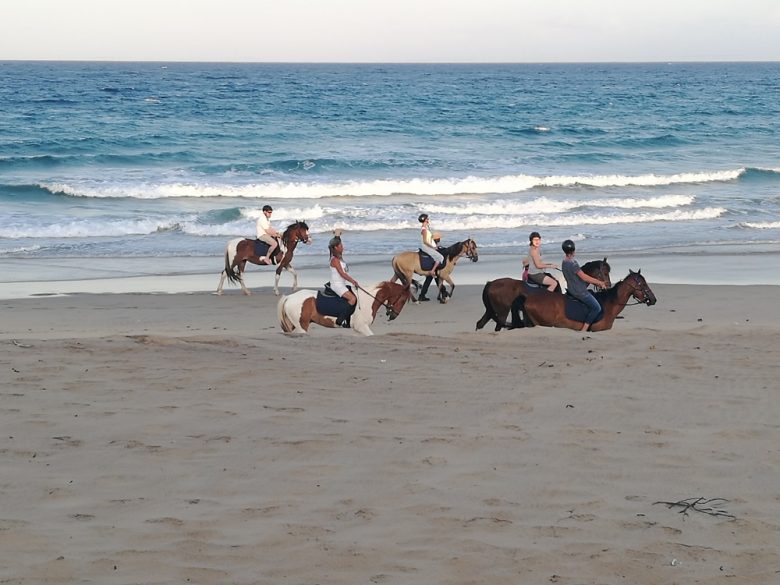 If you're more interested in putting your feet up, then poolside is where you want to be. With a huge sparkling blue pool flanked by a smaller Jacuzzi pool and shallow kiddies pool, all surrounded by loungers and umbrellas, it's easy to while away an afternoon here at the epicentre of the resort. Read a good book, hop in and out of the cool waters to freshen up, order the cocktail of the day from the nearby bar and drift off listening to the uplifting music that's playing gently through the speakers.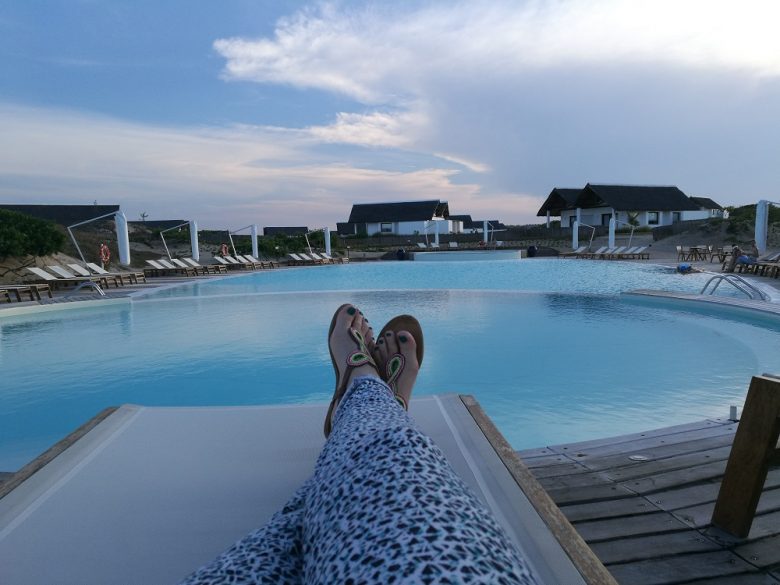 With an exquisite, modern restaurant just upstairs from the pool bar and a rustic beach bar next to the sports centre; Diamonds Mequfi know the importance that good food plays in any holiday. Buffets include a mixture of international favourites and local foods to appeal to even the fussiest tastes, and beach barbeques, sandbar picnics and good old fashioned room service can be arranged too, as well as butler service in the suites.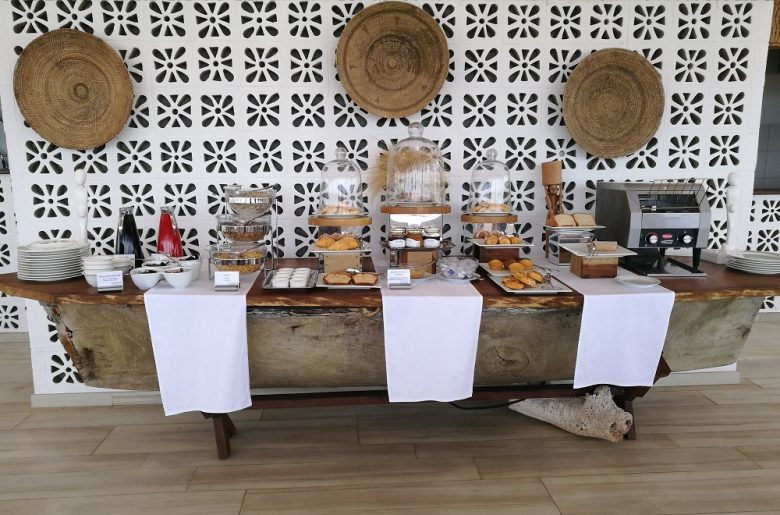 Spoil yourself to a treatment at the wonderful spa, where the Thai therapist will eliminate any remnants of stress from your body and ensure you leave feeling like a whole new you, ready to take on the world again.
Always organising additional activities for the guests, the recreations manager Amir takes it upon himself to arrange movie nights, water aerobics, volleyball tournaments and – one of the highlights of our trips – village walks to keep the more active guests entertained during their stay. Starting with a 30 minute walk along the beach and then an hour long tour of the village before heading back to the resort, everything about that village excursion, from the simple way of life to the dozens of smiling children, delighted to see us and show us around, was a touching, truly authentic and wonderfully African experience.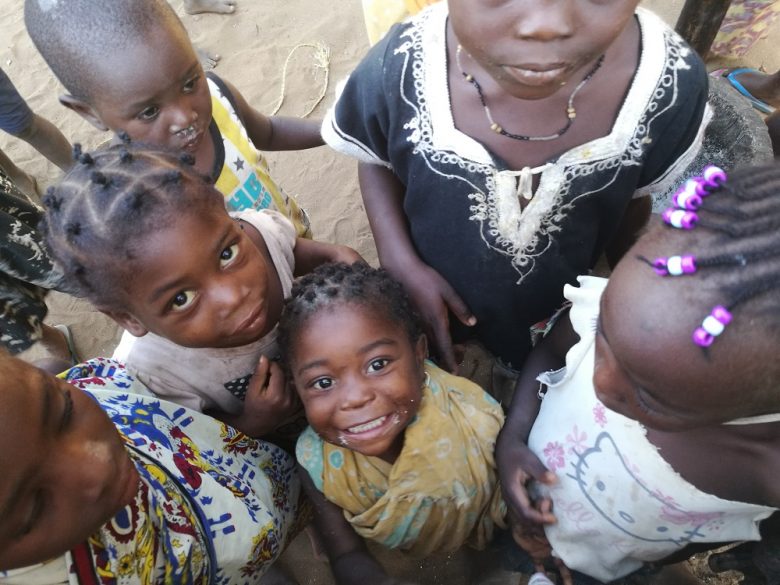 Just a short 3 hour plane ride from Johannesburg, Diamonds Mequfi offers complete change of scenery and pace that's still close enough for a long weekend. Through Travelstart, you can now book your own Mozambique four night retreat, all inclusive of flights, accommodation, transfers, meals, drinks and more. All you need to do is pack your swimming costume and a hat, and leave your worries behind.