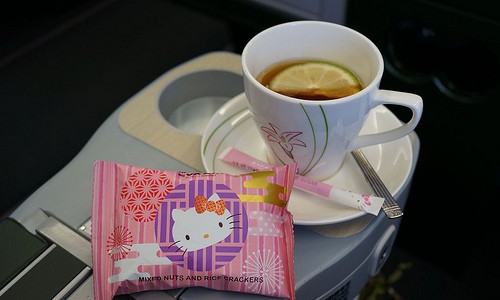 Taipei based airline Eva Air has taken the world's most coveted cartoon cat to new heights. The Taiwanese airline has given three of its Airbus 330-300s a complete Hello Kitty overhaul and have been kitted out with adorable images of Hello Kitty and her friends on the fuselages. But it doesn't stop there. In true Asian style, the interior has also been pimped up with Hello Kitty stuff.
The reason for this sacharine marketing stunt is to celebrate the airline's 20th birthday. In total Eva Air launched three Hello Kitty themed jets which all have their own sub theme: namely Apple, Magic and Global. As mysterious as they appear, these cryptic names do have some sort of Hello Kitty link. Naturally.
Beware, there really is no escaping the famous feline when boarding one of these themed aircraft. The fun starts at check-in. Passengers will be handed a Hello Kitty Boarding pass and Hello kitty luggage labels. Upon boarding they will be greeted by Eva Air crew kitted out in Hello Kitty themed aprons. The seats have Hello Kitty pillows and head rest covers. Kid's packs naturally come with Hello Kitty games. The inflight meals are also Hello Kitty themed to the point that the rice is molded into the shape of her head which of course, comes on a Hello Kitty tray. Even the lavatories aren't Kitty free. The soap, hand cream and tissues all feature the friendly feline's face.
Some might think twice before boarding this Hello Kitty circus, but I'm sure it will be a big hit with children. You'll find the airborne Hello Kitty merchandise on flights from Taipei to Tokyo, Hong Kong and Seoul as well as on flights from Taipei to Fukuoka in Japan.