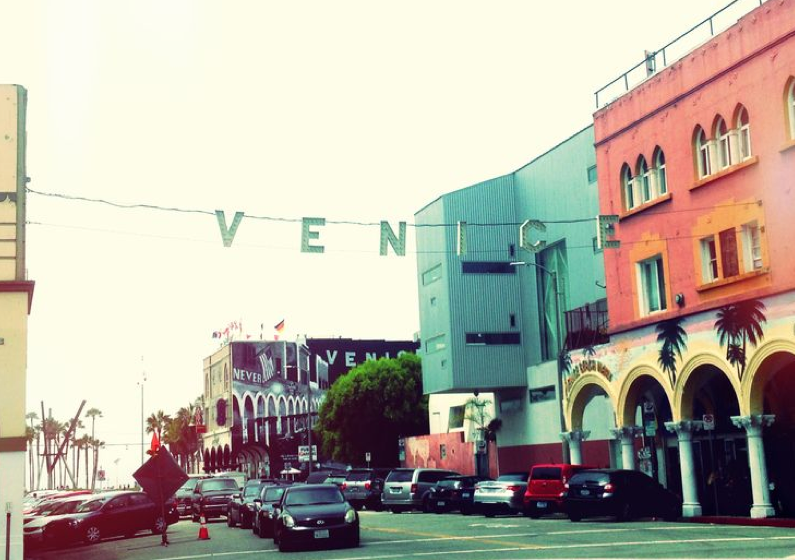 I don't know what I expected of Venice Beach, in Los Angeles, but I suspect it was a conglomerate of many TV shows and movies who had illustrated a steady stream of freaks on display, and not much else.
For example, do you know that as well as the numerous unusual looking people on the boardwalk (really, they are there, and they are numerous) the beach itself is rather wonderful? Like Durban, but cleaner and bigger and more American. We had a late afternoon swim in the ocean and it was absolutely wonderful – warm (enough) and clear and filled with dolphins! Truly, a pod of dolphins swam past as we were swimming… Why don't they ever show that in the TV shows?
The boardwalk itself is a must-do, of course, ideally with a giant homemade ice-cream (my personal favourite is coconut) and plenty of time to look in the hidden bookshop and peruse the many grafittied walls and interesting people on display.
But there's another side to Venice Beach that I didn't know about – the streets of boutique shops, wine bars and lovely little cafés, the part where real people actually live. It's a surfer's paradise, of course, but it's also a swimmer's and walker's paradise, and it's not difficult to see the allure of living so close to the ocean… Even if there are muscled men working out right on the beachfront!
One of the things I love most about travelling is its capacity to surprise me, and make me realize what unexpected preconceptions I had about places I had never been. Venice Beach was one such place, I wonder what the next one will be?