[Updated September 2020]
Pack your bags and be on your merry way to discover one of the best hiking trails South Africa has to offer. The Whale Trail is a must-do if you love hiking and appreciate the outdoors. The trail is suitable for medium-fitness hikers, you do not need any Mount Everest aspirations but they are most welcome. It is a five day, 56-kilometre slack-packing trail through the De Hoop Nature Reserve that introduces you to some of the most beautiful scenes along the Western Cape coastline. The reserve is part of the Cape floral region and is a World Heritage Site that hosts one of the largest marine protected areas in Africa. Famous for the large pods of whales that congregate during breeding season annually, the trail offers that and a whole lot more!
Getting there
The reserve is just a three-hour drive from Cape Town, in the Overberg. After driving over Sir Lowry's Pass and stop off at Peregrine's for a famous homemade pie, or at Houw Hoek for a smaller farmstall experience. Relish in the last bit of civilisation before the great outdoors. Make sure you have a fun playlist and good company! The drive is scenic but it is advisable going in an off-road vehicle, as the dirt road on the reserve can be tough on city cars. When you arrive at Cape Nature's base camp you will get a thorough hiking brief before you commence your five-day journey through the wilderness!
Hiking alongside whales
Between June and November, scores of the large endangered Southern Right whale, calve close to the shoreline. That being said, the hike itself is just as wonderful when the whales are not present. De Hoop Reserve acts as a nursery to the young whales during breeding season. It is said to be one of the world's best land-based whale-watching areas. The Southern Right whale spends the summer in the far Southern Ocean feeding close to Antarctica and migrates north in winter for warm-water breeding. If you're lucky you'll also see large schools of resident dolphins and seals, as well as sharks in the marine reserve.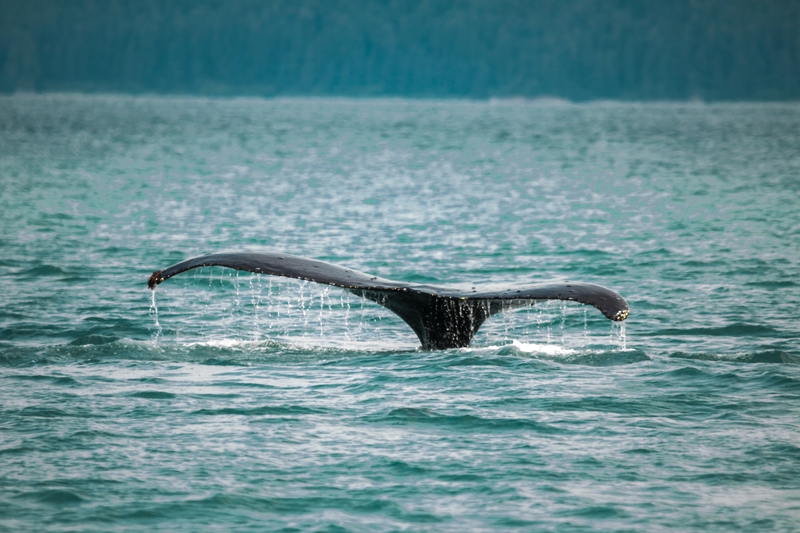 The flora you will see
Expanses of fynbos, grasses and proteas lie before you every step of the way. The landscape is constantly changing as is the vegetation. The first two days are mountainous and as you move along the coast on the third, fourth and fifth day, the coastal scenery is breathtaking. De Hoop is part of the Cape floral region, which is one of the planet's smallest, and most threatened floral kingdoms. The reserve is essential in conserving rare lowland fynbos. De Hoop has an estimated 1,500 plant species of which 108 are threatened. De Hoop offers unique plant diversity, 34 species occur only in De Hoop and 14 were recently discovered and remain unclassified.
The fauna is exquisite
Aside from whales, the reserve boasts rich biodiversity with large amounts of birdlife and land animals that you are able to see while hiking the Whale Trail. The reserve's Potberg mountain hosts the last remaining breeding colony of the endangered Cape Vulture. In the land mammal department, there are up to 86 species in the reserve. You are likely to see bontebok, baboons, Cape mountain zebra, eland, grey rhebuck, ostriches and, if you are especially lucky, a leopard.
Don't overlook the smaller creatures such as the yellow mongoose lurking around trying to stay out of your way. The reserve has a large variety of birds, both migratory and resident. More than 260 bird species have been recorded. You can see pelicans along the coast or breeding in the safe haven of De Hoop. On days four and five of the hike, you'll have some excellent swimming and snorkelling opportunities to get a good look at the smaller marine life.
What to pack
Don't be fooled, slack packing can be luxurious especially if you are willing to pay the small extra for 60-litre portage to have your goods transported to every overnight cottage. Avoid things that need refrigeration (except on the first night). Stock up on delicious food and beverages, you'll deserve it after a full day of trekking. Snacks are essential for keeping up energy levels while you're hiking. Weather can be unpredictable so be prepared. Cape Nature provides you with a comprehensive list of things to bring but these are things you absolutely cannot forget when hiking the Whale Trail.
1. Sleeping bag
2. Hiking shoes
3. Water bottle
4. Binoculars
5. Mask and snorkel
6. Matches
7. Torch
8. Rain poncho
9. Loads of socks
10. Snacks
11. Games for the evening
Each overnight cottage is mildly rustic with a well-appointed kitchen, clean bathrooms, hot water and electricity. It is by no means roughing it. Each room is dormitory-like with bunk beds that have the fun feeling of school camp. The setting of each overnight cottage just gets more scenic each day. Make sure you book the hike for your group of 6 or 12 well in advance as it a well-loved destination and very popular trail, especially in September's whale season. So there you go, a few pointers before you are off to explore the great Western Cape outdoors.
Get ready to book your flight to Cape Town, hire a car and start planning your Overberg outdoor adventure!
If you have any other tips to help intrepid hikers on the Whale Trail, let us know in the comments below.
Also read: Things to do in Hermanus
Don't forget to sign up to our newsletter to stay on top of upcoming flight deals, travel tips and much more.
---
All information on this blog page was correct at the time of publishing and may change at any time without prior notice. Travelstart will not be held liable for loss or inconvenience resulting from the use of out-dated or incorrectly noted information.