"The one thing we were clear on, though, is that we wanted a holiday, not an ordeal."

If you're anything like me, when you had a baby you probably thought your travelling days were over… I mean, how exactly do frequent naps and baby food fit into long flights, numerous train trips, wandering foreign cities and trying the local cuisine? In fact, my husband Mark and I had pretty much decided to ignore our itchy feet till our son Arthur was five years old (and could appreciate the adventure).
"The best thing about holidaying in Amsterdam with a young child is that there's a direct flight there: 11 hours from Cape Town to Amsterdam on KLM."
Then we were invited to visit my sister-in-law's family home in the South of France – free accommodation! In the South of France! – and realised that if your baby is less than two years old they pretty much fly for free. Let's be honest, this is because they're sitting on your lap for the whole flight and don't get their own seat, but still! Free flight and free accommodation? We couldn't say no.
The one thing we were clear on, though, is that we wanted a holiday, not an ordeal. In our previous life, we went for the cheapest flight regardless of layover, but with a very active one-year-old, that wasn't an option. So we did some research into the easiest way to get to Europe. And it turns out that Amsterdam in the Netherlands is the golden entryway in terms of ease. Here's what we found: a simple guide to Amsterdam with family.
Getting to Amsterdam
The best thing about holidaying in Amsterdam with a young child is that there's a direct flight there: 11 hours from Cape Town to Amsterdam on KLM. It was an awesome flight and a great way to start the holiday, knowing we didn't have to make it through more than one flight or waste any precious time hanging around in airports.
As parents know, the trickiest part of flying with young children is the ascent and descent because they can't equalize as easily as adults, so the fact that we only had to navigate one of each of those each way was a great relief. KLM is also a really relaxed, baby-friendly airline (with surprisingly delicious food). If your baby is under 1 year and under 10kg, they automatically give you the front seat (extra legroom!) with a bassinet that attaches to the wall in front of you so that your child can sleep solo. Arthur, my son, is over a year and definitely over 10kg, but we lucked out on the way there and still got to use the bassinet – even if all you do with it is pile it full of baby essentials, it's enormously helpful. The extra legroom also means you can cordone off a little patch for your child to crawl around in, which is great.
On the way back we weren't so lucky and got the window and middle seat in the middle of the plane, but it still worked out fine. There's a lot of kids entertainment on the screens if your child is old enough for that (Arthur wasn't) and we managed to find a little square of carpet at the back of the plane for him to crawl around… He was soon joined by another two babies, and although the air hostesses raised their eyebrows they left us to it, which was greatly appreciated. Honestly, I cannot emphasise enough what a joy it was to have a direct flight! The other option is to fly BA to London, but as a South African that can be expensive if you need a transit visa for the UK. Trips to Amsterdam require the usual Schengen visa for South Africans and yes, your child does need their own visa (and their own passport).
Getting Around
"Centrality is key!"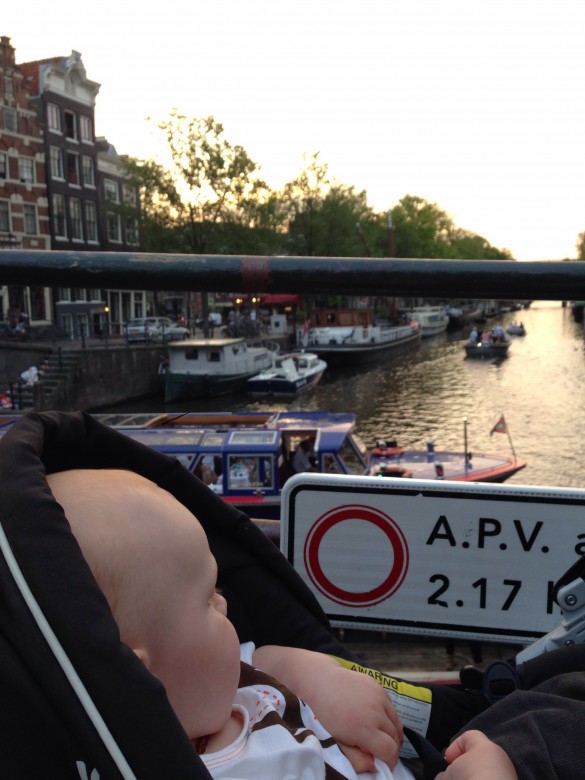 My best advice? Be sure to choose somewhere to stay that's central, so you're not wasting precious holiday time travelling to and from your hotel – particularly if your child will need a midday nap. We chose The Good Hotel which was an easy 15 minute walk from Amsterdam Centraal train station – a quick ride from Schiphol Airport. Amsterdam is a wonderfully walkable city, and particularly pram-friendly because all the pavements and roads cater to bicycles, so walking around was a breeze. There's also a tram, if you don't feel like walking or you have little ones with little legs, and trains to take you anywhere you need to go (within the Netherlands or anywhere in Europe!)
Where to Stay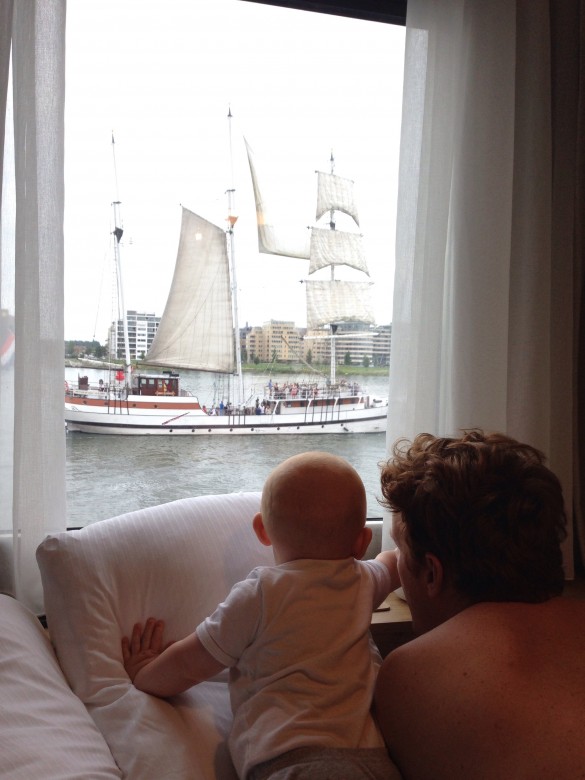 See previous point: centrality is key! We stayed at The Good Hotel, a pop-up 'boatel' (literally a floating hotel) that will be in Amsterdam for a year and then set sail for Brazil. We chose it because it's such a fascinating concept: a not-for-profit hotel that trains its previously unemployed staff in hospitality and has a no-frills approach to comfortable hotel stays – beautiful design but no unnecessary extras. What this means is amazing decor in the tiny (13m2) rooms and well-thought-out use of space throughout. While they aren't obviously baby friendly in that they don't cater specifically for families (ie no changing tables or baths in the rooms) they were very helpful and welcoming to us and our little boy, and had a lovely relaxed family-friendly feel. If you're the kind of parents who still want to stay somewhere cool and don't mind being a little creative with your baby routine, this is a great option. We chose a waterfront room (which you should absolutely do, the views are outstanding) and Arthur loved staring out the window from the bed… Endless (free!) entertainment. The breakfasts were also perfectly shareable – trays of continental delights that Arthur happily helped us devour. And there's an in-house restaurant if you don't feel brave enough to venture out and about hunting for dinner.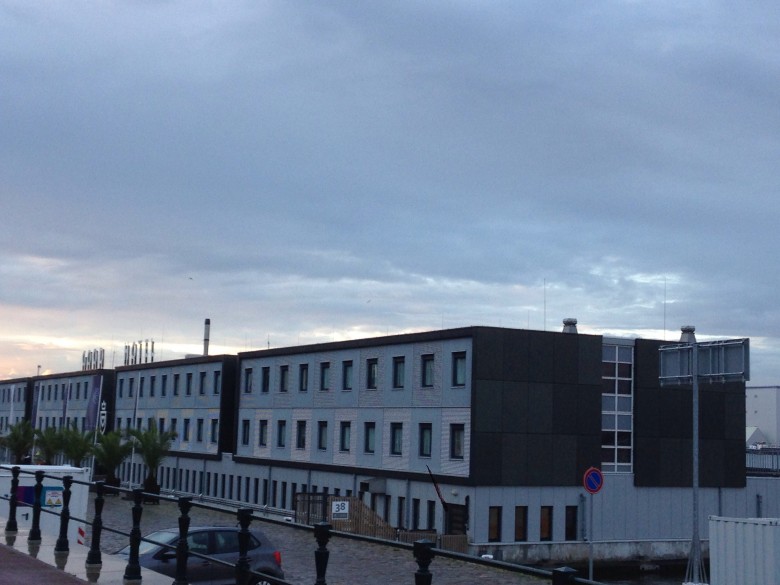 What to Do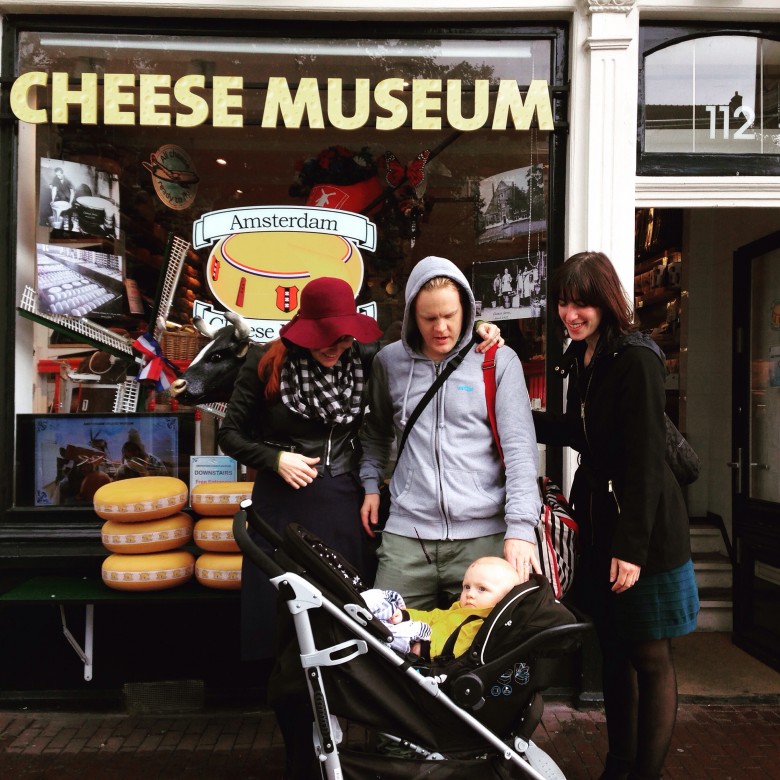 "In short, I was surprised both how easy it was to travel with a young child, and how much fun it was."
Amsterdam has no shortage of must-do's, so this is entirely up to you. I would recommend a fresh stroopwafel from the market, a lot of wandering around getting lost in the charming old city, a beer (or glass of bubbly) and bitterballen along the canals and of course visits to any number of museums if your child is old enough. There are literally thousands of bicycles to rent, loads of parks to play in to burn off some kiddie energy and a lot of relaxed cafés to eat in that won't mind if your child throws their food around!
In short, I was surprised both how easy it was to travel with a young child, and how much fun it was. Just as a simple trip to the park can turn into an exploration with a young one in tow, all the usually unexciting parts of travelling abroad (Airports! Trains! Standing in line to buy food!) became an adventure as we saw it all through Arthur's eyes… And if that's not worth a long flight with a wriggling baby, I don't know what is.