Looking for some honeymoon inspiration? There are many locations around the world that guarantee you an unforgettable, romantic and magical experience. Some of the most amazing of them are found in the 'land down under'. So, in no particular order, let's look at the top honeymoon destinations in Australia
Queensland
If you're looking for a romantic beach setting for your honeymoon, Queensland is the place to go. Take a look at some of the northeastern state's best honeymoon destinations in Australia.
1. Whitsunday Islands
Most travellers who have been to the Whitsunday Islands have agreed that it's home to a number of the best beaches in the world. Besides that, there are 74 islands to explore, including the exotic Daydream Island! Catch breathtaking views from Hill Inlet at Whitehaven Beach. Explore Hamilton Island by golf buggy. Indulge in the pleasure of being surrounded by spectacular nature while experiencing a romantic honeymoon in Australia.
You might be surprised to know that it's best to visit the Whitsunday Islands in winter (May to mid-September). That's when the weather is almost perfect, especially between June and July.
Choose from a great selection of places to stay in and near the Whitsunday Islands.
2. Noosa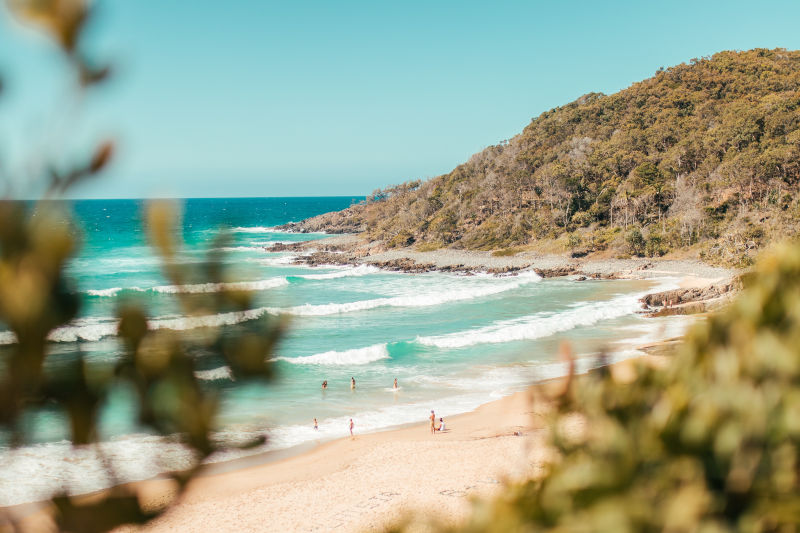 Head to the south of Queensland to the Sunshine Coast. That's where you will find Noosa, a glamorous town that's one of the top honeymoon destinations in Australia. Go on adventures in Noosa National Park. Browse the collection of shops along Hastings Street. Relax with a drink in hand and enjoy delicious food at the top-class restaurants at Noosa Waterfront.
Visit Noosa during spring (September to November) for the perfect weather. Sunshine will be plentiful while rainfall will be minimal.
There are over 20 hotels in Noosa, each with a selection of facilities to ensure you have a comfortable stay.
3. Palm Cove
Named after the Melaleuca "paperbark" trees that line its beach, Palm Cove offers a calm setting that makes it one of the most ideal honeymoon locations in Australia. Many world-class beach resorts, spas and restaurants are available at this locale, ensuring you have many opportunities to have unforgettable romantic experiences.
Summer (December to February) is regarded as the best time of year to visit Palm Cove. Make sure to pack in extra sunscreen.
Choose from a collection of places to stay in Palm Cove.
Victoria
Situated on the southeastern coast, Victoria is home to beautiful beaches and majestic national parks. One of the finest honeymoon destinations in Australia offers you a magical romantic getaway.
4. Melbourne
Adventurers tend to think of Melbourne as the hub of live music and the bar capital of the country. Visit the amazing limestone stacks of the 12 Apostles. Explore the enchanting Yarra Valley. Catch iconic views from the top of Eureka Tower. You might not run out of things to do while enjoying a honeymoon in Australia.
To get great weather and a more relaxed atmosphere, visit Melbourne during March, May, September and November.
There are more than 270 hotels in Melbourne. You'll be spoilt for choice!
5. Mornington Peninsula
The activities that you can indulge in while visiting the Mornington Peninsula are perfect for newlyweds seeking a romantic getaway. Drive through the region and discover its love affair with food and wine. Wander together through hedge mazes and explore fragrant lavender farms. If you prefer adventure, horse riding and ziplining are among the things you can do. This is just a taste of what you can expect with one of the leading honeymoon destinations in Australia.
Visit the Mornington Peninsula between February and March, when you can enjoy quieter scenes and still-pleasant weather.
A number of accommodation offers are available in and near the Mornington Peninsula.
6. Lorne
Lorne is one of those towns in Victoria that offers many treasures. Admire the creativity you can find at the art gallery and sculpture park. Explore the shops and cafés at Mountjoy Parade. One of the best romantic spots for a honeymoon in Australia is Teddy's Lookout, which offers gorgeous views over the St George River and the coast.
The tourist scene is generally slow during autumn (March to May) and spring (September to November), making these the ideal times to enjoy your honeymoon getaway.
Many hotels, apartments, inns and guesthouses are in and near Lorne.
New South Wales
The southeastern state of New South Wales is best known for its vibrant coastal cities and breathtaking national parks. With such an offering, it provides one of the best honeymoon locations in Australia.
7. Sydney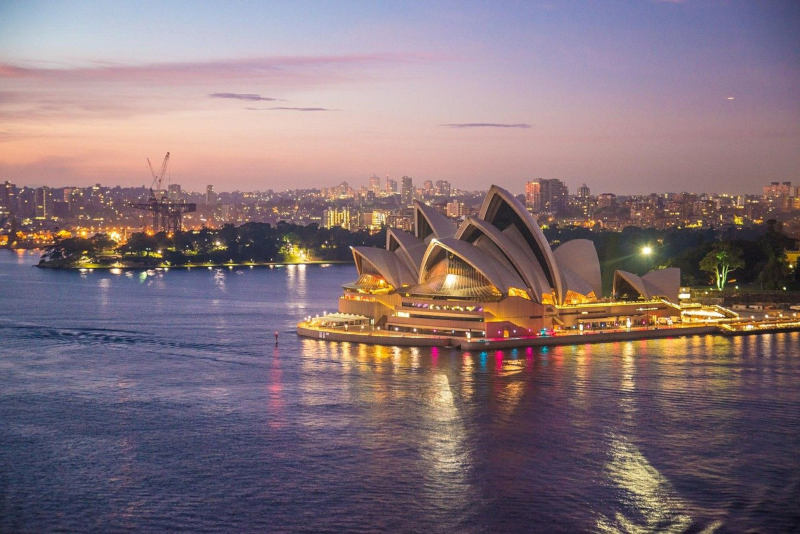 As one of the most popular cities in the country, the stunning beauty of Sydney makes it an obvious option for one of the most outstanding honeymoon destinations in Australia! Indulge in a romantic cruise on the picturesque Sydney Harbour. Treat yourself to ideal seclusion with a stroll down Federation Cliff Walk. Head to the top of Harbour Bridge to get iconic views of the harbour and the skyline of Sydney.
Visit Sydney between October and November, and between late February and March for sunny weather and no school holiday crowds.
There are over 300 hotels in Sydney to choose from!
8. Byron Bay
The main selling points of Byron Bay – a laid-back pace and beautiful beaches – make it one of the perfect honeymoon locations in Australia. Watch the unforgettable sunrise from Byron Bay Lighthouse, explore the lesser-known beaches for some delightful privacy or enjoy a massage at The Arts Factory.
The best time to visit Byron Bay is between September and November when temperatures are comfortable and rainfall is low.
As for accommodation, there are more than 40 places to stay in Byron Bay!
9. Hunter Valley
If you'd rather explore many wineries, Hunter Valley is one of those honeymoon destinations in Australia to do it! When you're not indulging in wine tasting, there are more amazingly romantic things to do. You could soar over the valley in a hot air balloon. Treat yourself to incredible views courtesy of the hiking trails at Barrington Tops National Park.
Visit Hunter Valley between September and November (spring) and between March and May (autumn) for quiet periods that are perfect for the honeymoon experience.
There are over 20 hotels, resorts and guesthouses in and around Hunter Valley.
Tasmania
10. Freycinet National Park
This place couldn't seem more perfect for a memorable honeymoon, especially since it's home to a scenic swimming spot known as Honeymoon Bay!  Essentially a location of wild beauty, Freycinet National Park offers seclusion, gorgeous beaches and stunning landscapes. Dine on traditional Tasmanian dishes. Meet fascinating wildlife. Admire picturesque sunsets over the coast.
You can visit Freycinet National Park at any time of the year thanks to its mild climate. However, avoid summer (December to February), which is when accommodation is fully booked and tourist volumes are at their peak.
There are hotels near Freycinet National Park and in nearby neighbouring areas.
11. Hobart
The capital of Tasmania, Hobart is the second oldest capital city in the country after Sydney. As one of the top honeymoon destinations in Australia, it offers a blend of heritage, scenery and culture. Catch awe-inspiring views from the top of Mount Wellington. Go back in time and enjoy beautiful scenery all around on the Battery Point Sculpture Trail. Experience the serenity of the Royal Tasmanian Botanical Gardens.
Many travellers regard the summer holiday period (December to January) as the best time to visit Hobart. That's when you can enjoy many exciting annual events and day tours.
There are more than 50 hotels in Hobart, so you'll have plenty to choose from!
12. Cradle Mountain
One of the most stunning locations in Tasmania is Cradle Mountain, situated in the heart of the Tasmanian Wilderness World Heritage Area. Have a picnic amongst breathtaking scenery while exploring Marion's Lookout Walk. Fall in love with the beautiful sights at Lake St. Clair National Park. Go on wildlife tours and keep an eye out for the famous Tasmanian devil.
To get the best weather conditions when visiting Cradle Mountain, time your visit between December and March.
As for where you can stay, there is a great selection of accommodation offers in Cradle Mountain.
---
Now you have a taste of what the honeymoon destinations in Australia can offer you! Start making plans, choose where to go, and book flights to Australia!
Subscribe to our newsletter to keep track of great fares and exclusive deals.
Have you indulged in a honeymoon in Australia before? If so, share your tips and experiences with us in the comments!
All information on this blog page was correct at the time of publishing and may change at any time without prior notice. Travelstart will not be held liable for loss or inconvenience resulting from the use of out-dated or incorrectly noted information.