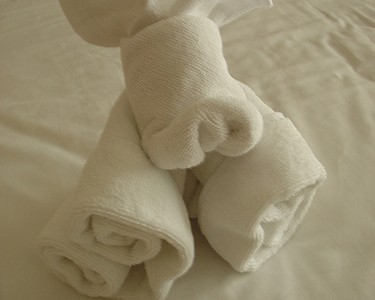 Are you one of those people that just can't help themselves but to stuff a couple of fluffy hotel towels in their suitcases before checking out? Well steal no more, as a  company called Linen Technology Tracking in the United States has developed a new anti towel, sheet and robe theft device. It's a very simple, yet brilliant idea.
The tag should be sewn into anything made out of fabric or cloth that could be taken by greedy hotel guests, such as towels, bathroom floor mats, sheets etc. (And no, I'm not making this up. Anything that is not attached in a hotel room will be stolen at some point.) The tag will trigger an alarm when the item is taken outside of the hotel's premises and the culprit can be easily tracked down. The RFID SMARTtags as the devices are called are water and detergent proof so they can be washed a good 300 times before they need to be replaced.
According to William Serbin who is the executive vice-president of Linen Technology Tracking, "Any given month, hotels can lose five to 20 per cent of towels, sheets and robes. That gets expensive with the rising cost of cotton." An anonymous hotel in Hawaii tested the tags last year and noticed that the number of towels stolen reduced from 4,000 to just 750. That was a saving of over US$10,000 a month. Apparently there are three hotels in Honolulu, Miami and New York City that have introduced the system now, but they understandably want to remain unnamed, I suppose that is in order to catch the towel klepto's red-handed, but who knows. So next time you're considering to take that towel, or worse, the curtains or the rug from your hotel room, think again. Thanks to the RFID SMARTtags you might find a hefty surcharge on your hotel credit card bill.