Pregnancy is an exciting time in any woman's life and should be celebrated by doing things that you love and enjoy! Contrary to popular belief, healthy pregnancies should include all of your regular activities and if you're planning on taking a trip during this joyful time (babymoon, anyone?), then you should definitely go for it! Long flights can sometimes be utterly exhausting though, so let us guide you on your pregnancy travel journey with tips on how to comfortably enjoy flying pregnant!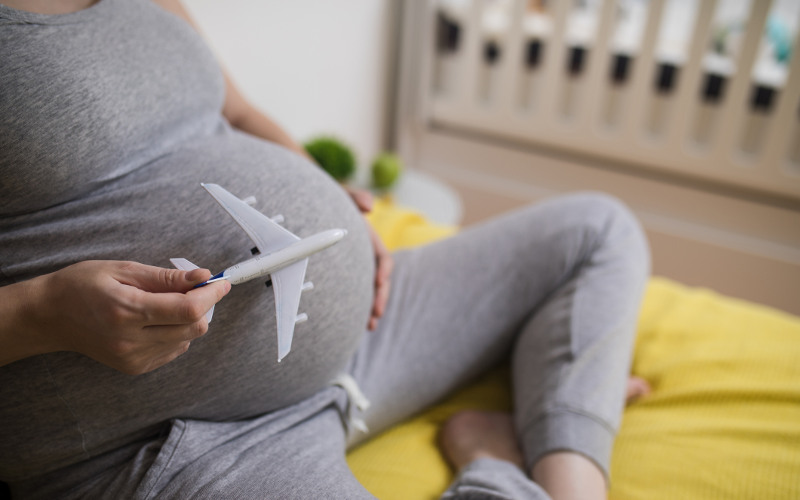 First things first – your and your baby's safety
It is always advised to speak to your doctor or midwife before booking a flight anywhere. Whereas a domestic flight to Durban may be perfectly fine, a 12-hour flight to London may be a bit more strenuous on your body. Most pregnancies are risk free and travel is definitely something that a mother can consider doing during these precious nine months – as long as your healthcare practitioner gives you the green light!
Can flying harm your baby?
Flying is not known to harm your unborn baby and there is no more chance of early labour or any other complications while flying pregnant as with both feet on the ground.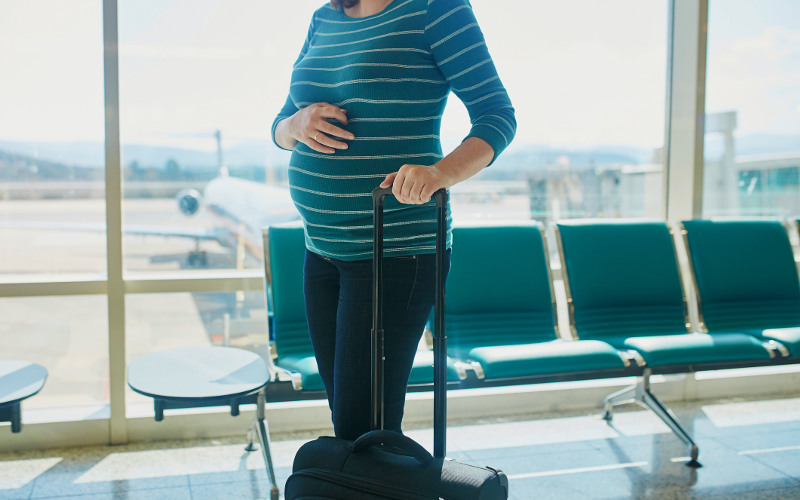 When is the best time to fly while pregnant?
Out of your forty weeks of pregnancy that spans three trimesters, there are different levels of comfort. For most, your second trimester will be the most comfortable. Many women experience mild to moderate levels of morning sickness and various levels of fatigue during the first trimester, making life a tad bit uncomfortable! During the last trimester, you will most probably be uncomfortably heavy and too uncomfortable to be jetting off from one destination to the next. So, from around 13 to 28 weeks, you will feel most like your regular self and flying will be a breeze.
What if something unforeseen happens during the flight?
Rest assured that in the very slim event that you're not feeling great and something should happen, the airline staff are trained to assist you in any way that you may need.
Where should you sit?
With a growing weight hovering over your bladder, pregnant women tend to need the bathroom quite often so you might want to consider choosing a seat on the plane that is closest and easily accessible to the loo. Ideally, this is towards the front or back of your cabin class, and of course, on the aisle. Unless you're travelling with friends or family that don't mind being disturbed by your bathroom breaks, try to book your seat in advance.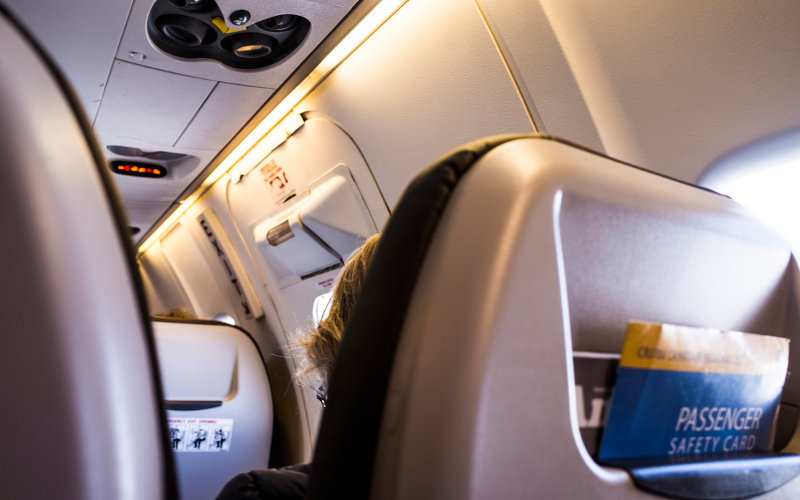 Heavy baggage
No one enjoys slugging heavy bags around, pregnant or not. Do yourself a favour and pack as light as possible to avoid having to carry any heavy luggage. Invest in a suitcase on wheels and where possible, please do ask those around you to help lift your luggage up onto conveyor belts and into the overhead compartments on the airplane itself.
What should you wear while flying pregnant?
You want to be as comfortable as possible when flying. So, though it's wonderful that you're still fitting into your regular jeans and that your feet don't cramp at all in those cute pumps, you might want to reconsider and opt for looser pieces of clothing. Maternity pants are ideal as they allow for your expanding belly – ideal for when seated for long periods of time. Your feet need to be as comfortable as possible so think trainers, rubber-soled flats, sandals and all of those comfy shoes. Even better than regular laced trainers? Velcro straps for easy-on, easy-off access when flying pregnant.
Keep moving
Try to avoid sitting for long stretches at a time and walk up and down the aisle to keep your blood flowing. Pregnant women are often more susceptible to blood clots and of course, those unpleasant swollen ankles! Try to stretch and move your feet at least once every 30 minutes or so, and make sure to get up and out of your seat once every two hours at least.
Snacks for flying pregnant
Whether you're flying for three hours or thirteen, make sure to pack in some snacks. Your airline may not have the best options available for you to chose from, so make sure to pack your favourites in. Things like fruit bars, nuts, energy bars and biscuits can go a long way when you're trying to keep hunger at bay. For any dietary requirements during your pregnancy, make sure to book ahead with the airline. You are, of course, encouraged to eat a variety of foods and to enjoy everything in moderation, but if any specific food is making you feel extra bloated or just uncomfortable during your pregnancy then talk to the helpful airline staff up front.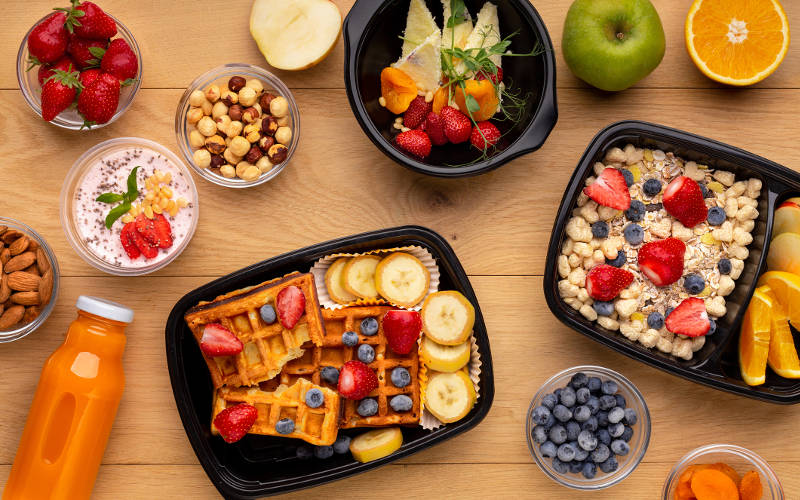 Stay hydrated
Always keep a bottle of water with you when flying. It may seem counterproductive as you're going to be in the bathroom all the time anyway, but it is especially important to stay hydrated when flying pregnant. Staying hydrated can keep early and false contractions at bay, so you really want to keep that water at your side!
What is the cut-off time for flying pregnant?
Most airlines insist that you may not fly once you've passed the 36-week mark. With just a few short weeks until your due date, do you really want to travel too far away from your birthing facility? There are, however, exceptions, and most airlines are happy to accept a letter from your doctor stating that you are fit and able to fly up until 38 weeks into your pregnancy. Check with your airline ahead of time.
Keep your documents at hand
Keep your medical notes from your healthcare professional at hand, along with your ID/passport, visa papers (if necessary) and boarding passes. This is especially useful when travelling to more than one destination as it will save you from having to scratch around in your bags when asked to produce the documents that allow you to fly.
Navigating the airport and layovers
The most important point to stress here is that you try to be as comfortable as possible. Connecting flights may not be what you were hoping for, but a break from the long hours in the air to stretch your legs before boarding your next flight is actually great. If your layover stretches over more hours than you'd feel comfortable browsing the airport shops, then consider booking into a nearby hotel (if your visa permits) or just paying a bit extra to make use of the airline business lounges. You can get a decent meal, relax with your feet up (sneak in a 2-hour nap!) and take a shower if the lounge has this facility.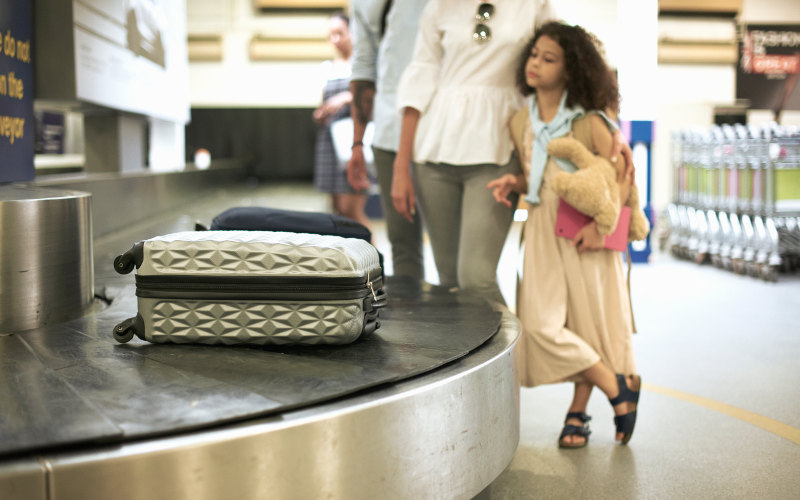 Why it's a good idea to invest in travel insurance when flying pregnant
Most pregnancies are easy, but sometimes it can be unpredictable at times, and you never know exactly how you might be feeling at any given time. With that in mind, you may need to cancel your flight at the last moment as you're not feeling so great or oops, you have a scan scheduled for that particular day. Travel insurance is always important, and especially so if you're flying in your first or third trimester.
Have you flown pregnant before? Which hacks did you find particularly useful? Let us know in the comments below!
Also read: Flying with a baby
Sign up our newsletter for the best flight specials and plan your ideal family vacations with Travelstart.