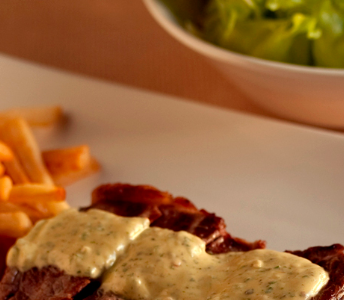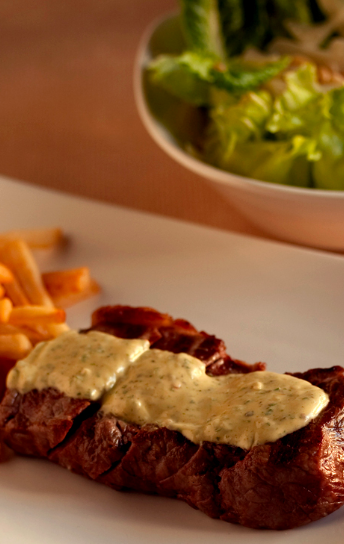 Image credit
Do you love steak? Who doesn't? (Except from vegetarians, of course). If you're a real steak lover, I have a secret to share with you – but I'd rather you didn't tell too many people, if you don't mind?
HQ in Cape Town has a Monday night special: two steaks for the price of one.
If you're not delighted by this news, you've obviously never been to HQ. It is, in short, one of the finest steak restaurants in the city (and not only because the steaks are half price on Mondays!) The secret to the success of HQ (real name Headquarters, but who's going to bother with that when you have the handy HQ?) is that they only serve one meal: salad, sirloin and chips.
The salad is cos lettuce, a generous handful of toasted pine nuts, shavings of fresh parmesan and a light and lovely mustard vinaigrette. The sirloin is free range from Namibia or Botswana, perfectly cooked and served with Café de Paris butter. The chips are skinny and double-fried: crisp on the outside, soft on the inside. In essence, it may only be one meal, but it is one perfect meal.
The ambience at HQ is also great – very relaxed, but with a lot of energy. The tables are crammed into a long line (unless you get lucky and sit upstairs – I've never lucked out in quite that way before!) and the tablecloths are brown paper, so that the waitrons can scribble an R, M or W, depending how you like your steak (Rare, Medium or Well Done). There's also a busy bar, serving a fantastically long list of cocktails and a dizzying array of wines and spirits – in sharp contrast to their single item food menu.
But it's the steak that people come for. And on a Monday night, if you're lucky enough to get a place at one of their two sittings, your steak will only cost half what it usually does – which somehow makes it taste even better…