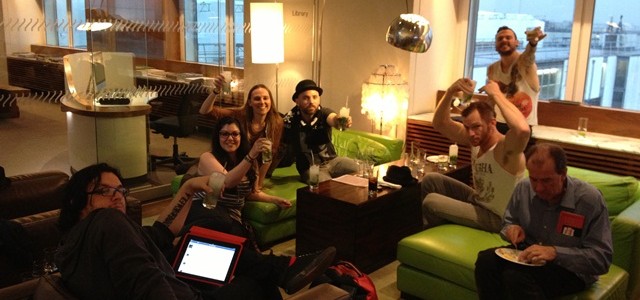 Recently I went on holiday with my best girlfriend to the UK. We went on various tours, caught up with a few old friends and even managed to get in some much needed rest… All in all it was a spectacular holiday but as the 10 days came to an end we were ready to come home.
We got to the airport in plenty time, booked ourselves in and made our way to the bar to have our final pint to say "goodbye London".
Before we took off the cabin crew announced a no-show that gave us a short delay while her luggage was taken off the aircraft. Down to 255 passengers, our flight departed a few minutes after 20:30, the safety procedures were dutifully explained, we were served our meals and drinks and began to settle in comfortably for the night…
About halfway through my first movie an announcement was made to call to any passengers with medical experience to assist with a situation on board. We were assured that the situation was under control but that any assistance would be appreciated. It was approximately 2 hours into the flight when a second announcement was made that a woman was in the process of giving birth on the plane and the decision was made to make an emergency landing! As we were over north Africa at the time, we had to turn the plane around to land in Spain, but before we could do so we had to get rid of as much fuel as possible for a safe landing. All lights in the aircraft were switched on and all entertainment turned off as we waited in anticipation for the arrival of passenger number 256. Fellow passengers handed in unopened blankets and pillows to the flight attendants who made up a bed in the galley for the mother. It wasn't very much later that the captain announced the arrival of a healthy baby boy and the passengers erupted in applause!
Mother and baby (and a bag full of placenta I wish I hadn't seen) disembarked in Spain and were taken to hospital while we refuelled in preparation to head back to Heathrow. London was obviously not ready to say goodbye to us! We landed at 05:55 and our flight had to be rescheduled to depart later that day. Due to the inconvenience of the delays Virgin Atlantic generously put up all 254 remaining passengers in the Park Inn Hotel at Heathrow and supplied us with meal vouchers and phone cards for the day.
The Virgin Atlantic staff were absolutely incredible throughout the flight. I was extremely impressed with the way they handled everything and everyone on board.
An added bonus was that the South African band, The Parlotones, were on board with us! They were on their way home from their successful European Tour. We were lucky enough to meet the guys – and what a fantastic bunch they are! Neil, Kahn, Paul, Glenn and Jeff – thanks for keeping us entertained during the delay!