If you travel a lot then in flight exercises are your best bet for a safe and healthy arrival. Long haul flights can be hard on your body and unless you're flying first or business class, you're going to need to do some on board stretches and joint loosening exercises in order to remain on top of your game.
In this post about in flight exercises I'll outline some quick and easy routines you can use to make your arrival on the other side that much better. Firstly, ditch all the meds you've taken in the past. It's time to seek out healthy long haul travel the right way.
In Flight Stretching Tips
Make stretching a significant part of your inflight exercise regime. I've found some 'air-xercises' you can do in your seat, but remember to get the circulation going by setting out for short walks in the cabin when possible.
Rest your arms at your side and do 10 reps of shoulder shrugs in each direction. Focus on rolling shoulders in a wide, circular motion.
Relax your shoulders in preparation for the neck roll. Start by turning your neck on to your right shoulder and holding for a few seconds. Progress from your right shoulder to your back, left shoulder and chest and hold each movement for about 5 seconds. Avoid fast neck movements. Aim to execute this exercise in a relaxed manner.
The shoulder stretch – place your right hand on your left shoulder then grab your right elbow with your left hand and pull towards your right side. Hold the position for 15 seconds then switch and repeat. Five reps will suffice for this in flight stretch.
Knee-to-chest inflight stretching – In your seated position lean forward a bit and grab your knee just below the joint. Pull your knee up slowly towards your chest and hold the position for about 15 seconds. Switch and repeat 5 times.
Ankle stretches – this one's great to get the circulation in your feet going. Simply raise your feet and rotate them in a circular motion. Five times clockwise and five times anticlockwise will suffice.
Foot pumps – Place your feet flat on the floor then raise your toes as high as you can and hold for 10 seconds. Lower your toes until they touch the floor then raise your heels without letting your toes leave the floor and hold for 10 seconds.
There you have it – some simple in flight stretches you can practice next time you're on a long haul flight. And the best part is you don't even need to leave your seat to do them.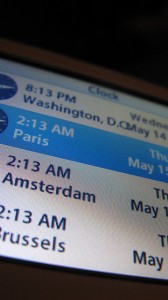 Although the in-flight entertainment can seem like an attractive option to while away the hours, try these in flight exercises intermittently instead. If you're on an 18 hour flight from Johannesburg to New York then try the inflight stretches every 2 hours or so. Whether or not you're on your way to a business meeting or a relaxing beach holiday, they can help reduce jet lag and make you feel refreshed at your destination.
Stretch your wings with Travelstart
As South Africa's leading Online Travel Agent, Travelstart is at the forefront of bringing you the best travel deals and flight specials on the Internet. Browse our flight booking engine now to find the cheapest flight tickets online.
Image Courtesy Patrick Haney and yoko on Flickr
[boilerplate bytitle="text"]