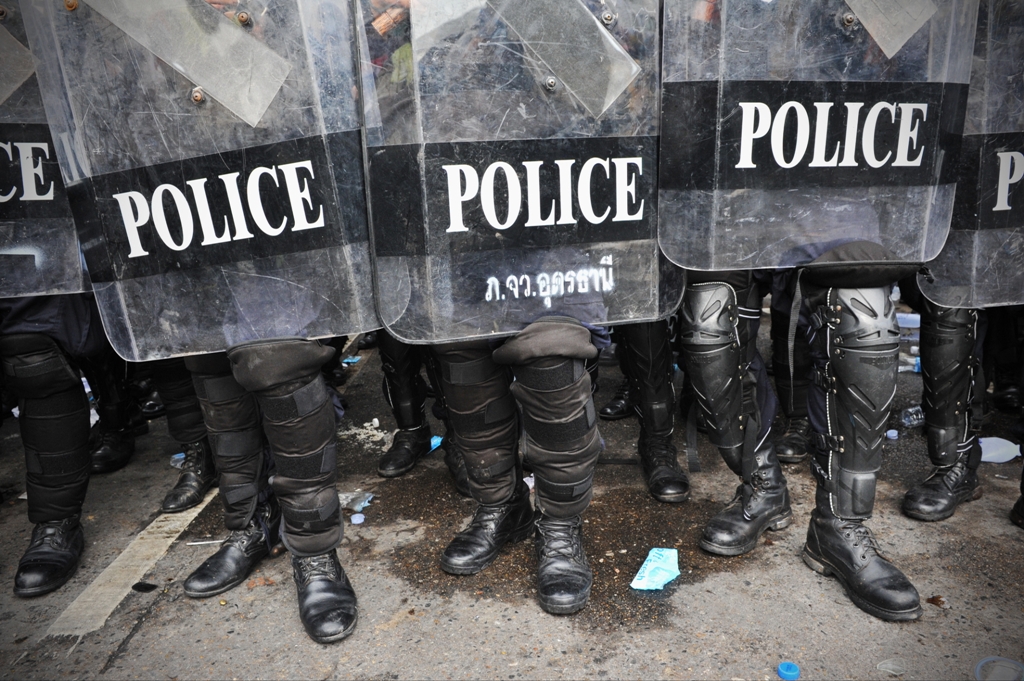 Image: 1000 Words / Shutterstock.com
The question about Thailand travel safety is being asked a lot at the moment, and with the military coup d'état which has just taken place there, the concerns are understandable. We decided to ask a few friends in Thailand what they thought about travel there currently. Looking for the summary? Scroll to the bottom.
The political situation, explained
Michael Volpe, an American who lives in Thailand and runs a company called XploreAsia which specialises in teacher training and job placement, and volunteer programs in Thailand, Myanmar, South Korea, China and Laos had some insightful opinions on the situation in the country right now. In his opinion, the coup was done in order to prevent further bloodshed and political conflict.
While it is a bit too early to tell, this is probably a good move for Thailand's stability and peace in the short run. The military will now be expected to lead a reform process and announce elections in the near future.
He also provides some perspective in pointing out that Thailand has had more than a dozen coups in the last 60 years and always seems to bounce back as these are largely peaceful events. The last one was in 2006 and the military has never had much interest in remaining in power, despite worry from Western nations.
When they carried out the previous coup 2006, they were criticized by all parties and couldn't wait to step down. The Western media and nations said they were disappointed last time and they said so this time too, more emphatically. But they will likely not change their stance of support towards Thailand (their closet ally in Southeast Asia) and they will support and encourage the military's peace and election road map, once it is announced.
Michael also noted that several governments including South Africa had condemned the military coup and issued travel advisories to travellers going there. He also reports that the travel industry in Thailand is urging the government to end the curfew as soon as possible and this looks to happen in the next few days, if all goes according to plan.
We asked a G-Adventures tour guide for his opinion who shared an open letter with us written by Chetana Nagavajara, a professor in German at Silpakorn University. The letter was written for the benefit of his friends in Europe and America. While the tour guide was unable to provide a clear stance on this, if this letter echoes his feelings at all, it seems many locals are uneasy about the future, but remain optimistic that these growing pains will be worth it for Thailand in the end.
Professor Nagavajara had noted that the protests in Bangkok had grown particularly violent with weapons stockpiles being discovered. He explains:
A coup d'etat was the last thing people wanted, and the military did not want it either. … People like myself personally have opposed coups d'etat all along, but this time have had to stomach it as a measure to prevent loss of lives.
He notes that a civilian government will be installed soon, but this will not mean peaceful times as the country has many economic and political issues to solve, adding:
We need time to put our house in order and to survive the legacy of 10 years of malicious and cunning corruption.
On safety for tourists
A frequent SA traveller to Thailand, Sean Campbell who is in Phuket at the moment had the following feedback:
Well [I] think Bangkok is [more volatile] but Phuket is fine. The problem is that no one really knows what this curfew means and if it will be enforced but everything closes at 10pm!
But we could still find few bars that would let you stay inside with their doors locked till you wanted to go. Patong completely shuts down at 10pm as well.
So right now in Thailand, from what Sean is reporting, travel is safe, just much of the nightlife is shut from around 10pm. He didn't travel to Bangkok on this trip, so is unable to report first-hand on what the situation is like there.
Michael also echoed what many feel about Thailand's safety situation:
Thailand is still a very safe place to visit. There have been no substantiated reports of violence in the wake of this most recent coup and many are confident that things will return to normal within the next week or so. Tourists are advised to register with their embassies before they depart for Thailand and to take precaution when in Bangkok not to enter any protest area, but other than that, no further steps are necessary. Travel into and out of Thailand whether by bus or plane or train, is open with no restriction. Once the curfew is lifted, things will be back to normal.
Can I be insured?
In terms of cover for cancellation and curtailment of your journey, most insurers don't cover for political unrest, unless it was sudden, unexpected and posed a very serious danger. If you have not purchased travel insurance yet, or purchased it after the political situation escalated last year, you'll almost surely not be covered since this has been ongoing for a while, it has been clear that there has been some degree of instability for some time. This then means that the current circumstances in Thailand are not unforeseen.
This won't effect your other cover such as medical, personal liability, personal accident, lost luggage and so on, so that portion of your risk should still be covered according to the terms and conditions of your individual policy.
In summary
The military overthrew the government of Thailand on 22 May to avoid further bloodshed and political instability. They aim to return the country to civilian government soon. They have imposed a curfew between 10pm and 5am daily, no one is allowed out on the streets.
The situation in Thailand is not a new one, Thailand has had many coups in the past, the country usually bounces back without incident. The situation is likely to be unstable for a while longer, though should improve shortly in terms of the curfew.
Most areas of Thailand are safe to visit, just as safe as they were before, the only uncertainty is Bangkok where the protests have been taking place. We advise avoiding places where protests have been in the past and focusing your travel on the usual beach/island destinations.
Check out the travel advice on Thailand from the US government, UK government and the rather unspecific advice from our own government.