Springtime on the Highveld is an explosion of colour characterised with bursts of purple from blossoming Jacarandas. Here's a self-drive guide on where to see Gauteng's most famous Jacaranda trees.
"Purple rain, purple rain, I only wanted to see you bathing in the purple rain."
I'm walking through a tunnel of electric purple flowers along Government Avenue, near the Union Buildings in Tshwane, and can't help but sing along to Prince's iconic Purple Rain. It's been running through my head the entire morning and I sing the chorus out loud, kind of as a tribute to these purple trees that have made our capital city famous.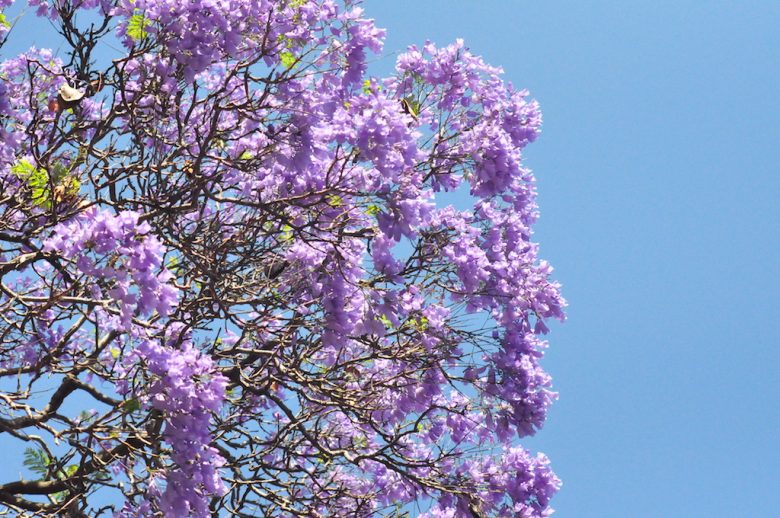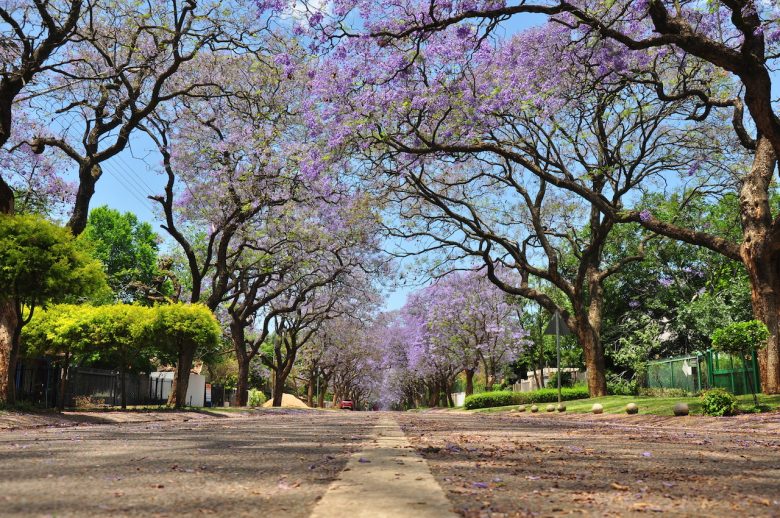 Jacarandas were introduced to South Africa in the 1880s – around the time Johannesburg was being established – from their native South America. It's believed that in 1888 a botanist by the name of Templeman brought two saplings from Brazil. And if you walk along Celliers Street to number 146 at the Sunnyside School Campus, you'll see those two trees and find a plaque detailing their planting.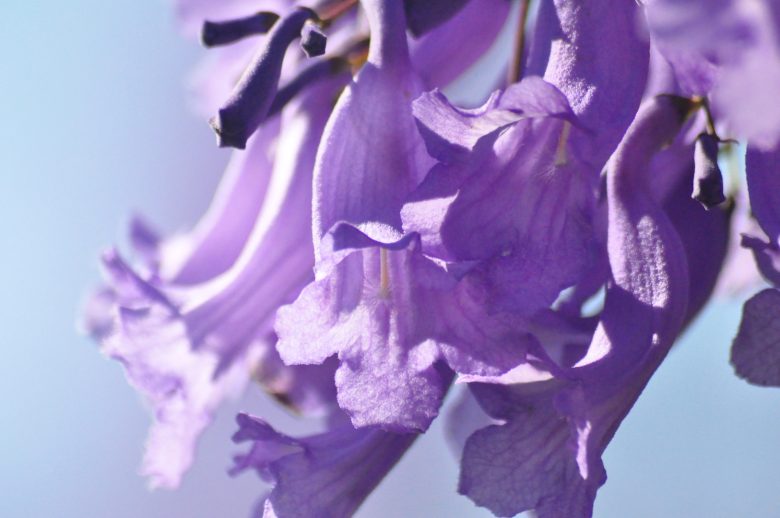 They became very popular and in the early 1900s Jacaranda trees were being planted along new streets at the same time that Johannesburg and Pretoria were being built, so look for them in older suburbs. There are so many in Tshwane – around 33 630 according to a 2003 report by the University of Pretoria – that locals affectionately call it the Jacaranda City or Jakaranda Stad.
Also read:
What does Jacaranda mean?

The name Jacaranda derives from Guarani (a Paraguayan language of South America) meaning fragrant, due to its beautifully smelling flowers. The flowers are around five centimetres in length and are usually found in 30-centimetre big panicles (clusters).
Where else can you find Jacarandas?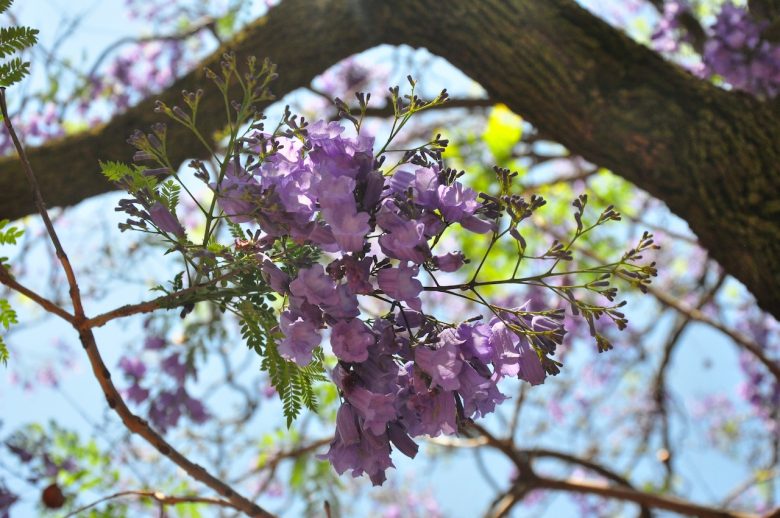 Because Jacarandas are originally from South America you'll see them lining streets, in gardens and parks in central and South America, such as Argentina, Mexico, Brazil, Cuba, Jamaica and Bahamas. They are also found in Iran, are easily spotted in Nepal and have also made their way to Australia as well as Zambia, Zimbabwe and Kenya.
Did you say white Jacarandas?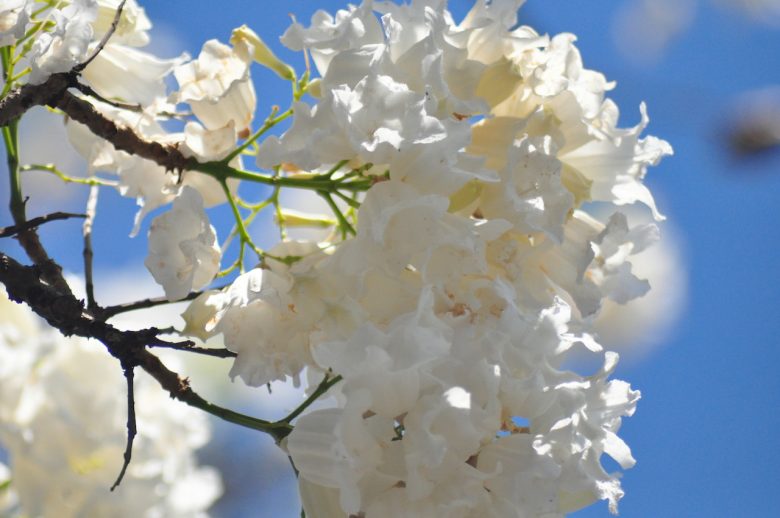 White Jacarandas (rumoured to be sterile) are even more special than the purple ones as there are so few in the country. Before he retired in 1940, John Harold Venning, Pretoria's then municipal director of parks, brought in some white jacaranda seeds from Brazil. The results of his experiment to test how this cultivar would fare in South Africa can be viewed along Herbert Baker Street in Groenkloof, where 80 or so trees line the street. They are best seen from a higher vantage point at Fort Klapper Nature Reserve. I was lucky enough to find two white jacarandas on Lotus Street in Woodmead too. Sightings of these rather rare Jacarandas have resulted in Instagram hashtags like #TheyDoExist.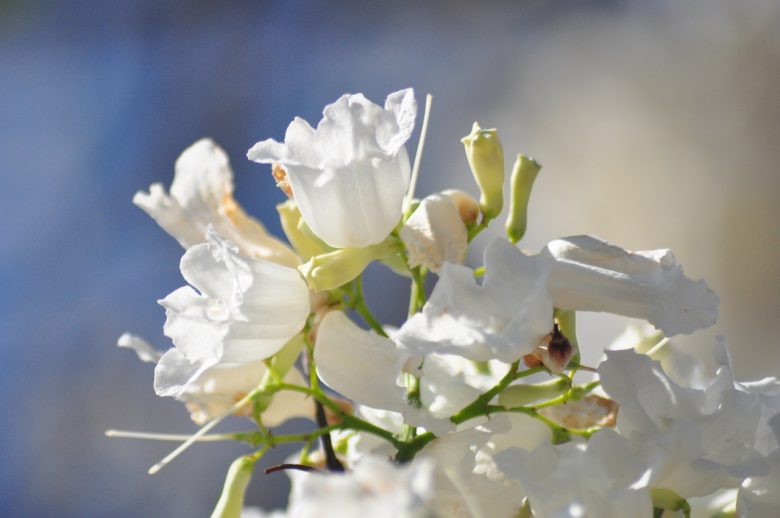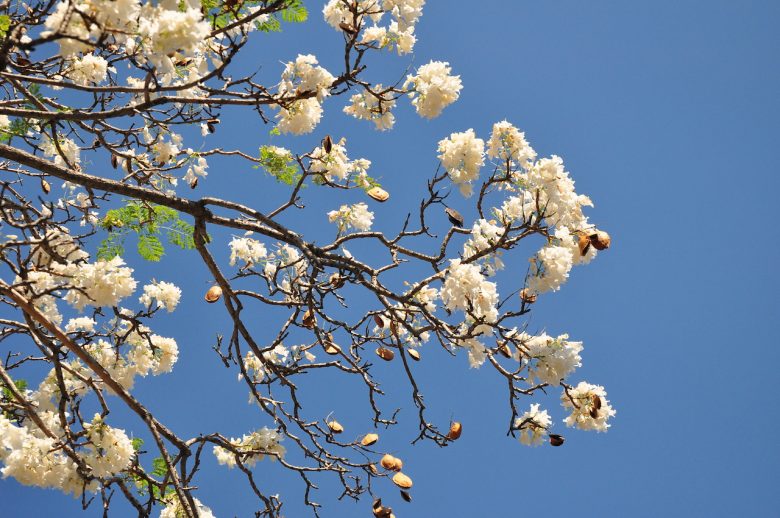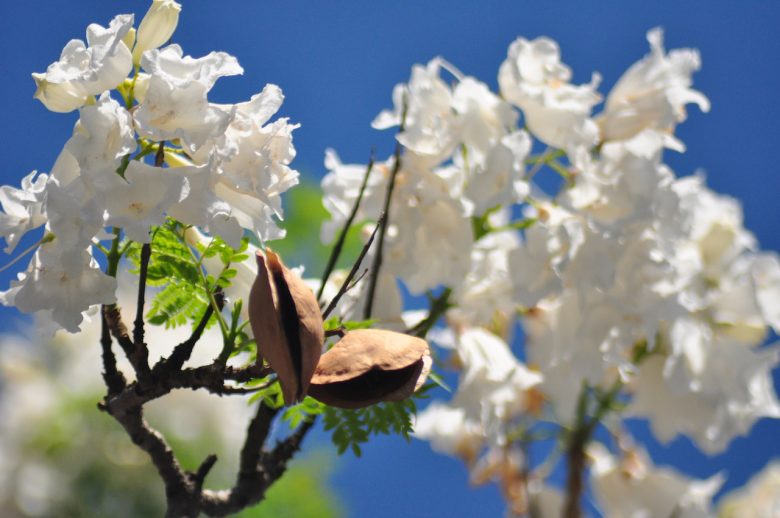 Exam time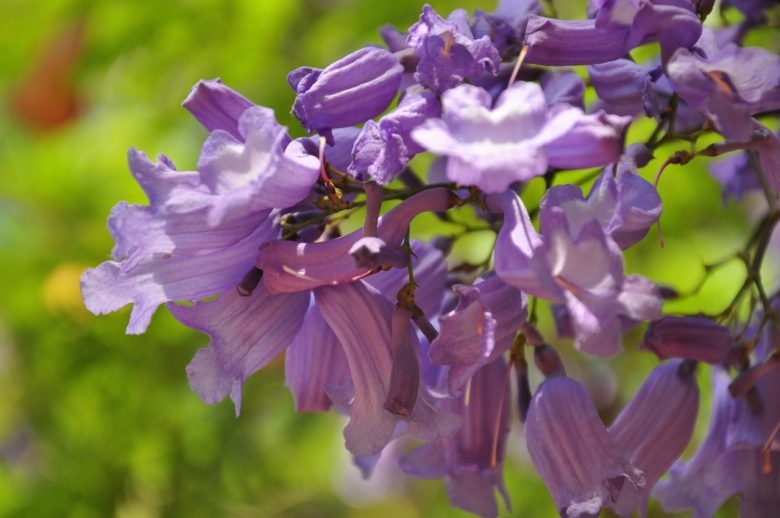 In late October and early November, after the first spring rains Gauteng erupts in a palette of hues. This colourful explosion is like a study calendar that signifies the approaching end-of-year exams. It's said that if you haven't started studying for your exams by the time the first Jacarandas bloom then you've left it too late. Others attribute a magical quality to these trees and believe that if a Jacaranda flower falls on your head then you'll surely ace them all – or at least pass!
Save the aliens – they're worth a lot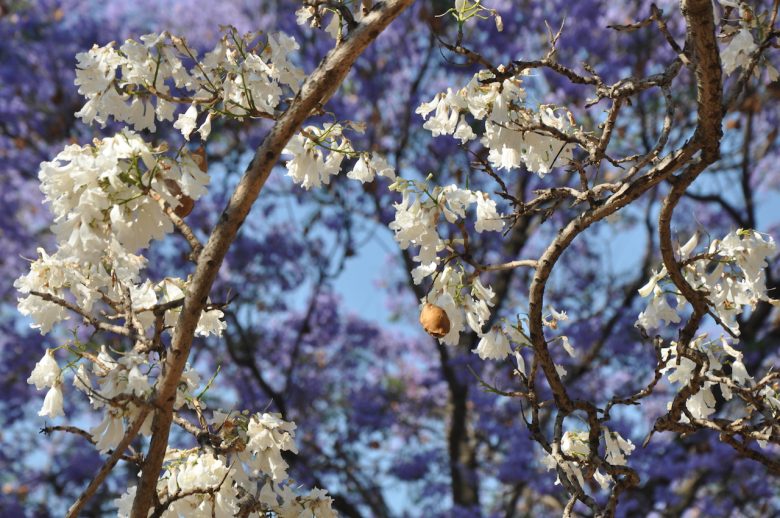 In 2001 Jacarandas were listed as category three alien invader species by the National Department of Agriculture because they are not native to South Africa and consume a lot of water, which prevents native tree species from growing. So what does that mean? Technically you're not allowed to plant new Jacaranda trees and this will eventually result in the decline of these trees even though they grow for well over a hundred years.
However, in 2003 the City of Tshwane Metropolitan Municipality went on a mission to calculate the amount of carbon dioxide contained in the Jacarandas and therefore their environmental benefit and in turn the monetary values of the trees, in an attempt to preserve this urban street forest.
In 2003, Jacarandas made up 17% of Tshwane's tree population. After all the necessary calculations (which I won't bore you with) it was determined that the average tree consumed 1.387 tonnes of carbon, that's around 41 978.625 tonnes of carbon dioxide across Tshwane. This placed their carbon value – because they
decrease the greenhouse effect – at $419 786, which is around R5 680 400 according to the current exchange rate.
If you're a nerd like me and want to read the report, you can do so here.
For cheap flights to Pretoria book here.
Jacaranda hunting in Pretoria
Pretoria self-drive route (courtesy of Carike Schoeman)
Jacaranda hunting in Johannesburg
Randburg, Melville, Westcliff self-drive route (courtesy of Mark Straw)
Athol, Waverly, Rosebank self drive route (courtesy of Mark Straw)