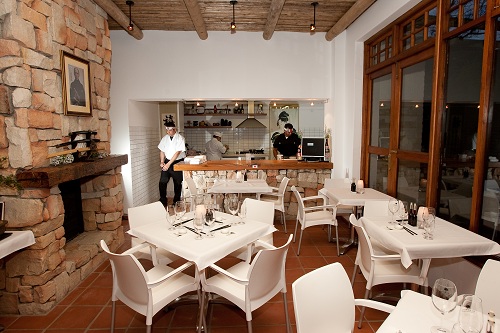 Okamai opened its doors on Wednesday the 5th of September and their restaurant only serves authentic Japanese cuisine, including Sushi. It is a small intimate restaurant, with a seating capacity of no more than 20 at any given time. They have kept it boutique-like to fall in line with their winery, which is Franschhoek's classic boutique winery, GlenWood, and to ensure the personal attention of their chef.
The owners of GlenWood were inspired  to open this because of their own love of Japanese cuisine.  They were also very interested in pairing wine with the fifth sense, namely umami, which plays its role in both wine and Japanese cuisine.
People should try the chef's famous signature rice ball, Fuji Onigiri, which consists of rice containing pre-cooked marinated eel in kabayaki sauce, prawn salmon and avocado, which in turn is wrapped in a nori strip which is then all topped with Japanese mayonnaise, teriyaki sauce, cav-iart and sesame seeds. Delicious!
Otherwise go for the Inari, which is a mound of sushi rice, placed inside a tofu pouch and topped with either salmon, tuna, prawn or eel.
The average cost of a meal per person is about R150.00. Booking is definitely recommended, given the limited seating capacity, and the fact that most people who go there initially for wine tasting, but end up staying once they have seen the Sensei's magic!
Okamai Japanese Restaurant Contact Details
Tuesday to Saturdays 12pm – 4pm & 6pm – 9pm,
Sundays 12pm – 5pm
Phone: 021 876-2044
Email: okamai@glenwoodvineyards.co.za