Craft gin is having a moment right now, with more and more distilleries popping up and slowly but surely catching up to the wave of craft beer producers and drinkers. Like most gin lovers, I thought of myself as a sort of gin aficionado. I'd amassed a sizeable collection of craft gins, could comfortably pick a few gins that I liked and some tasting notes that made me want to run a mile. I even knew that Fitch and Leedes tonic was the gin snob's choice of mixer, far superior to standard Schweppes. A good wedge of lemon and plenty of ice was all I needed to finish off my gin of choice. A recent tour and tasting at the Time Anchor Distillery in Maboneng, Johannesburg, changed all of that and opened my eyes to the world of gin garnishes.
Sure, I'd heard of using grapefruit or orange, but really – what difference could it make? Quite a lot, as it turns out. Thirty minutes spent experimenting with garnishes at Time Anchor Distillery with the help of Shanna-Rae Wilby, Chief Distiller at TAD, made all the difference to how I perceived gin and the accompanying garnishes. It seems that salvaging that dried up half a lemon you have in your fridge to make your G&T seem appetising and professional is not always the best choice.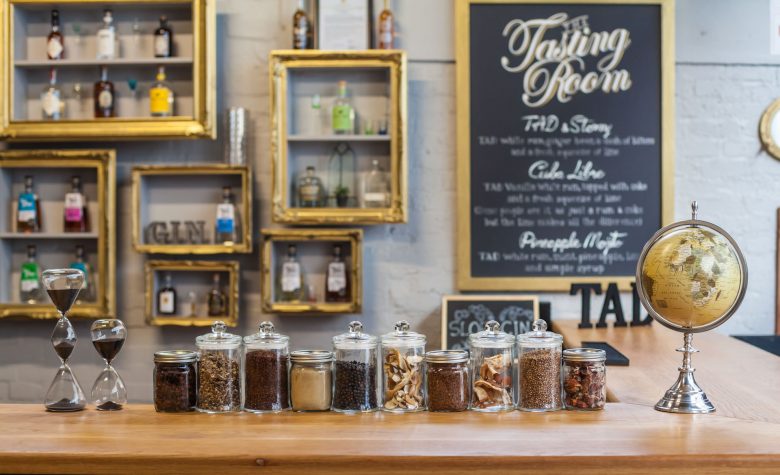 If you've poured a gin and tonic at home, most of us wouldn't even think twice about reaching for a slice of lemon as a garnish. In fact, a sprig of rosemary is a far better option to keep on hand. It seems like an unlikely choice, but there's far more science to gin-making than meets the eye.
Rosemary works well with all gins as there is a chemical compound called a-Pinene within the rosemary which is also present in Juniper. As all gins have to contain juniper berries as a primary ingredient, rosemary complements pretty much all gins' Shanna-Rae says.
It's clear that Time Anchor Distillery is a real labour of love, with hand-laid floors, and a tiny distilling room where each piece of machinery has been christened with its own name – probably because until recently, Shanna-Rae was doing most of the work by hand. The distillery produces around 5000 bottles of gin a year, with the focus two main gins; a classic London Dry, and an African Botanics gin; both with very different tasting notes but equally delicious. They also make a limited edition sloe gin well worth investing in, with berries handpicked and imported from the UK.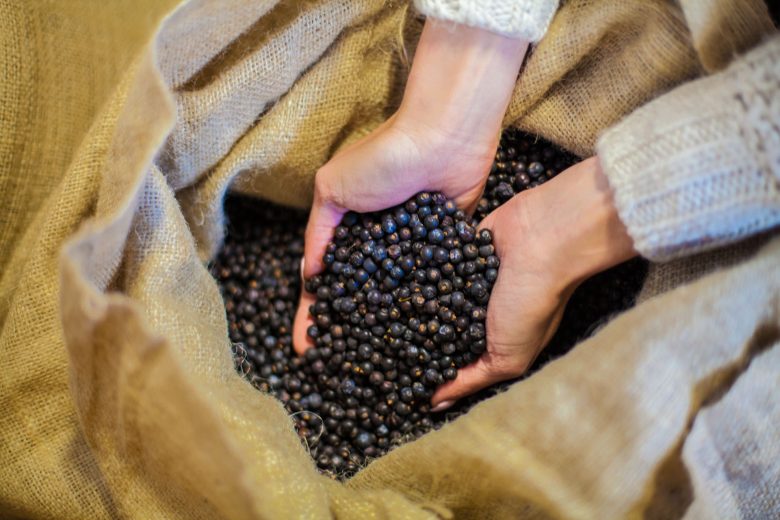 The tour and tasting session is by appointment only, and it's a wonderful way to do something different over the weekend. You'll get to try both gins along with a few different garnishes to see for yourself what a difference they can make as Shanna-Rae walks you through the tasting notes, lets you smell, touch and taste all the different elements of the gins, and shows you how each garnish accentuates various flavours. Plus, you finish off with a gin cocktail!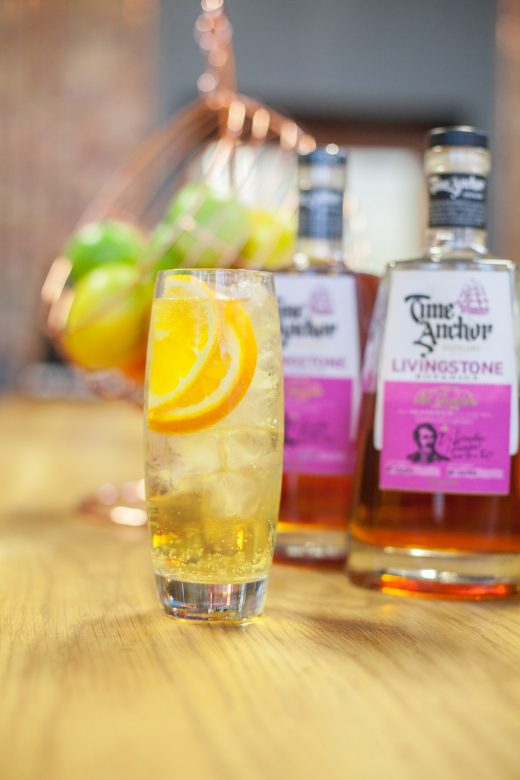 In case you're lucky enough to have a bottle of TAD gin lying around at home, here's the advice on how to correctly garnish them.
Our London Dry gin is already bursting with citrus, so if you would like even more citrus to taste, then lemon or orange are great choices. If you are looking for something a bit different though, a slice of fresh ginger and a sprig of rosemary can really bring out the warm, spicy cassia bark notes. The perfect serving garnish for the TAD Botanics gin is a sprig of rosemary and a wedge of grapefruit. They both bring out the honey mouth feel that's such an important part of this gin.
Some other common gin garnishes include cucumber, lemon or orange, but you can play around with garnishes to see what you like. A slice of ginger, grapefruit wedge, coriander leaf, sprig of rosemary or even a slice of apple can all make a refreshing change from the usual.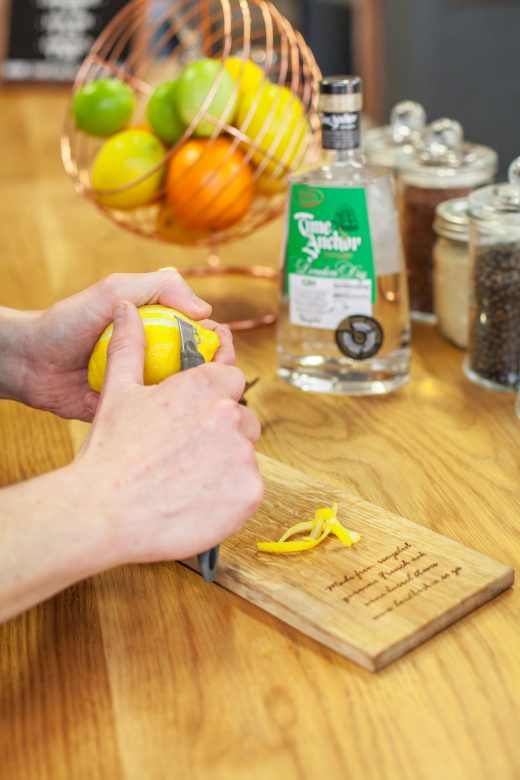 And for the diehard lemon lovers who don't want to make any compromises on their citrus garnishes? Shanna-Rae says that lemon can and does work well as a garnish, particularly if the gin makes use of coriander in the tasting notes.
Lemon will work well with 95% of gins made with coriander because there is a chemical compound in Coriander called Linalool, and this chemical compound is also found in lemon.
Obviously, knowing how to perfectly match any given gin with a mixer is a skill that would take years to perfect. However, there are some guidelines that can help you navigate the seemingly endless amounts of gin and possible accompaniments:
For citrus-based gins, you can go for another citrus like lemon, or balance it out with some coriander

For a heavily spiced gin (think something like Inverocche Amber), opt for orange to bring out the warm, wintery flavours.

If your gin is more floral, then try grapefruit, lime or apple.
Finally, for a herbal based gin, you can try a sprig of lavender to add some floral notes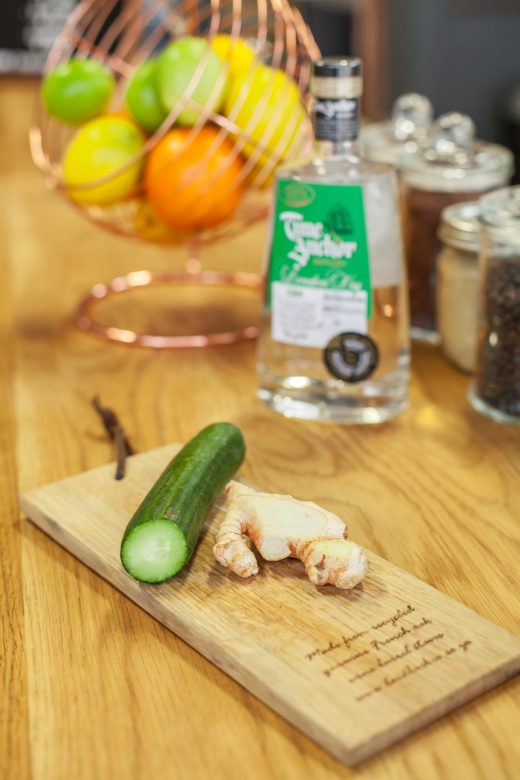 Despite this, the advice from the Time Anchor expert is to experiment with different garnishes and tasting notes to find your favourite combinations. Shanna-Rae's favourite gin garnish?
I LOVE experimenting, so it's really difficult to choose just one, but if I could choose only one, then it would be a wedge of grapefruit, it never fails to disappoint in a gin. My second favourite – see, I told you I can't just stick to one!' she says, 'is a slice of fresh ginger, a cucumber ribbon and cracked black pepper.
To finish off your gin, Shanna-Rae also makes another important note regarding the tonic water when you're mixing the perfect G&T. After all, the mixer is as much responsible for the taste as the spirit and the garnish. According to Shanna-Rae, for a really good G&T drinking experience, you should try to avoid the more common "off the shelf" brands, which
have more sugar than coca-cola. This covers up a lot of the botanical notes that we have worked very hard to get to come though. A good mixer is vital to the Gin, as when drinking a G&T it makes up 2/3 to ¾ of your drink! Fitch and Leedes and Barker and Quinn are both good choices available locally. Fitch and Leedes is a great choice as it has a very neutral taste and compliments a gin very well.  Barker and Quinn is all natural and uses real quinine sourced from the Congo.
Address: 7 Sivewright Ave, New Doornfontein, Johannesburg
Call: 072 495 1983
More cool gin joints to check out:
Workshop 55
Address: 55 7th Ave, Gauteng
011 442 6252
Social on Main
Address: Shop 1, Posthouse Centre, corner Main Road and Posthouse Street, Bryanston
011 706 7115