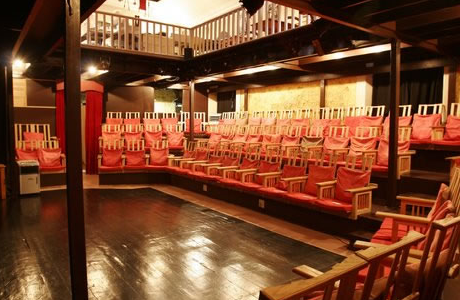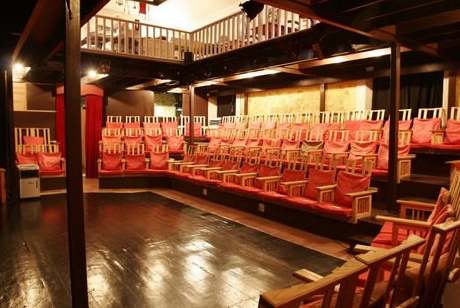 Most visitors to Cape Town know about the many delicious treats Kalk Bay has to offer – from the Olympia Café baked delicacies to the fish and chips straight from the harbour, the many quirky antique stores to the cobblestoned streets and quaint stone houses. But unless you know about the Kalk Bay Theatre, you're missing out on one of the great joys the hamlet (or village, or townlet, or whatever diminutive word you'd like to use for this delightful spot) has to offer.
The moment you walk into the Kalk Bay Theatre, an old white chapel looking out over the sea, you'll know that this is a theatre the way theatres used to be made. Old wooden chairs with red cushions (some of them couple chairs so you can snuggle up to your loved one without the arm of the chair getting in your way), an open space for the performance, and an upper balcony that serves drinks and food before the show and during interval.
We were lucky enough to catch the hilarious 4-man show Good Will Acting at the Kalk Bay Theatre (on until the end of December 2010) and it was a thoroughly enjoyable evening. The show centres around four out-of-work actors who find themselves lumped together, despite their differences, in the festive season and decide to put on a Christmas show. The first half is amusing, as the audience is introduced to each of the characters and finds out why they chose acting as a career and what led to them being here and now, out of work in Cape Town at Christmas. It's a tight, funny script that I particularly enjoyed because of the insight it gave to the acting career.
The second half, though. Oh, the second half. I laughed till I cried, and I haven't done that in a long time. I don't want to spoil the surprise, but let me just say there are some hilarious rewrites of famous songs, a distinctly South African re-telling of the Nativity and a teaspoon baby Jesus. Yup, you read that right.
The show is funny (first of all), heartfelt, superbly acted and directed, and an excellent example of South African theatre at its freshest and funniest. Locals will appreciate the Cape Town references, foreigners will appreciate the glimpse into South African life, and if you don't leave feeling festive and Christmassy, you'll be the only one who doesn't.
There's an option for a three course meal before the show, and a special New Year's Eve dinner and show that ends just before midnight. Find out more on their website, and book your tickets now! Festive fun like this is difficult to find, and really rather priceless.
Photo: Kalk Bay Theatre