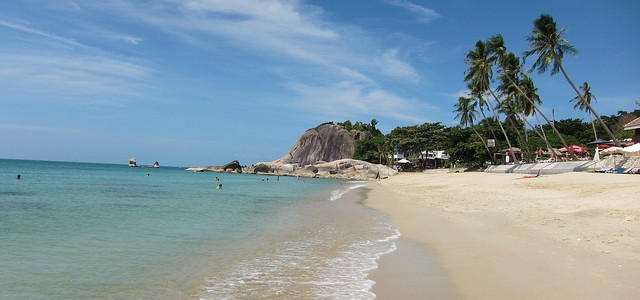 I'm sure you'll agree that Thailand is now firmly on the world map as an exotic beach destination. The kingdom offers something for every kind of traveller; from idyllic beaches to wild nightlife and world class shopping, Thailand attracts.
It's no secret that South Africans love Thailand but many have differing preferences when it comes to booking their Thailand holiday. Those who haven't been are probably wondering whether to go for Koh Samui or Phuket? Is it worth spending a few days in Bangkok? I've heard Phuket can get a little crazy and I just want to relax; which Thai beach can offer me beauty as well as peace?
Koh Samui
In a nutshell, Koh Samui will suit you better if you're looking for a quieter Thailand beach holiday sans the Go-go dancers, jet skis, crazy nightlife and hectic shopping. Nestled off the Gulf of Thailand between the mainland and Koh Pha-ngan, Koh Samui is one of Thailand's bigger islands. About an hour plane ride from Bangkok, Koh Samui delights with uncrowded beaches, palm lined coastal scenes, and a great variety of hotels and accommodation.
Phuket
Phuket is slightly bigger than Koh Samui and is Thailand's biggest island destination. Teeming with backpackers, party animals and sun soakers year round, Phuket offers everything and more for the fun seeking traveller. From dusk till dawn nightlife at Patong Beach, to Muay Thai match ups and bargain hunting in the streets, Phuket has it all. Beachfront accommodation is plentiful with most hotels centralized on Patong Beach and within easy walking distance to the sea, restaurants and many, many shops.
The great thing about Phuket is that it's not far from quieter islands and beaches like Koh Phi Phi and Ao Nang. So if you feel like getting away for a day or 2, it's easy enough to get a ferry for a snorkeling and sun gazing trip in entirely new scenery.
Which is Cheaper?
While accommodation/hotel prices don't differ much between Phuket and Koh Samui, you'll probably end up spending less in the latter. Koh Samui has less to tempt your travel budget while Phuket has an abundance of shopping, restaurants and nightclubs.
On the other hand, average prices for a comfortable hotel in Phuket in June/July 2012 are up to R1500 cheaper than hotels on Koh Samui.
Beaches
The beaches around Phuket are built up. Whilst lying in the sun on Patong beach expect to be bothered by informal beach vendors selling everything from wood carvings to traditional Thai massages. Rent an umbrella and lounger and spend the day. If you decide to rent a jet ski be careful as many of the jet ski rental businesses are not insured, and they will be extremely upset if you return their watercraft in a worse condition than what it was when you hired it.
Some will argue that Koh Samui is "not as beautiful as the beaches around Phuket". Having been to both I disagree – just look at the pictures on this page. Koh Samui is flatter than Phuket so you won't see majestic cliffs disappearing into an azure ocean, but it is a whole lot more untouched. It's developed, but not nearly as much as Phuket. A 52km long concrete road affords you the opportunity to rent your own wheels and go in search of natural waterfalls, elephant rides and deserted Thailand beaches.
Phuket vs. Koh Samui by distance
Koh Samui vs. Phuket Images: Teamworkz | Laos Hotels & Tours | wnlau | whl.travel