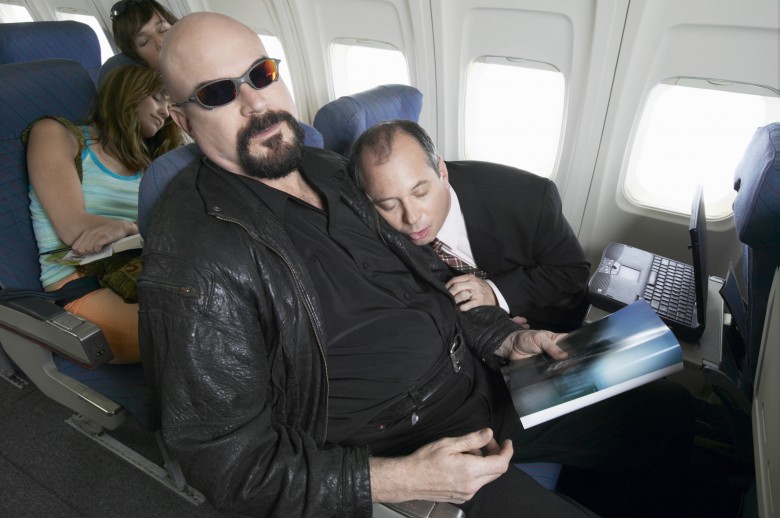 Most people might have seen, at one point or another, an article dedicated to shaming travellers behaving offensively, and might have thought the same thing: That will never be me! Until they're also caught breaking all flying etiquette on that red-eye flight. So, in case you weren't aware that talking loudly on your phone while boarding can ruffle a few feathers or that not checking your infants nappy before hopping onto the flight is an absolute no, no, here are some tips on how to mind your manners when you're more than 35 000ft in the sky.
Tip 1
When walking down the aisle to your seat, hold your bag in front of you or wheel it along on the floor behind you to avoid bumping your fellow passengers. If you happen to see your long-lost auntie along the way, instead of stopping for a chat and holding up the queue rather call her later to catch up on the family gossip.
Tip 2
Once you have found your seat, quickly open the storage compartment above your own seat and load your bags without knocking out the person behind you. This space fills up quickly so try and board the plane early so you don't get separated from your hand luggage.
Tip 3
Ok, so not everyone is as smooth as James Bond, but try and take your seat quickly without causing too much commotion. And, although you will be super excited to be flying on kulula, one of the biggest irritants is when you pull or bump the back of the seat in front of you, so please be considerate when you get up or sit down.
Tip 4
Keep everything you may need for the flight handy and try pop to the loo before you board the plane so you don't have to jump up and down during the flight. If you do need to get up and pass your fellow passenger, avoid awkward contact by politely asking them to get up instead of trying to crawl all over them
Tip 5
You might be on the last flight for the day and therefore a little sleepy or keen to relax on the plane after a long day, but consider the person behind you before you recline your seat and risk spilling their drink or sending their laptop flying. What's even better is to rather wait until after drinks and snacks have been served to recline your seat.
Tip 6
Also consider your fellow passengers' personal space. Not everyone is an avid reader, so when you're reading a newspaper consider folding it in half so it doesn't spill over to the person next to you. Don't be an armrest hog either and remember to keep your personal belongings neatly under the seat in front of you.
Tip 7
Making new friends on a flight is one of the best parts of travelling for some people whilst others might be too stressed about an office presentation. Read your audience and don't divulge your entire life story if it seems your neighbour might want some quiet time.
Tip 8
When it's time to disembark, wait your turn and let those in front of you exit first. Jumping ahead is not going to get you off the plane any faster. If you have a lot of luggage to get down from the storage compartment, let those behind you off first instead of holding up the queue. However if you travel lightly, gather your belongings and disembark swiftly.
As a major player in South Africa, kulula's fleet flies to all centres in South Africa including Lanseria airport in the north of Johannesburg.
Ready to fly? Book flights on kulula here.
About Travelstart.co.za:
Invented in Sweden, made with love in sunny South Africa, Travelstart is the largest and fastest growing online travel agency in Africa. Travelstart provides independent flight comparisons between low fares airlines as well as all major international airlines. Our mission is to make air travel easier for customers. A talented and multicultural team helmed by Swedish entrepreneur Stephan Ekhberg, ensures the best user experience for searching, comparing and booking flights. In addition customers can also compare prices and book hotels, car rental and holiday packages. We offer no hidden costs or taxes and completely transparent pricing in addition to expert assistance from our dedicated team of travel consultants.
Travelstart is also available in Namibia, Tanzania, Kenya, Turkey, Egypt, Nigeria, Zimbabwe, Angola and the UAE. Today Travelstart proudly employs a team of more than 200 staff from all walks of life who are passionate about one goal – making your travel simple. With offices across Africa and the Middle East, Travelstart continues to bring travel to your fingertips. Find, compare and book all with airlines – online and with ease. Follow us @Travelstart on twitter and instagram. We reach just under 400 000 people on Facebook, like us to find out about the best travel deals first here.