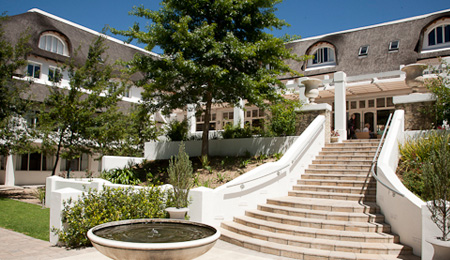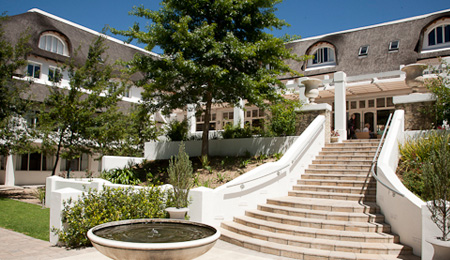 Ever so slightly out of Cape Town lies a small town that could have been transplanted straight out of France… That is, if France was run by South Africans. All the houses are painted white, there are vineyards as far as the eye can see, and fine cuisine is the order of the day.
Drive through the town of Franschhoek and out the other side, and you'll find Le Franschhoek Hotel & Spa, a simply decadent place to stay and one of the most idyllic spots in Franschhoek. On paper, Le Franschhoek is a five star hotel and conference venue. In real life, it is a blissfully relaxing place to spend a few days. The rooms are spacious and supremely comfortable, with windows in every wall opening out onto the vista of vineyards and mountains. Yes, I said vista. This is no view – it is far more beautiful and grand than that. Watch the sun dip behind the mountains and wash the vineyards in a golden glow and you may well wonder if you've fallen asleep and slipped into a dream.
Think I'm exaggerating? Try spending a night under a thatch roof with those vineyards and mountains on all sides… you'll start speaking in lyrical sentences too.
Of course, the food is also really good. That may be a slight understatement. French Affair is their garden restaurant, with small greenhouses set up throughout the vast gardens, in amongst rose bushes, covered with sprays of jasmine or next to burbling streams. They all have views out over the vineyards or gardens, and they all have tables set up with checked tablecloths and linen napkins. A French Affair picnic is one of life's great pleasures – choose from an array of cold meats, aged cheeses, homemade pates and preserves, and top it off with freshly baked baguettes and rolls, with a side of superb quiche and, naturally, a glass or two of wine. What would a picnic in a vineyard be without a glass or two of wine?
Once the afternoon has slipped away in a deliciously relaxing way, spend a few hours next to the sparkling pool (with those views again) or stroll through the rose-scented gardens, lounge on the comfortable chairs on the verandah or simply take a nap in your beautiful room.
A bath before dinner is a must, especially because the window above the bath opens wide to views out over the mountains and vineyards, and then there's just time for cocktails in the lounge, with the piano player tinkling in the background, before the most difficult decision of the day: where to eat. Franschhoek is famous for its food, both French and otherwise, and there's nothing more delightful than strolling along the quaint main road after a superb supper.
Regardless of where you choose to stay, no matter where you decide to eat, Franschhoek will undoubtedly get under your skin. It's just that kind of place. And did I mention the views?
Image: Mark Peddle