[Updated October 2020]
Move over Bangkok, Durban's food scene is bringing it with noteworthy street food and cool cafés. In 2018 Durban bagged the number four spot on CNN's list of best cities for street food, labelling our hottest city as "southern Africa's reigning street food champ". With amazingly cheap flights from Cape Town and Joburg to the sunshine city, there's a very good excuse to spend a weekend exploring Durban's gourmet "vaab".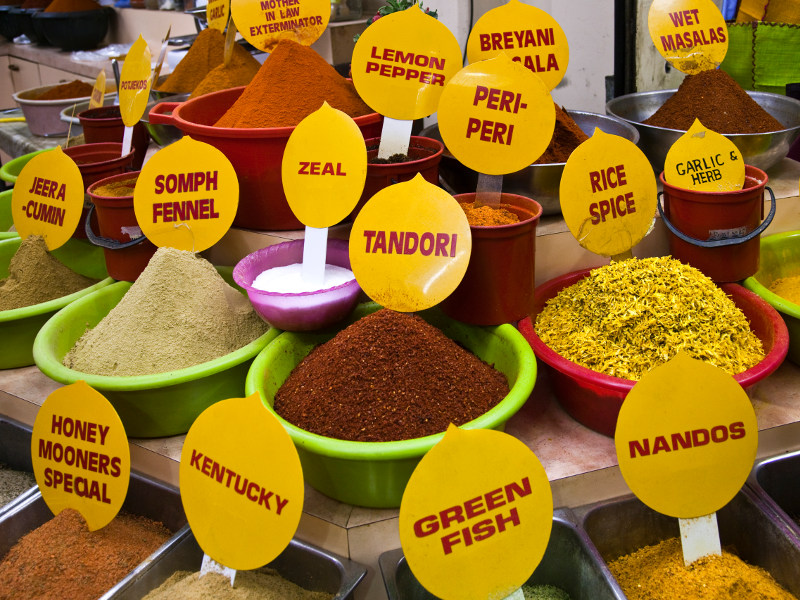 Breakfast with a view
First stop, you'll want to head to Durban's Golden Mile direct from King Shaka Airport for breakfast with a view. Pick Circus Circus Beach Café along Snell Parade for a bang-up brekkie with a view of the sea or swing by Afro's Chicken for a bacon and egg roll.
Afro's Chicken shop
While we're mentioning Afro's Chicken, this is an absolute must on your Durban food tour de force. Let the perpetual lunch-time queue tell you everything you need to know. Due to the success of their flagship spot, there are several new branches that have popped up in the city and in Umhlanga. The view of the sea makes the Golden Mile our favourite spot. Get the chicken and chips (we recommend the hot spice). If you're looking for the perfect spot to snap a pic for Instagram, the bright yellow backdrop at Afro's Chicken will serve you well.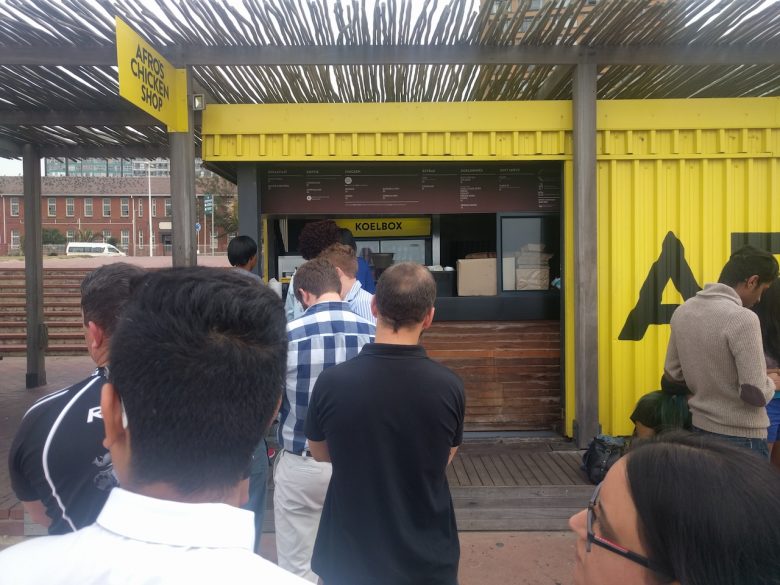 parc. yourself at this breakfast table
For the "egg bennie" lovers, parc. is one of Durban's best-kept secrets. If their fresh, seasonal brunches don't get you revved up, the lunch menu will leave you drooling. From Asian salads to naanwiches (it's a thing) and homemade jaffles, you could easily spend the day tasting a bit of everything.
Rent bikes and cycle up and down the famous Golden Mile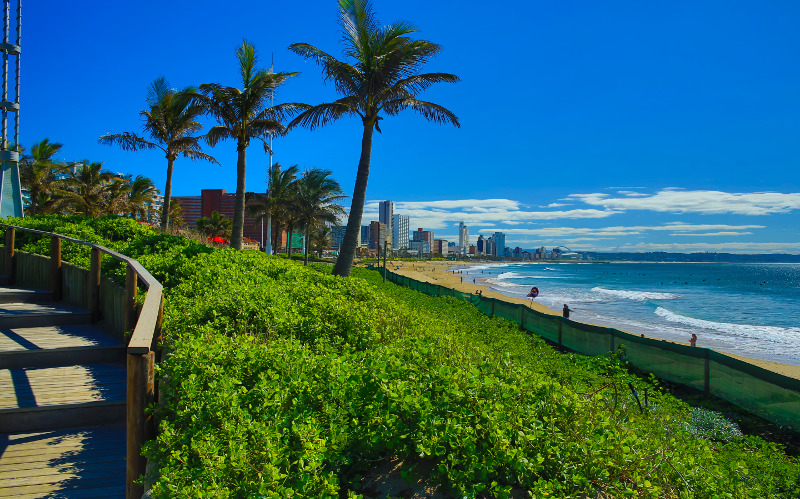 There are several spots along the beachfront to rent a bike or surfboard for an hour or longer. Bike & Bean is one of these and as a bonus you can grab a coffee before or after your ride. Open seven days a week, pop in any time!
Street food heaven
On the beachfront in summer is where you will find all sorts of delicious street food delicacies. Try umbila with butter (corn on the cob), spicy samosas, pickled veggies and delicious spiced pineapple – a refreshing Durban summer staple.
There are always amazing exhibitions at the KZNSA
The leafy KZNSA Arts Café is perfect for a coffee, milkshake or craft beer under the acacia trees. Open six days a week, it's a great place to get together with friends and tuck into some fresh, locally-produced Durban food.
Dine with sharks at the Cargo Hold
uShaka Marine World offers a world-class aquarium experience that kids and adults will love. Get a kick out of dining in the Cargo Hold restaurant in the Phantom Ship with sharks and fish swimming around you. The menu brings together all the spicy, fruity and exotic flavours Durban is renowned for. This is a Durban foodie experience like no other!
Sophisticated jazz cool at The Chairman
You cannot leave Durban without paying a visit to The Chairman to listen to new and upcoming jazz musicians while eating delicious food in beautiful surroundings. Located in Durban's historic precinct, this is the ultimate jazz lounge that brings world-class talent to local shores.
All good nights converge at Johnny's Rotis
It is compulsory to sample the deliciousness that is the infamous chip and cheese roti with gravy from Sunrise Chip 'n Ranch, locally known as Johnny's Rotis. Open 24/7 this Durban institution also offers amazing lamb bunny chows and plenty more original Durban food.
Take a tour of the Warwick Markets
The entrepreneurial pulse of Durbs is Warwick junction, a buzzing market and transportation space in the heart of Durban. Attend a guided tour organised by the traders which will give you an introduction to the 9 different markets and products on offer here including traditional medicines, clothing and fresh produce. The Early morning or 'Mother' Market hosts over 640 stalls with vendors selling fresh produce, flowers, spices and live poultry. Look out for the eye-catching murals by artist Faith 47 on the walls surrounding the market, several of the figures are portraits of traders.
If you have some extra time:
Catch a Sharks home game if you can
Get a rush on the world's tallest swing at Moses Mabhida Stadium
Take an architectural stroll through the CBD
A long weekend on the sunshine coast will leave you relaxed, replenished and inspired. Ready to explore Durban's food scene?
Also read:
55 Affordable things to do in Durban
18 Adventures along the north coast of KwaZulu-Natal
Don't forget to sign up to our newsletter to stay on top of flight deals, travel tips and so much more.
---
All information on this blog page was correct at the time of publishing and may change at any time without prior notice. Travelstart will not be held liable for loss or inconvenience resulting from the use of out-dated or incorrectly noted information.