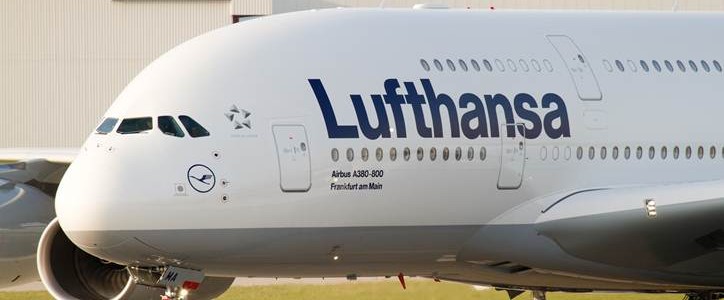 Lufthansa's inaugural A380 flight to Johannesburg descended on O.R Tambo Airport in June 2010. The A380 on its debut flight from Frankfurt to Johannesburg made front page news and Lufthansa declared the plane to be named 'Johannesburg' on her Maiden Voyage to South Africa's economic hub – a feather in the cap to have one of our cities names emblazoned on the fuselage.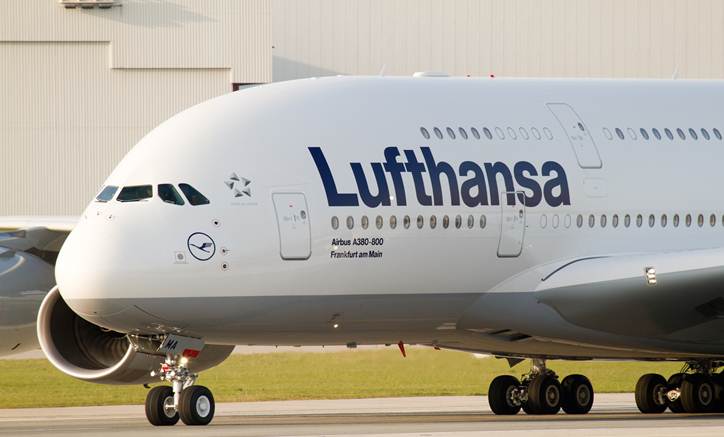 Eleanor Fulker from Lufthansa's Cape Town office visited Travelstart this week to tell us more about the A380.
Lufthansa A380 Specs
Length: 73 metres
Height: 24.1 metres
Wingspan: 24.1 metres
Speed: 900km/h
Flight Range: 15 000km
Lufthansa's A380 accommodates more than 500 passengers including:
8 First Class seats
98 Business Class seats
420 Economy Class seats
Innovative use of space creates more legroom in all classes and a pleasant and spacious environment.
Lufthansa A380 Economy Class
Not your average Economy Class, the Lufthansa A380 defies previous stereotypes of 'cattle class' with a product that offers a high level of comfort. The new generation ergonomic seats are a welcome addition and the seats are up to three centimetres wider with more legroom to boot.

Inflight entertainment on flights from Johannesburg to Frankfurt has never been more accessible in Economy Class with the personal touch screen monitor at your fingertips. A lot of thought went into the design of the Lufthansa A380's Economy Class cabin and the resultant storage space means you'll never compromise your comfort with a bag under your feet.
Business Class on the Lufthansa A380
Lufthansa's Business Class on the A380 goes beyond the norm with an extraordinarily large degree of privacy and personal storage space. The two metre long reclining seat includes a massage function and the revolutionary 'Shape System' adjusts the seat automatically to fit your body.

First Class
As with most German engineered products, Lufthansa's First Class offering on the A380 allows you to turn the most comfortable seat possible into a 2-metre-long-bed. Feel unrestricted in the two stylish onboard bathrooms – these remarkably spacious, luxuriously appointed bathrooms are reminiscent of a 5 Star hotel; the only difference being you're at 30 000 Feet.

Your partitioned seat has special soundproofing which creates a uniquely peaceful ambience and the automated air humidification system is the first of its kind, ensuring a pleasant cabin climate and dry skin/throat relief.
The A380 and the Environment
Contrary to popular belief, the A380 is environmentally friendly. A new, Lufthansa engineered paint system saves weight and lower fuel consumption taking the concept of eco-friendly travel to new heights – The A380 requires just 3.3 litres of fuel to transport a passenger 100km.
The plane is quieter thanks to the new Rolls-Royce titanium engines and carries around 200 passengers more than a Boeing 747, yet boarding time takes the same amount of time. Onboard technology is more advanced than ever with passengers being able to find out about entry requirements and connections during the flight.
Frankfurt First Class Terminal
Lufthansa's First Class Terminal* at Frankfurt Airport complements the A380 experience perfectly. Relax and feel at ease in 1800 square metres of space at the First Class Terminal in Frankfurt. This exclusive terminal includes a gourmet restaurant and a Cigar Lounge; you'll even have your own Personal Assistant to help you with check-in, passport control and security checks.

Professionals will love the business centre equipped with telephones, free Wi-Fi and stationery. Wrap up your business and feel free to make use of the 'relaxation rooms' complete with all the creature comforts of home including comfortable daybeds and large modern bathrooms. Once you're refreshed and ready to board make use of the private limousine service that takes you straight to the aircraft.
*All Lufthansa First Class passengers and HON Circle Members travelling with Lufthansa, Austrian Airlines Group, SWISS or Lufthansa Regional are granted access to the First Class Terminal facilities provided you have a 3 hour transfer between flights.
Star Alliance Membership
Lufthansa is a member of the coveted Star Alliance. Lufthansa's partnership allows for seamless connections throughout the world thanks to the Star Alliance network.
Daily Flights from Johannesburg to Frankfurt
Lufthansa offers daily flights from Johannesburg direct to Frankfurt on the A380. It's a night flight so settle in for the evening in Africa and wake up in Europe, refreshed from a comfortable nights rest on the A380. Since deploying the A380 aircraft on the Johannesburg to Frankfurt route, Lufthansa has increased their capacity per month by more than 6000 seats.