Just the name "Marrakech" conjures the image of a flaming city in the desert, a citadel of shaded palm-treed courtyards and maze-like streets. Picture yourself on a rooftop at sunset sipping hot, sweet mint tea and watching the city begin to glow in the Medina below.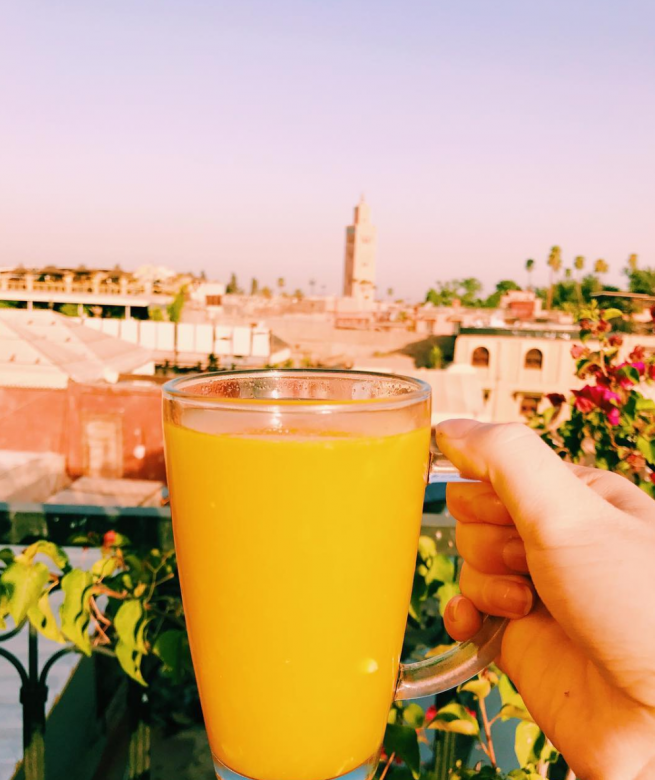 Courtesy of @margotlouisedm via Instagram
Home to lavish palaces and hotels, it also comfortably accommodates the budget-savvy traveller. Travelstart brings you top tips on free, fun and cheap things to do in magical Marrakech, so you can focus on enjoying all that the city has to offer.
Good to know before you go:
The exchange rate is currently R1 = 0.73 Moroccan Dirhams.
Morocco is fairly inexpensive for South Africans, especially if you eat street food and commit to experiencing the city like a local.
You'll need a visa from the Embassy in Pretoria, find out more here.
Find amazing flights to Morocco here.
Morocco is even great to visit in winter (December and January), temperatures in July hover around 29 degrees but can soar closer to 40 degrees at times, and winter is mild at 13 degrees. Off-season specials are great for budget-savvy travellers.
Take the bus from the airport to Djem al Fna Square and save on taxi fare!
It's highly recommended to combine your visit to the Red City, Marrakech, with a day trip to the ancient port city of Essaouira (from around R400) as well as a visit to the photogenic "Blue City" Chefchaouen (though this involves an 8 hour bus journey and is best visited with more than a couple of days to spare).
Consider taking the night train to Tangier, thus saving a nights accommodation, and then bus from Tangier to Chefchaouen.
Visit the enchanting but Majorelle Garden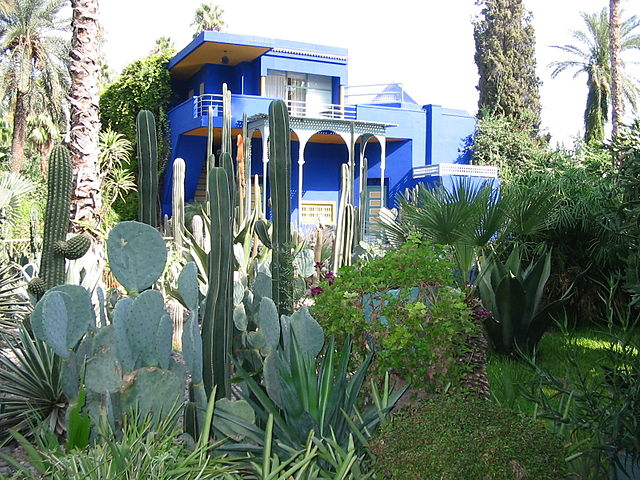 Made famous by the artist Jacques Majorelle and Yves St Laurent, these shady gardens and beautiful house are probably the most visited site in Marrakech. Entrance to the gardens is R95. If you have the time and the patience they are definitely worth a visit, especially in the off season, however a free and local-approved alternative is the lovely Cyber Park Arsat Moulay Abdeslam. It's closer to the Medina (the old town) and free of charge.
Good to know
The Cyber Park has free wifi and clean public ablution facilities.
Visit the exterior of the Koutoubia Mosque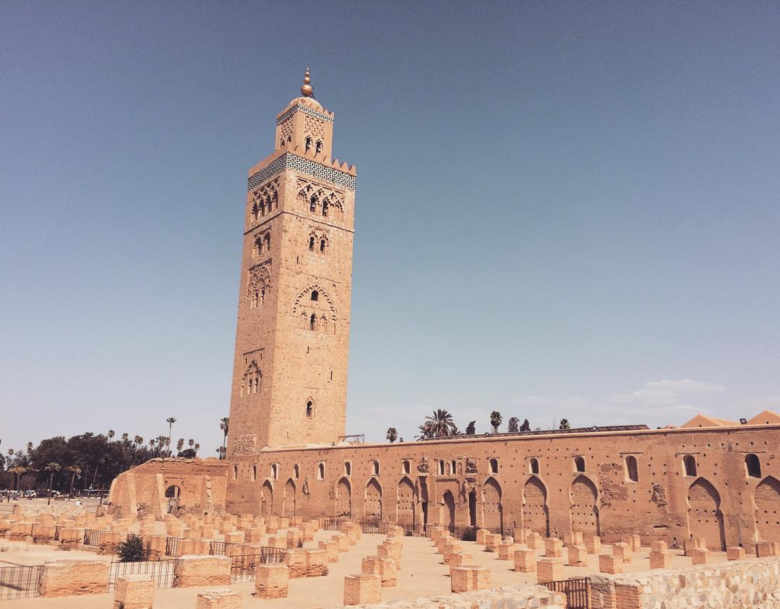 Courtesy of @diana_dferreira via Instagram
Because of a local ordinance which forbids any other building in the Medina to be taller than a palm tree, the Koutoubia Mosque towers over the city. This iconic symbol of Marrakech is built in the Almohad style. Non-muslims may not enter however you are welcome to walk around the exterior and enjoy the Koutoubia gardens.
Sit in a rooftop café overlooking Djem al Fna Square
For the price of a sparkling water or beer you can secure a prime spot to enjoy the sunset from a Marrakechi rooftop. Just be sure to go early as this is a popular evening activity.
Picnic at UNESCO World Heritage Site Menara Gardens and take in their spectacular view of the rugged Atlas Mountains
Courtesy of @cassiomeira1 via Instagram
Orchards and olive groves, this gorgeous botanical garden was established in the 12th century by the Almohad Caliphate ruler Abd al-Mu'min. They are set against the incredible Atlas Mountains, the highest peak of which is 4,167m Toubkal and lies within Morocco's Toubkal National Park.
Entrance to the gardens costs R28.
Miss out on a tajine in a restaurant
Moroccans don't typically eat traditional food like tajine in a restaurant setting, preferring to enjoy homemade cuisine with friends and family. If you're lucky enough to garner an invite lucky you! For authentic, budget-friendly cuisine look out for small shops serving roast chickens, harira soup, or pan-fried msemmen a few streets back from the more touristy streets and squares.
Traditional Moroccan cooking classes
Shop for fresh ingredients and spices in the market then cook in the courtyard of a Riad, a traditional Moroccan home. You'll make at least four Moroccan dishes and then get to enjoy the meal with tea and Moroccan wine. Priced at round R750 for a day of cooking classes. Find out more here.
Take along a sprig of mint and visit the open-air tannery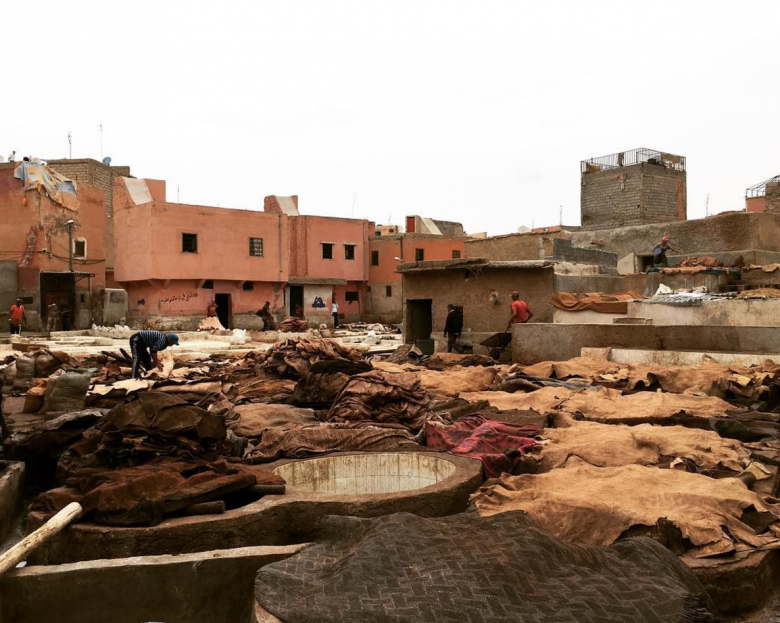 Courtesy of @cintymay via Instagram
Tanners have been around since Marrakesh was founded in 1062, and the production of leather goods has remained an focal trade ever since. The animal skins are cleaned and cured using a mix of cow urine, pigeon faeces and acids so don't breathe in too deeply! This is an interesting experience but not for the squeamish.
Travel tip:
Take along a spring of mint bought from a market stall to mask the odour!
Free of charge, but beware of touts.
Walk in the Mellah for a change of architecture
The old Jewish quarter offers beautiful architecture and a peek at a different chapter of Morocco's history.
Take advantage of inexpensive entrance fees to the Badi Palace, Bahia Palace, and Saadian Tombs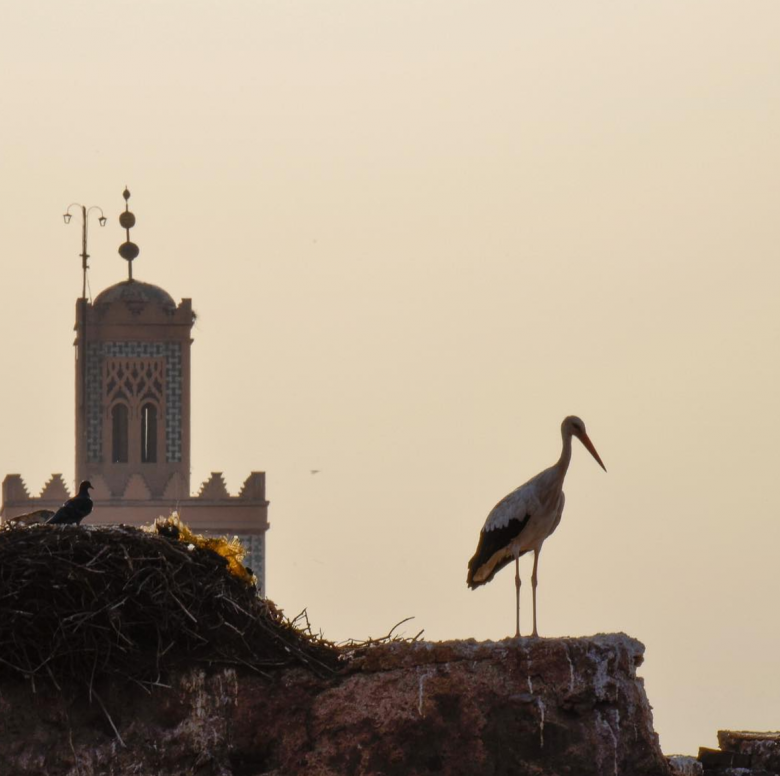 Courtesy of @martinmorocco via Instagram
Visit "La maison de la photographie" House of photography in Jamaa Lfna, Marrakech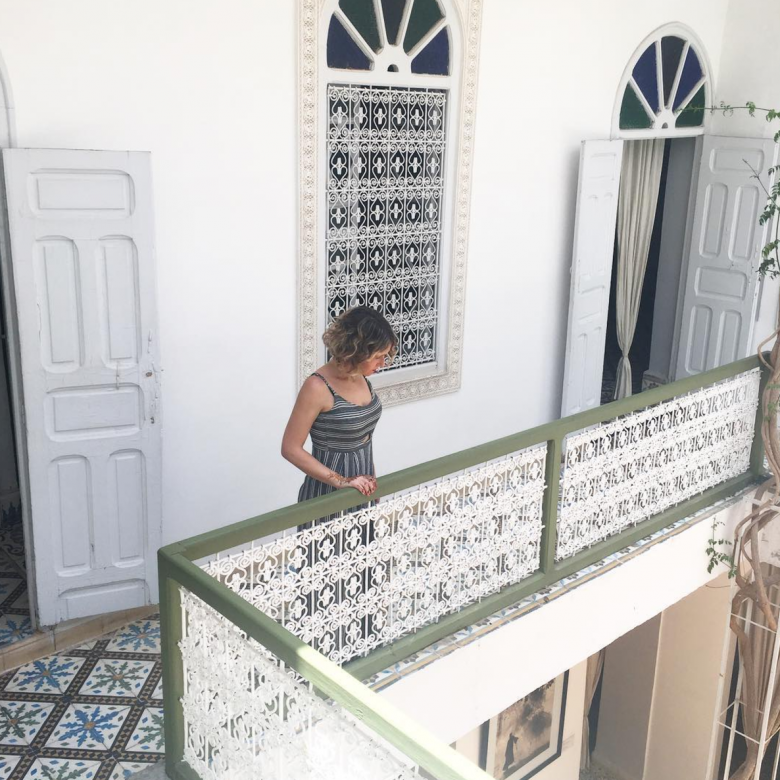 Courtesy of @lacosmicaoficial via Instagram
In the heart of the old town find this fascinating archive of photographs of Morocco taken by anonymous travelers and famous photographers from 1870 to 1960. The House of Photography opened in 2009. The roof is a must visit!
R55 entrance fee, free for kids under 12 years of age.
Open everyday from 10am – 6pm.
Watch skilled craftsmen at work in the Souqs
Courtesy of @marta.rdp via Instagram
Follow the Rue Semarine (aka Souk Semarine) into the heart of the bustling Souk Semarine. Here you will find amazing deals on finely-crafted leather sandals and bags plus brightly-coloured baskets, spices, brass-ware and glassware!
Remember to brush up on your bargaining techniques!