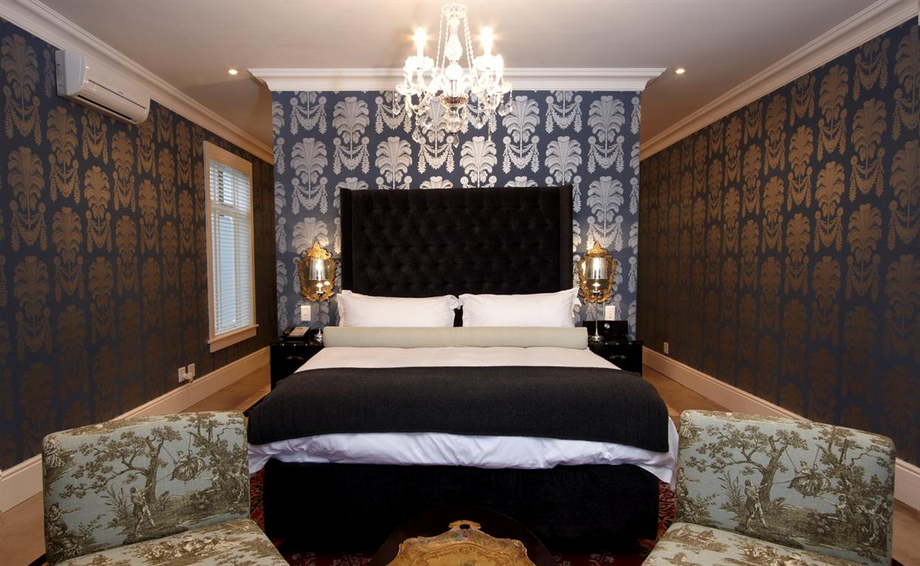 There's no denying that Cape Town is an incredibly beautiful city – that mountain, those beaches, that endless skyline. But if you're staying in a dive, it doesn't matter how beautiful the city is, you won't really be able to appreciate it. By the same token, if you're staying somewhere lovely, the city opens up to you like a rose… A bit flowery? Yes. True? Oh yes.
We were lucky enough to spend a night at the Mannabay Hotel in Vredehoek recently, and it was a night of pure decadence and indulgence. If you're coming to Cape Town for anything close to a celebration, take my advice – book a night or two at the Mannabay. You won't be sorry.
The Mannabay is a boutique hotel with six rooms and a suite. Each of the rooms has it's own special personality (one of the things I love most about boutique hotels), so you can choose what mood you're in. The Black and White Room is as contemporary as it gets (no prizes for guessing the décor colours!), the Explorer Room comes complete with safari colours, war chests, a glass display case and stone crosses over the headboard, and the Orchid Room is a feast of flowers, with a mahogany open eight-poster bed. Lovely!
The Persian Room celebrates the luxury and opulence of Persian carpets, with ornate mirrors and a marble en-suite bathroom, the Oriental Room offers cherry blossom wallpaper and plenty of natural light, and the Pom Pom Room has a wide array of pom pom flowers decking the walls, with a private courtyard containing some real flowers too!
But of all the rooms, the most beautiful is the Versailles Suite – a private patio that looks out over the city leads into an enormous bedroom with an extra length king size bed, a private sitting room complete with a deep pink velvet couch, a dressing room and a simply enormous white marble bathroom. I dare you to spend the night here and wake up feeling like anything other than royalty! In fact, perhaps the suite should come with a warning: may put on airs and graces when you check out.
Before you check out, though, there's a superb Continental breakfast bursting with fresh fruit and followed by an excellent Eggs Benedict, to be enjoyed on the patio, in the dining room, or even by the pool.
What makes the Mannabay Hotel so surprising (and wonderful) is that it is smack bang in the middle of the city centre, yet it feels as if it's a million miles from anything familiar. You could quite easily be in the French countryside, or an Asian getaway… That is, until you walk outside and find that you're in Cape Town – an incredibly beautiful city.
Image: Mannabay
[boilerplate bytitle="text"]