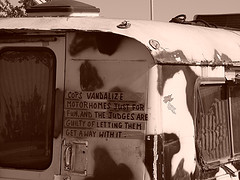 Austrian motorhome maker Marchi Mobile has revealed its latest and most expensive motorhome in the world. It's called the 'eleMMent palazzo' and as the name suggests, it really does look like a palace, albeit on 4 wheels.
This glamper which will set you back a whopping 2.15 million euro, is equipped with everything you would want and really don't need in a camper. This monster of a motorhome measures 12 metres in length and boasts a master bedroom with private en-suite bathroom, another separate toilet for guests, a shower room also for guests, and a relaxation room. Other nifty yet unnecessary gadgets include a foldaway terrace, floor heating, a fire place, a flat screen TV, and CCTV. There is also a bar on board that pops out which will add a couple of square metres of space to this motorhome. As if this thing wasn't big enough yet.
But the cherry on the cake must be that the 'eleMMent palazzo' lights up in the dark as it is entirely painted with a thick layer of special glow in the dark paint. This means the end of having to stumble around the campsite with a faulty torch, tripping over tent lines, while trying to find your motorhome in the dark.
To think that when I went camping with my parents in the '70s and '80s we had to make do with an Alpenkreuzer. This Dutch design was very innovative back in the day. It was a caravan which could be folded away into a compact trailer which you could hook up to the back of your car. I admit it was a lot less flash, but also a lot cheaper.
However flash and state of the art the 'eleMMent palazzo' is, I think it would be wise to adorn it with a sign that says: 'Don't be alarmed. This is not a UFO.' Just to put the other campers at ease when you drive onto the campsite.
Gallery
[boilerplate bytitle="text"]