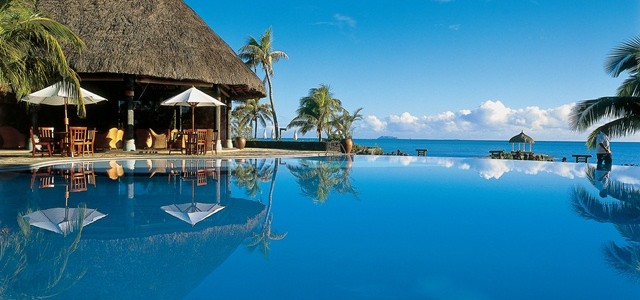 7 Nights in Mauritius for R9835
We're halfway through 2011 and you can be forgiven for feeling a little frazzled. Add to that the melancholies of midwinter in South Africa and it's only natural if you're longing for a letup from the usual routine. Travelstart's latest special comes at just the right time offering an incredible holiday package to Mauritius. Before I get into the nitty gritty of this special offer; a little about the relief that awaits you in this tropical jewel of the Indian Ocean.
Accommodation at the Paul & Virginie Hotel
Named after the legendary young couple immortalised in the novel Paul & Virginie by Bernardin de St Pierre, this Mauritius hotel is an invitation to a relaxing and romantic break from the usual routine. The décor of colonial inspiration sets the scene with a subtle combination of wood, stone and thatch roofs revealing a peaceful haven for couples seeking an unforgettable getaway to this island paradise.
The hotel is located in the fishing village of Grand Gaube on the North Coast of Mauritius and has direct access to an unspoiled beach 10km away from the relaxed hum of Grand Baie.
Paul & Virginie boasts 2 restaurants & bars. Cocktail lovers – ask your barman to make your personal poison with Green Island Rum (provided it's a rum based cocktail). Green Island is Mauritius' locally produced white rum and goes hand in hand with the views from the infinity pool at the Paul & Virginie Hotel.
Convinced? Book this Mauritius holiday package now.
Mauritius for South Africans
The Indian Ocean Islands are a great destination for South Africans. Mauritius is close enough to home that you won't be curled up in bed recovering from jet lag when you arrive enabling you to enjoy the full extent of your stay. Its charming French Creole culture also makes you feel far enough away that you'll return with new stories and feeling relaxed and rejuvenated.
Mauritius is another destination that South Africans don't need a Visa for making your travel to the island considerably less expensive and complicated.
Grand Baie
10km away from your hotel is Grand Baie. I've stayed in Grand Baie and it sums up those idyllic impressions of Mauritius you already have – white sandy beaches, turquoise sea, and boats moored in small bays. Besides the scenery there's a lot to do in Grand Baie – it's slightly more commercialized then what it once was so there's plenty of shopping and dining out (if you wish to stray from the hotels delectable buffet) by night. Hire a 'Mini Moke' and tour the island on your own or stay at the beach and enjoy a variety of watersports like sailing, diving and snorkeling. If you feel like a break from the sun then I've listed some 'must sees' below:
Pamplemousses Botanical Gardens
Île aux Cerfs Island
The capital – Port Louis
Chamarel Park – This is where those famous multi-coloured sands come from
The 'Red Roof' Church at Cap Malheureux provides great photo opportunities
Grand Baie is also home to the genuine Isla Mauritia Schooner ship. What can be more romantic than a sunset cruise along the coast being served and entertained by the Schooners able crew?
Honeymoon in Mauritius
Newlyweds and brides to be – this holiday package provides the perfect opportunity for you to fulfill your dream of a Mauritius honeymoon. The Paul & Virginie Hotel is the perfect setting to start your life together. Take advantage of this Travelstart special if you want to honeymoon in Mauritius in 2011.
Mauritius Holiday Package 2011
7 nights accommodation in a Superior Room at the Paul & Virginie Hotel & Spa Resort Mauritius
Return flights on Air Mauritius
Breakfast and Dinner daily
Airport Transfers
All this for only R9835 per person!
High Season
Only taking leave in the peak season? This fantastic Mauritius holiday package is also available for the low price of R10 687 per person for travel between 1st November and 22nd December 2011 if you book and pay in July 2011 (subject to availability).
Find out more about the conditions and book this cheap flight to Mauritus now.
Images from Paul & Virginie Hotel