As the current economic climate continues to hold its vice like grip on our bank accounts it's becoming increasingly important to save money and spend thriftily where possible. Travel budgets are no exception and newlyweds are looking to tighten up their honeymoon spending in favour of local destinations. While this may seem like sound logic, a South African honeymoon isn't necessarily cheaper than travelling to an overseas destination.
While Mauritius is over 3000km away from Johannesburg and even further from Cape Town, there are plenty of affordable honeymoon packages to the Indian Ocean Island that can be booked through reputable travel agents in South Africa. Below are some tips you should consider when booking your Mauritius honeymoon on a budget.
The All Inclusive Mauritius Honeymoon Package
A Mauritius honeymoon that's all inclusive can go a long way in taking the stress out of post nuptial holiday planning by planning itself.
Your best bet is to be on the lookout for all-inclusive Mauritius honeymoon packages that offer flights, airport transfers, accommodation, breakfast & dinner daily as well as value added services like a private dinner table and complimentary champagne. These packages are generally better value for money as the agents are able to get hold of 'special' airfares and better than usual accommodation rates. In addition to this, booking a holiday package saves you the cost and time of purchasing all the components of travel separately.

Be wary of: Travel companies that quote prices without taxes as you could get smacked with a whopping purchase price when you're ready to commit.
The Paul & Virginie Hotel & Spa in Mauritius is located on the island's idyllic northeast coast and is well equipped to accommodate honeymooning couples. Some of the value added services offered to the bride & groom by this Mauritius hotel include; fruit platters in room, special romantic dinners and boat trips.
The DIY Mauritian Honeymoon
The Do-It-Yourself Mauritius honeymoon is perfect if you're looking to engage your adventurous side. Look at what's on offer in terms of self-catering accommodation and be ready to book your own flights to Mauritius and other travel extras.
While the DIY honeymoon can be a fun option, the element of surprise will be harder to pull off as your 'paper trail' makes it harder to avoid disclosing your honeymoon plans to your spouse. As a general rule, the DIY honeymoon is probably better suited to couples that have made a mutual decision on Mauritius as a honeymoon destination while the honeymoon package will be easier to pull off if you want it to be an awesome surprise.
Remember it's your honeymoon and the chance to relax in the sun with life's little luxuries shouldn't be forfeited in favour of turning your honeymoon into an itinerary-less muddle.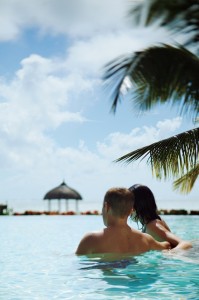 Mauritius Honeymoon Tips
Plan 6-8 months in advance. Mauritius is a popular holiday destination for honeymooning couples and holidaymakers
It's a Visa free destination for South Africans
Look for all inclusive Mauritius Honeymoon Packages
Check what's included in the package and what kind of value added services (preferably with a romantic twist) are offered
Some resorts will offer the bride a half price rate. Enquire about this when booking
If you're going at it on your own then find the cheapest flights to Mauritius from South Africa using a flight comparison website
Check whether or not your hotel has a honeymoon suite
Do thorough research and book online
Contact Travelbar for zero obligation advice on putting together a custom Mauritius honeymoon
Remember to: Have your marriage certificate on hand when booking your Mauritian honeymoon. Many hotels and resorts require your marriage certificate to be no more than 12 months old in order to qualify for the honeymoon package. It's worth keeping the certificate with you throughout your travels as many establishments will require it when checking in.
Low Season or High Season
Deciding on a honeymoon destination is one thing, but confirming a travel date can be even trickier. Thankfully Mauritius' pleasant subtropical climate makes it an all year round honeymoon destination.
Travelling in the low season has its advantages – flights & accommodation can be cheaper and your destination can be a whole lot less crowded. Of course there are disadvantages you leave yourself open to with travelling in the low season – many facilities are seasonal and will be closed in the low season.
Mauritius' off season is often named as such because your destination experiences bad weather at this time. The cyclone season runs from January until the end of February and coincides with the off peak holiday period when the island is frequently lashed by gale force winds and rain.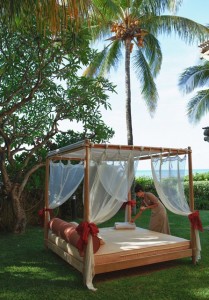 Honeymoon Accommodation in Mauritius
Honeymoon accommodation in Mauritius is plentiful with most hotels and resorts offering delightful packages for newlyweds. With so many options it can be overwhelming to choose the perfect venue so narrow your choices by asking yourself:
Where on the island would you like to stay?
While Mauritius is a small(ish) island, the landscape and commercial offerings differ as you travel between various sides. Obviously coastal locations are prime choice for newlyweds looking to start their lives in the sun, but even the coastal areas differ so where to base yourselves? Mauritius' North West is popular for its pristine beaches and tourist focused facilities. The southern parts of the island are a little wilder and lend themselves to adventure seeking 'just marrieds'. Surfing couples will love Tamarin Bay on Mauritius' south west coast where self-catering units are available.

Cheap Flights to Mauritius
Ah flights – for some the bane of our existence and for others part of the excitement of getting there. No matter which way you look at it they're a necessary evil and probably the single biggest cost getting in the way of you and your Mauritius honeymoon.
Contact Travelbar for quotes or check out our flight booking engine to find flights to Mauritius from South Africa.