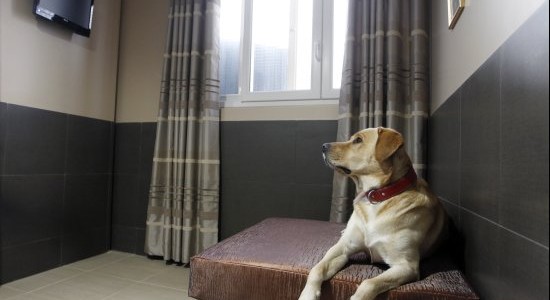 If you're a pet owner you most probably understand me when I say that the downside of going on holidays is having to leave your beloved pet in one of those depressing kennels. Walking away from that sad looking furry snout peeping through the bars of his way too tiny cage. It really breaks my heart every time I go on vacation.
Well, Devi and Stan Burun, a dog behaviour specialists and a lifelong dog-lovers, must have felt the same way. The duo has opened the world's first four star doggy hotel in Bois de Vincennes in Paris called Actuel Dogs where dogs are treated like humans rather than animals. It's not anything like the over the top dog hotels in Japan or the United States where dogs are getting manicures and perms, according to the couple. "Our priority is to meet the dogs' needs. People think we serve the dogs' food from silver platters but this is not pointless, extravagant luxury, " says Devi Burun. Nevertheless this hotel offers some facilities and amenities that I usually don't even enjoy on my own hotel stays. And although it doesn't come cheap (between 25 and 35 euro), it sounds well worth the investment.
The hotel boasts 4 single rooms and two suites which are all stylishly decorated, each come with a proper television set and DVD-player so the canine guests can watch their favourite TV show or movie. And it doesn't stop there. There is a wide range of activities on offer as well. The dogs can either kick back and enjoy a relaxing massage, have a soak in the heated pool or indulge in some chow of the à la carte menu. For the more active dogs there's a complete fitness program on offer. They can run on the treadmill in the doggy gym or go for supervised walks, jogs or bike runs outside. This sounds like true bliss to me and I'm almost wishing I were a dog. If only someone would open a similar hotel for dogs like Actuel Dogs here in London. Although, I could imagine that my furry friend wouldn't want to come home with me.