Though scientists may dispassionately explain the Northern Lights as sun particles hitting the earth's magnetic shields, those of us who've seen this ethereal natural phenomenon first-hand prefer romanticised Viking tales of Valkyrie warriors going to battle.
Either way, the magical blue and green lights that dance across the dark Arctic sky have seemed so out of reach for many, that they feature prominently on the bucket-lists of travellers the world over.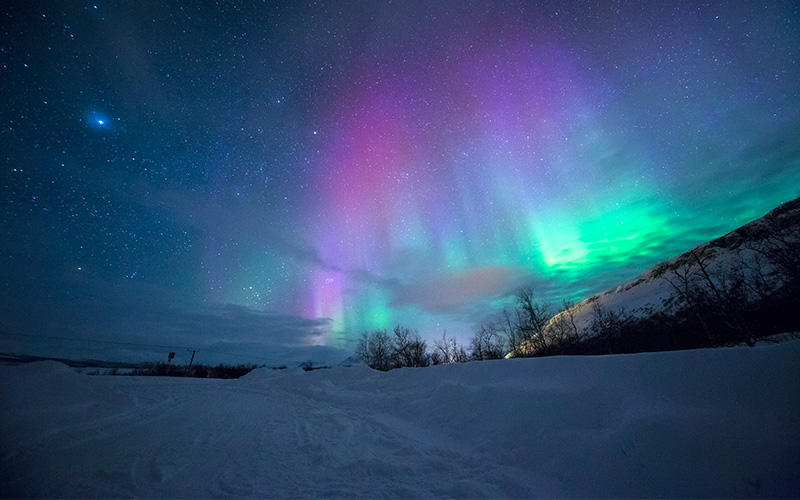 But no more. South Africans wanting a guaranteed sighting of the Northern Lights need to look no further than Hurtigruten, the global leaders in expedition travel, and available through Travelstart.
So confident is Hurtigruten that you will encounter the Northern Lights during one of their 12-day sailings along Norway's northern coastline, they'll throw in a six- to seven-night cruise free of charge if the lights fail to appear during peak Northern Lights season. That is their Northern Lights Promise.
All you need to do is zip up your backpack, lace up your hiking boots and choose your sailing date to embark on what has become 'the world's most beautiful voyage.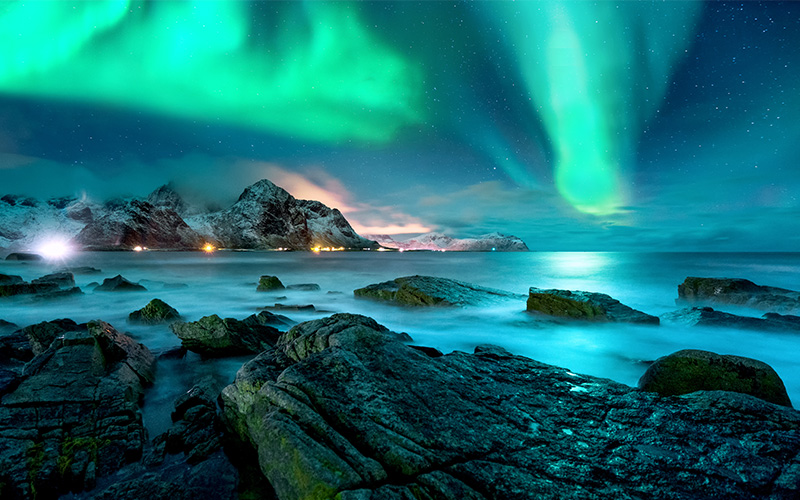 All you need to know about the Northern Lights
When to go, where to go, what to wear. These are probably all top-of-mind now that you've decided to satisfy your wanderlust.
While it may seem like you're travelling to the ends of the earth, your 12-day Hurtigruten expedition actually starts in Bergen, only 14-15 hours' flight away, via Amsterdam, Switzerland or Germany.
Here's a quick snapshot of what you'll need to know before you go:
• Best time to see Northern Lights
• Best location to see Northern Lights
• What to wear on your Northern Lights cruise
• Northern Lights excursions on land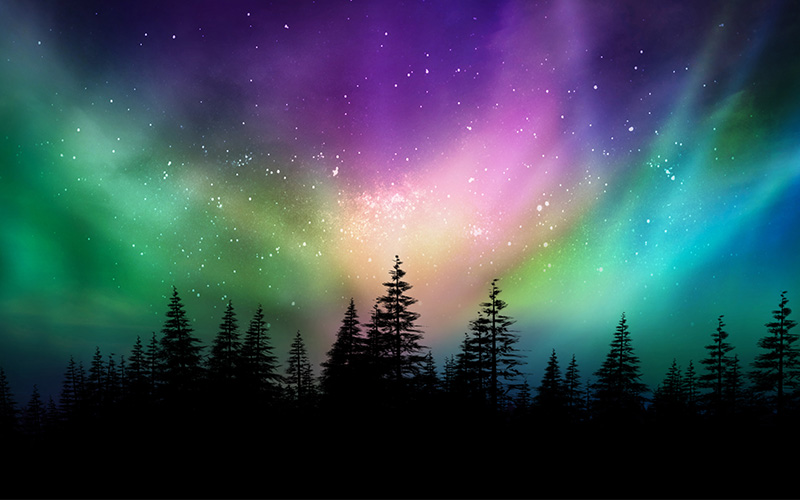 Best time to see the Northern Lights
The best time to see the Northern Lights is in winter, which starts in October and ends in March. You'll have more opportunities to see the Northern Lights between 21h00 and 01h00 when the Arctic sky is at its darkest.
Best location to see the Northern Lights
While the Northern Lights makes an appearance under the Auroral Oval, a 2,500km ring that sits above the magnetic North Pole, it is directly beneath it that the lights are at its brightest and best. Northern Scandinavia and, particularly the coasts of the Norwegian counties of Troms and Finnmark, are where its occurrence is greatest.
You won't miss a sighting on Hurtigruten. The ship makes onboard announcements, and the aurora appears directly above the ship. The lights are also more vivid because there's no ambient light at sea.
What to wear on your Northern Lights cruise
Layers, layers, layers. When visiting the Arctic you need to start with a wool layer, followed by another wool or fleece layer, then a thick woollen sweater, followed by a thermal jacket, which should be wind- and water-proof. Also, wear a warm hat and proper winter shoes.
That way, if you're out on the deck in sub-zero temperatures, you'll be warm, and when you venture back inside the ship, you can simply peel off the layers until you're comfortable.
If you're embarking on an excursion like snowmobiling or RIB boat safaris, you'll likely be given a thermal suit to keep warm. Hurtigruten also has this sound advice for travellers heading to Arctic climes.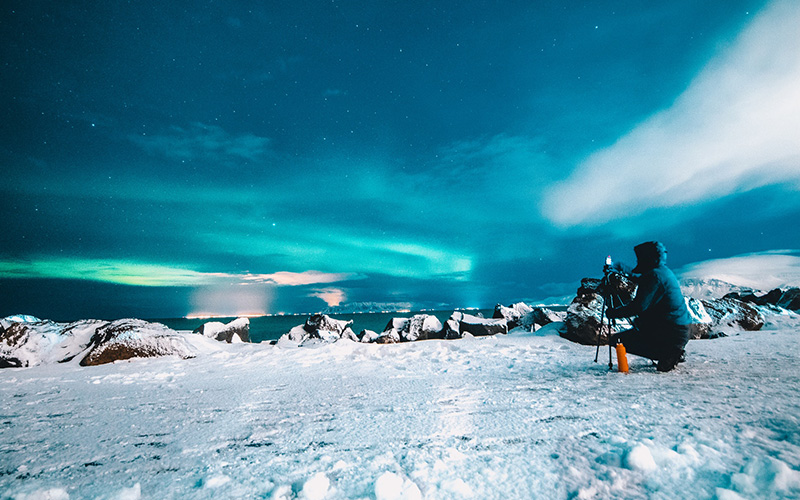 Northern Lights excursions on land
As the global leaders in exploration travel, Hurtigruten offers a diverse range of activities on land to suit every interest. From the more sedate traditional dinners with the descendants of Vikings and the Sámi people of the north to Midnight Concerts in the capital of the Arctic, King Crab fishing and RIB Safaris through fjords, you can be as adventurous or active as you wish.
Among our preferred excursions offered by Hurtigruten to see the Northern Lights are:
• A visit with the Sámi people near Tromsø, where you'll learn the art of ice fishing.
• A visit to the Snowhotel in Kirkenes, on the Russian border, for shots of Rudolf's Revenge at Norway's largest ice bar.
• Race through the frozen Arctic landscape on a snowmobile safari, followed by some local reindeer biltong and a hot drink enjoyed in a traditional Sámi lavvo (tent).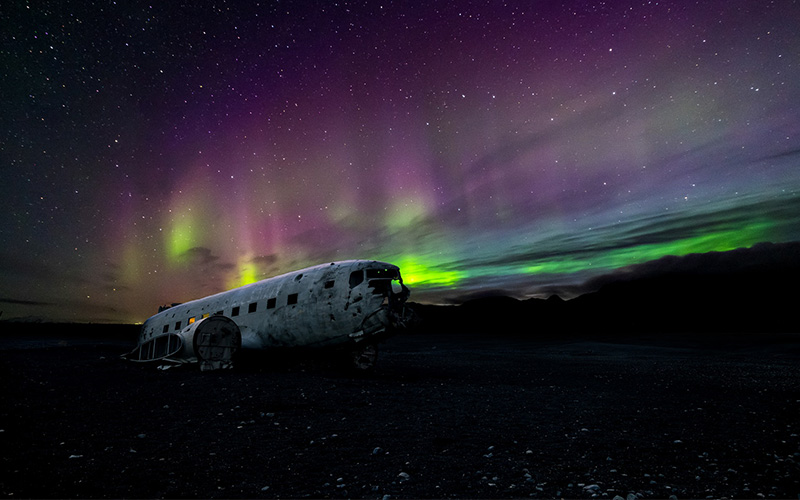 Ready to head north? Check out our Hurtigurten package for more info.
All you need to do is pack your camera, your sense of adventure and a pair of really good thermal gloves. God reise!
Visited the Northern lights before? Tell us about your experience in the comments below.