I'd never been to Mozambique.
Somehow my travels had me skirt around the narrow strip of land that hugs the South East coast of Africa with its popular Indian Ocean beaches, offshore parks protecting rare marine life such as the dugongs and where the game reserves are just a little wilder than others. In the north the Quirimbas Archipelago stretches across 250km of coral islands and the mangrove-covered Ibo Island holds the history of colonial-era ruins. An invitation to visit Northern Mozambique, the remote town of Pemba and idyllic Medjumbe Island, was therefore one I couldn't resist.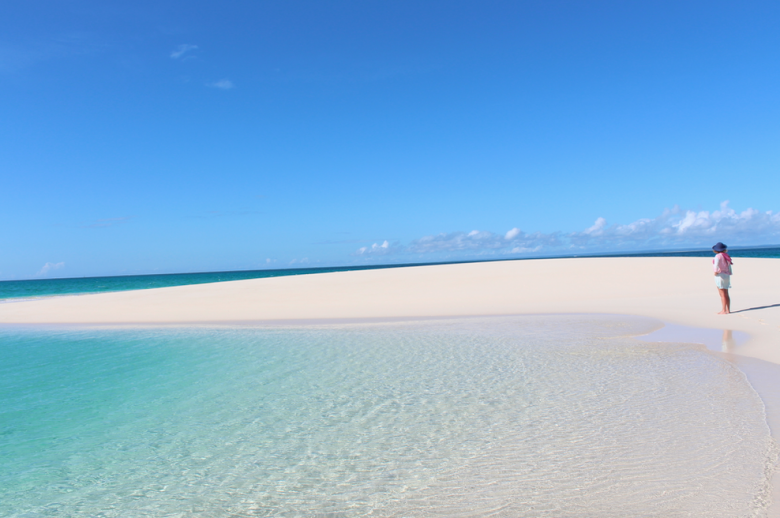 Once a Portuguese colony, Mozambique gained independence in 1975, but it was not to be plain sailing and their devastating Civil War broke out in 1977, only ending in 1992 with the country's first multi-party elections in 1994. This history has meant a slow revival for the more remote parts of the country, although island destinations and coastal hotspots have always drawn the more intrepid traveller seeking a rustic and simple breakaway.
My trip had me arriving in Pemba where there is an exotic mix of Portuguese colonialism and a slow rebirth of a new era. Here it tastes and smells of coastal Africa and offers a seductive glimpse into an unknown culture. Staying at Pemba Beach Hotel & Spa from which we could explore Pemba from the ground before taking a light aircraft transfer to Anantara Medjumbe Island Resort with it's unspoilt nature.
The AVANI Pemba Beach Hotel & Spa brings together a mix of African and Arabian architectural design, oceanfront lawns, a collection of large swimming pools with a spacious Spa and jacuzzi overlooking the sea. Best known as a business hotel, their apartment and luxury suites, tall palm trees and ambience rich Clube Naval restaurant appeal much to tourist, as do the charming staff.
Pemba itself is an ancient port town and wonderful to explore by car or on foot. The one day we took to the streets just after 7am for a 14km walk through the open air market, music blaring from trader's stalls and the chatter of an unfamiliar language on the air. Kids were playing football, fishermen bringing in their catch, bikes zoomed past and billy goats owned their turf. There was a mad humid heat about, but nothing that couldn't be fixed with a local Manica beer and well worth it! On another day, a drive into the centre to look to the primary sites, monuments, lighthouse, food and clothing markets and ending with a long leisurely lunch of a traditional lobster braai and local beer on the beach. Two glorious resident dogs for company.
From Pemba we transferred by light aircraft transfer to Anantara Medjumbe Island Resort, which is found on a strip of land that emerges from the deep shades of ocean blue.
Idyllically located on a tiny private island in the jewel-like Quirimbas Archipelago off the northern coast of Mozambique, Anantara Medjumbe Island Resort offers an exclusive paradise escape. Powdery white sands, a pristine beach, large reception area, dining room and loft lounge surrounded by wooden decks. Tastes of island life with local cuisine and freshly caught seafood enjoyed next to waters or just sip on a cocktail and watch the birds at play.
It's speaks in the language of beach luxury cliches.
The 12 villas along the shoreline each have a private deck with plunge pool and outdoor shower. Newly refurbished in an easy style with natural wood, high beams and surrounding ocean views with the perfect touch of contemporary African design. In each room a yoga mat, kettle bells, weights and skipping rope as well as a beach bag with sarong and flip flops, all adding to the ease of your stay. As does the much valued air-con, TV, wifi and mod-cons, which bring a balance between your escape to nature and the world we live in.
The Quirimbas Archipelago is the perfect place for water sports, from snorkelling the underwater world to water skiing and wake-boarding. Walk the island, take to the communal pool or your private decks, swim in the warm waters. You can also take out a kayak or stand up paddle board or book scuba diving at the sports centre. Highly recommend is a 15 minute boat journey to the 400x600m Quissanga Island where you can spend the day on this tiny island, enjoying lunch and time in the water in complete privacy. Do not surpass the opportunity to take to the Anantara Spa for a beautifying touch for some Me Time.
The resort is staffed entirely by men, except for the Manager Anne-Christine Procope and the most gracious and talented Spa therapists. Do take a treatment. Azure blues, white sand, dhow sails catching the wind. I don't think I've ever seen a place of such untouched beauty.
From there, despite every wish to slow down time, the return was upon us with a flight to Pemba and an easy transfer back to Johannesburg and home.
A very hard place to leave as much of me felt I'd had a glimpse of the world, still exactly as the gods intended …
Useful Information when planning your trip to Northern Mozambique.
Airlink offer direct flight from Johannesburg to Pemba.
South Africans do not require a visa to visit.
Airport transfers are easily arranged with the hotel of your stay. If in Pemba its an easy road transfer and if you're lucky enough to be making your way to Medjumbe Island, they will arrange your air transfers. These are pricey, but then a ticket to heaven, would be.
Don't be worried about walking the streets of Pemba, they are safe, friendly and welcoming. Not to mention vibrant and bursting with everyday life. I encourage it.
Ask before you take photographs, a rule that should apply wherever you find yourself. Although here many of the people I met wanted to pose for me.
The Mozambican Metical is the currency of Mozambique. South African Rand is also accepted but the exchange rate may be tricky and you would do well to download the www.xe.com app to help you as you go. Visa and Mastercard is accepted at the hotel, but hardly anywhere else. Cash works best and I'd recommend you draw some at the airport.
About 70% of the population in the northern part of Mozambique are Muslim, the rest are mostly Catholics, influenced by the early day Portuguese. While in the south the stats are reversed. But right here a strong Arabic influence is felt.
Don't miss the opportunity to spend a night in Pemba.
You'll want to shop at the Pemba market for brightly printed capulanas, hand-crafted Makonde wood carvings and hand-made silver jewellery for which the area is known. Be prepared to bargain, it is expected.
Regarding keeping in touch, I picked up a local simcard from a group of enthusiastic kids who bombarded me on my arrival at the airport. I took a chance and bought a card and 1 Gig of data for R200 and the hotel helped me load it as all instructions are in Portuguese. If you do this, ask your driver to help and make sure you get the right size Simcard. That said, the accommodations offer free WiFi and you will most likely be able to get by with just that.
It's hot and humid and sultry and there is salt on the air. Pack accordingly.
To add a negative, be prepared for the litter on some of the beaches in and around Pemba. I was saddened to see it but on conversing with the management at the hotel, learnt of their struggle. Each day they pick up the litter that washes up along the shoreline, yet sadly there is nowhere in the area to properly process it. If anybody has an altruist idea and wants to head to Northern Mozambique to help, you would certainly be contributing greatly to this local environment.
I travelled by invitation of Theresa Gibbon PR and was generously hosted by the resorts throughout. I'm most grateful.
The Beauty of Northern Mozambique.
How to Get There – Airlink is a Regional Feeder Airline offering a wide network of regional and domestic flights within Southern Africa and operates as a franchisee to SAA. They offer direct scheduled flights between Johannesburg and Pemba which can be conveniently linked with SAA, their Partner airlines and other carriers. You can even clock up air miles as you go, as Airlink is a member of SAA Loyalty programme Voyager.
Find cheap Airlink flights here.