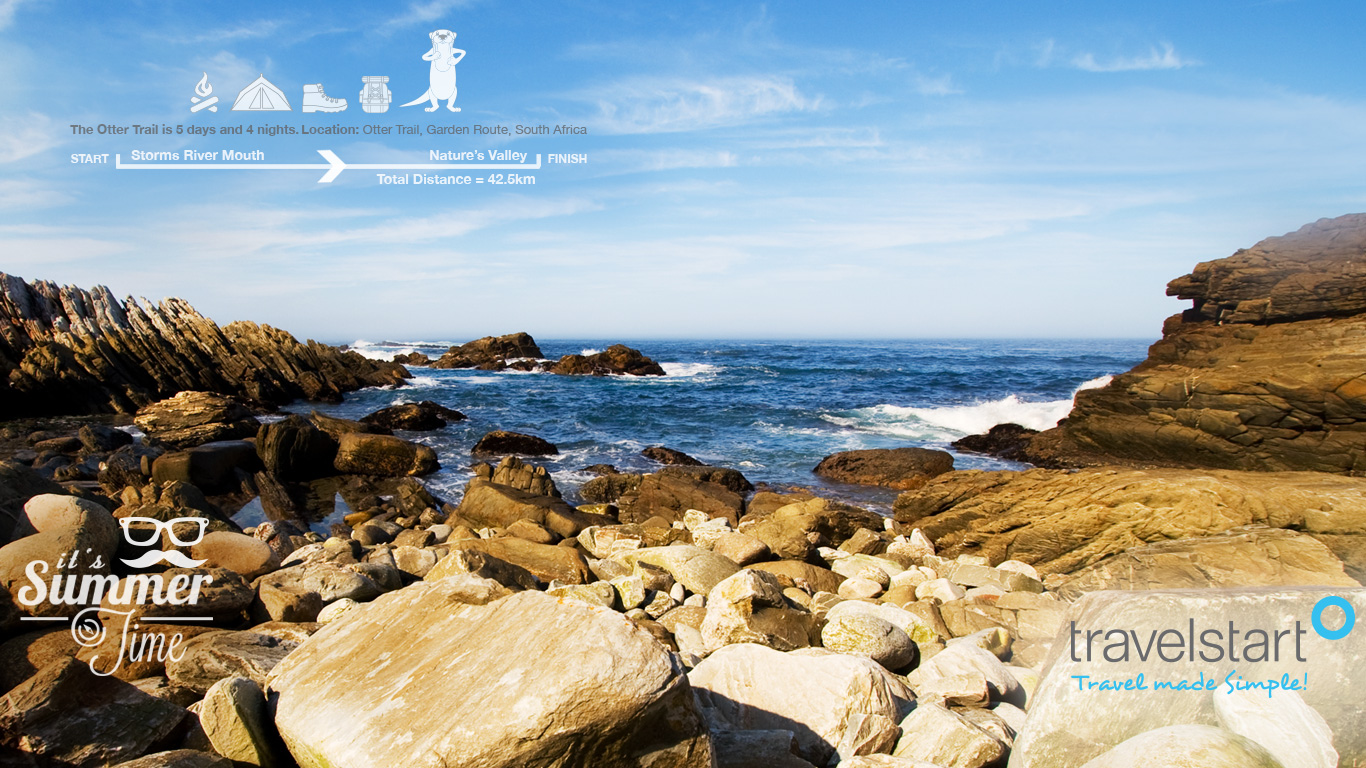 November's free wall paper calendar features the Otter Trail. Capped by Storms River Mouth on one end and Nature's Valley on the other, the Otter Trail is South Africa's favourite beachcombing walk. A 41km hike spread over 5 days (4 nights); the Otter Trail is widely regarded as one of the finest trails in the world. As such, it is best to book well in advance if you're looking to experience a beach trek like no other.
"The Otter Trail traverses an extremely scenic landscape, never straying far from the shoreline, but often climbing steeply and then descending to the beach or a river crossing. Vegetation along the way is either fynbos, dense gallery forest or open, rocky sections near the sea with an abundance of wildflowers." – Source: Wikipedia.
It's best to do the Otter Trail in the summer months (December – March) and you'll need to be reasonably fit as you'll be swimming across rivers and carrying your own gear.
How to book
Otter Trail bookings open 11 months in advance and there are only 12 spots available at a time. Tariff information, bookings and maps are available on the SANParks official website.
For Otter Trail bookings and enquires contact: +27 (0) 12 426 5111 or email BridgetB@sanparks.org.
Getting there
For most South Africans the Otter Trail is best reached by self-drive, but for those further away George Airport and Port Elizabeth Airport are the closest airports serving the Tsitsikamma National Park region.
For more information on what to pack and route details see this excellent Otter Trail post from Drive South Africa.
Free Wallpaper Downloads
Desktop Computers
1366 X 768 – DOWNLOAD (with calendar)
1366 X 768 – DOWNLOAD (without calendar)
1980 X 1080 – DOWNLOAD (with calendar)
1980 X 1080 – DOWNLOAD (without calendar)
Laptops
1440 X 900 – DOWNLOAD (with calendar)
1440 X 900 – DOWNLOAD (without calendar)
Tablet Computers
960 X 800 – DOWNLOAD
Phones
320 X 480 (for iPhone 3/Small Android) – DOWNLOAD
640 X 960 (for iPhone 4/Regular Android) – DOWNLOAD
Facebook Cover Photo
851 X 315 – DOWNLOAD