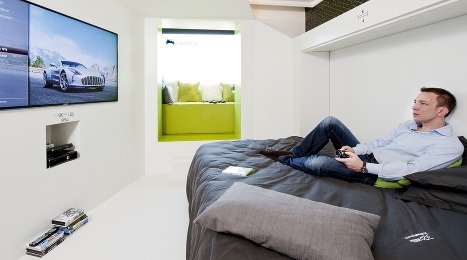 Don't you sometimes wish you could take a peek into the future? Well here's your chance. Novotel and Microsoft have teamed up and created the room of the future, the hotel room of the future. It's located in the centre of Paris and is chock full of futuristic gadgets, interactive games and cutting edge design.
The room which is called Room 3120 is located at Novotel Paris Vaugirard Montparnasse and costs €199 per night. The suite has two rooms. One is meant for adults and has a fold away bed, the other can accommodate two kids on tatami mats. Each room is equipped with an Xbox 360 and Kinect. There is a Surface table made of interactive glass and can be used for a wide variety of things. You can play games, surf the net and play with interactive maps which is great if you to sort out what you want to see in Paris. Where other rooms have a balcony, Room 3120 boasts a green balloon like structure that can be seen from the outside. It's meant to be a 'high-tech area and comforting cocoon'.
My favourite feature of this supersonic room must be the interactive mirror. At first glance it looks like a normal mirror, but it is so much more.  With a simple hand gesture you can activate it and it will tell you what the weather is like outside, fill you in with the latest news or let you access other multimedia content.  I was hoping it would also be able to let you know if my bum looks too big in that outfit purchased at Galaries Lafayette, but unfortunately it doesn't do that. Too bad. What it does do, is let you book a table in the restaurant downstairs which will only make my bum look even bigger.
I for one wouldn't be tempted to stay in this room 2031, but I think it would be great to go on a shopping trip to Paris with a boyfriend or husband. And leave him there, minus the credit card of course.
Room 3120 at the Novotel Vaugirard Montparnasse is on trial and can be booked till February 14th 2012.  If it proves to be a success it might stick around.
[boilerplate bytitle="text"]