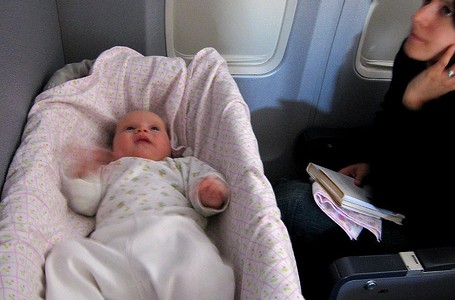 A new nanny service site called 'Nanny in the Clouds' recently launched in the US. Nothing new about that, you might think, but this is not your usual nanny service site. As the name already suggests, this nanny site offers childcare during domestic flights in the US. a sky nanny if you want.
The way it works is quite simple. If you're a parent who frequently goes on holidays with children, you register on 'Nanny in the Clouds'. Then if you have an upcoming flight, you enter the details and you can instantly see whether there's a nanny registered for the same flight.  If there isn't, you will be alerted when one does. It works the same way if you're a nanny. Registration is free, but if there's a match, nanny and parent each pay a $10 matching fee. And of course parents pay the nanny the agreed hourly rate.
It's a win-win situation; for the parents it's less of a hassle to carry child and accompanying luggage on board and nannies can earn an extra buck.
Gulf Air recently launched a similar program. Parents with kids flying on a Gulf Air flight can request a Gulf Air Sky Nanny. It works the same way as 'Nanny in the Clouds', but the difference is that you're guaranteed a nanny on your flight.
Let's see if other airlines will follow the example of Gulf Air and 'Nanny in the Clouds'. It would mean that going on holidays with children. Not to mention more quiet for the child free traveller sitting behind, in front or next to them.