Crown the day of lovers in one of the best places to visit in Switzerland – The Dolder Grand Hotel.
This luxurious hotel that resembles that of a fairytale castle, has been inundated with awards. Conde Nast Traveler has awarded The Dolder Grand the 18th spot, out of 50 of the best hotels in the world. They have also received awards such as the Best City Hotel, second place for the Best Hotel in Switzerland, and one of the 10 best hotels in all of Europe.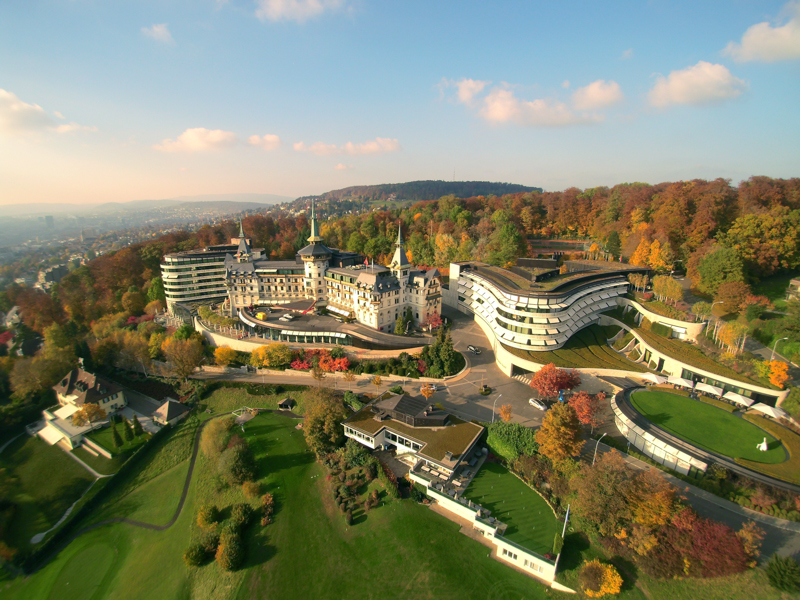 They are also members of the Leading Hotels of the World and been famed by the Swiss Deluxe Hotels organization as being one of the best places to visit in Switzerland. 
This five-star city-based resort rests high above Zürich city on the Adlisberg hill, making it a unique location for unwinding amidst privileged views of Zürich and the Alps. Depending on where you position yourself throughout the hotel, you can enjoy the invigorating nature, such as panoramic views of Zürich lake and the forest.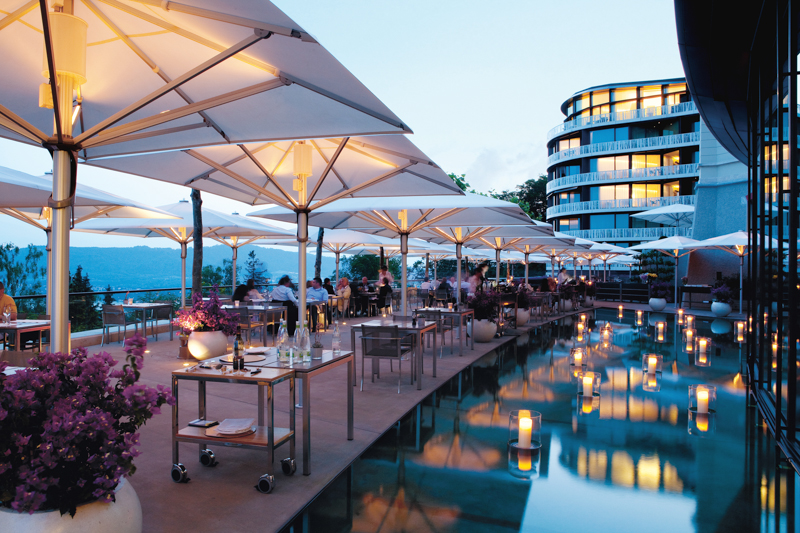 The Dolder Hotel has been welcoming guests for over 100 years. It has enjoyed a long-standing history as being a meeting place for the royal and political, as well as film celebrities.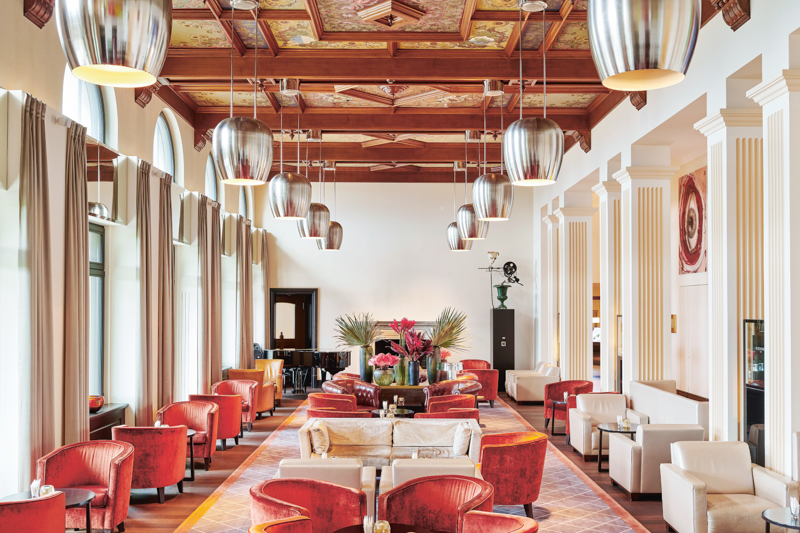 In war times, guests such as Winston Churchill and Thomas Mann graced the Dolder Grand Hotel. And in recent times, high profile people such as Nelson Mandela, Liz Taylor, Michael Jackson, Luciano Pavarotti, Prince Philip, and Mikhail Gorbachev have also all gravitated here.
And just like them, you can expect to receive world-class service filled with celebrity treatment. 
This sought-after experience could quite possibly be attributed to the commitment and dedication of the hotel's 407+ staff members that come from 51 countries. This cultural infusion adds a unique personality and touch to the hotel.
With this increased number of staff members, you can only begin to comprehend the size of this property of 40,000 square metres.
The Dolder Grand was originally built in 1899 and has undergone extensive renovations to turn it into the haven it is today. Architecturally speaking, it retains its historic charm, yet boasts a magnitude of modernism. 
You can also expect to find a large pool that boasts otherworldly panoramic views, as well as an incomparable spa, two award-winning restaurants as well as fitness facilities. 
Worried about how you can foot the bill? The hotel now accepts Bitcoin! It is one of the first hotels in Switzerland to have opened up this payment gateway. 
Rooms with a view
Not only is the Dolder Grand filled to capacity with an abundance of facilities, but it also boasts 173 rooms and suites.
These are broken down into four room styles, each offering varying degrees of luxury. You can expect to find junior suites, single and double rooms, suites and residences. With this kind of selection available, you are spoilt for choice.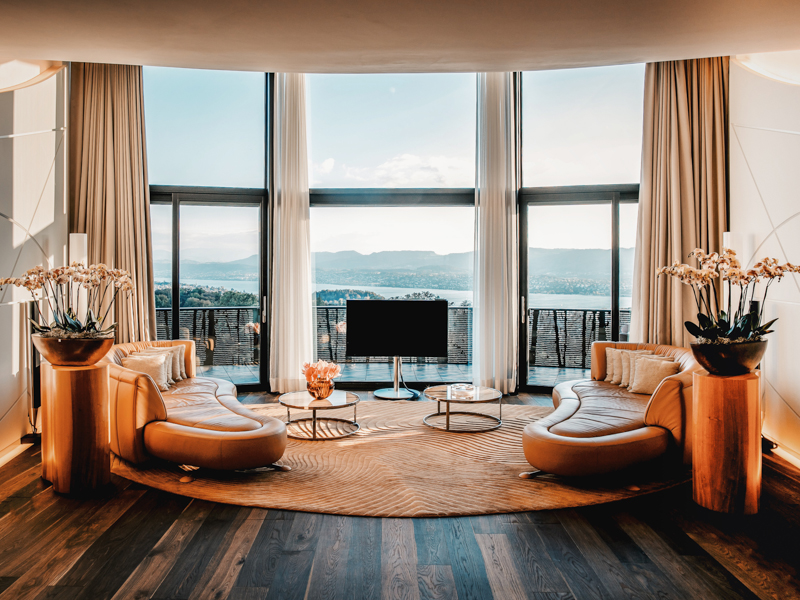 Junior suites
Spoil yourself with plentiful space. The junior suites offer you a generous feeling of space alongside a choice of modern or classic ambience. The bathroom is luxurious and comes with a whirlpool bath and an impressive view.  
Single and double rooms
The single and the double rooms boast a dark oak parquet and offer a generous amount of space. Depending on which one you opt for, the panoramic natural views are breathtaking.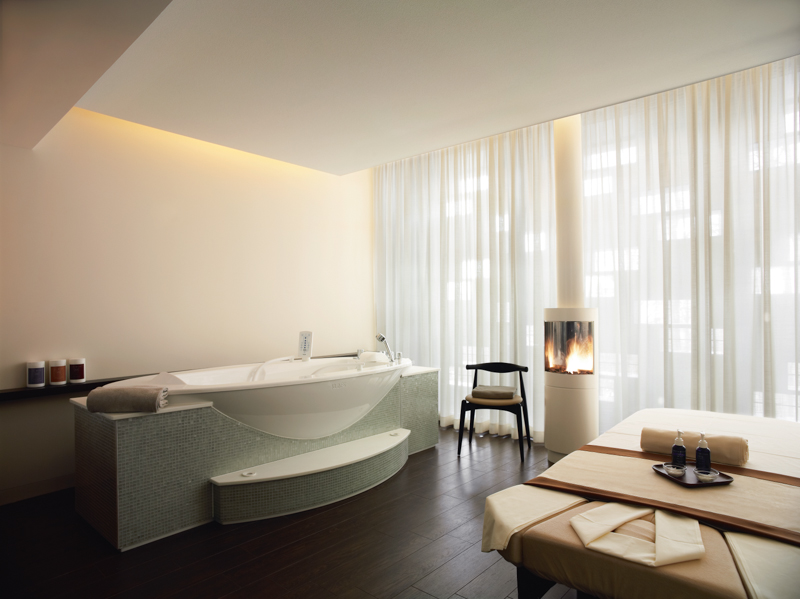 Suites
The suites are situated in the main building and offer a sense of classic, yet contemporary elegance.
There are four artistically inspired suites that you can choose from, each offering you plenty of space. You can choose between classic or rock 'n' roll to sculptural elegance and cinecittà. All suites even spoil you with an "on-call" butler service. Talk about luxury!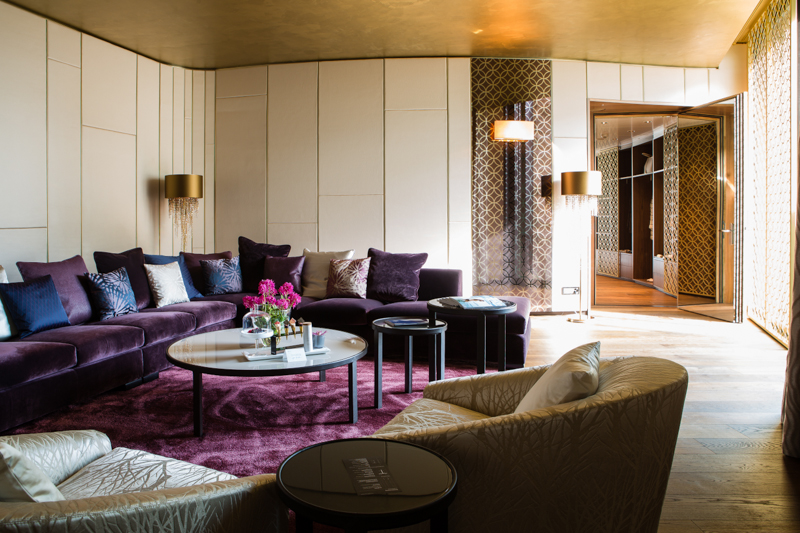 The Residence
Now, this is something to write home about. Even if you're just popping in for a peek, the residence suites are one of the best places to visit in Switzerland.
They are geared for long stays, offering you a home away from home kind of vibe. They allow you to live and work within this incredible wellness oasis and offer you an incredible degree of privacy, including a private entrance.
The Terrazza Suite in the Dolder Grand is 390 square metres and boasts 3 bedrooms, where a glass elevator transports you between the floors. Each room comes with its own ensuite bathroom, each with a shower and a separate bathtub. The master bedroom comes with an additional whirlpool bath as well as a sauna.
There is even a large dining and living room, an office as well as a separate kitchen. And if you feel like you are in more need of a spoil, then make use of your very own butler.
If your holiday budget has no limit, you can begin this residence experience well before you have left home. Arrange to be picked up from your home city airport and flown here on the hotel's own private jet. You can expect a personalized experience giving you more time to enjoy your journey in complete relaxation.
Wellness facilities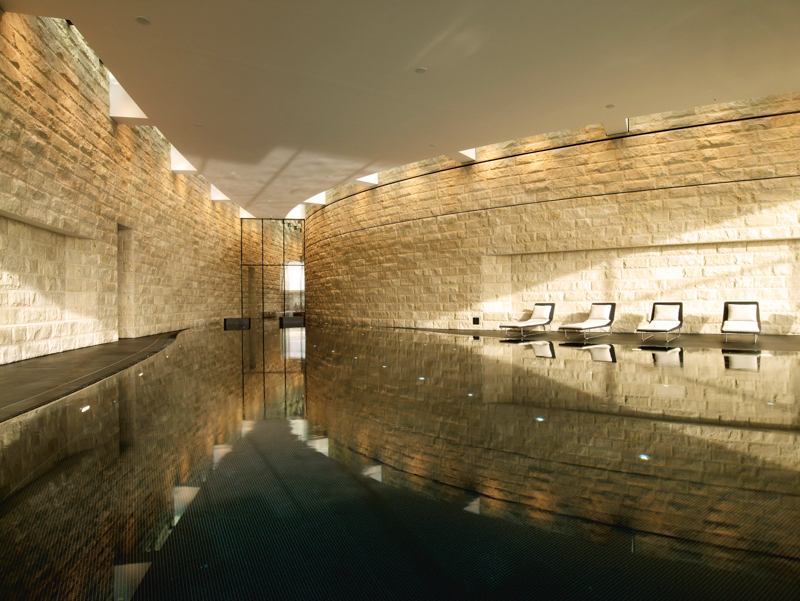 Restore your inner balance and mental well-being at the Dolder Grand Spa. One of the most relaxing places to visit in Switzerland, it truly is something special. 
Not only has it been awarded the "Best Spa in Switzerland" title, but it has also received awards as being the spa that flaunts the best interior design. It is also one of the biggest spa complexes in the country. 
Whatever your interest, you definitely won't be bored here. It houses a swimming pool, whirlpool terrace, steam bath, sanitarium, mixed sauna area, spa library, spa shop as well as spa suites. It even has separate treatment, fitness, and meditation rooms.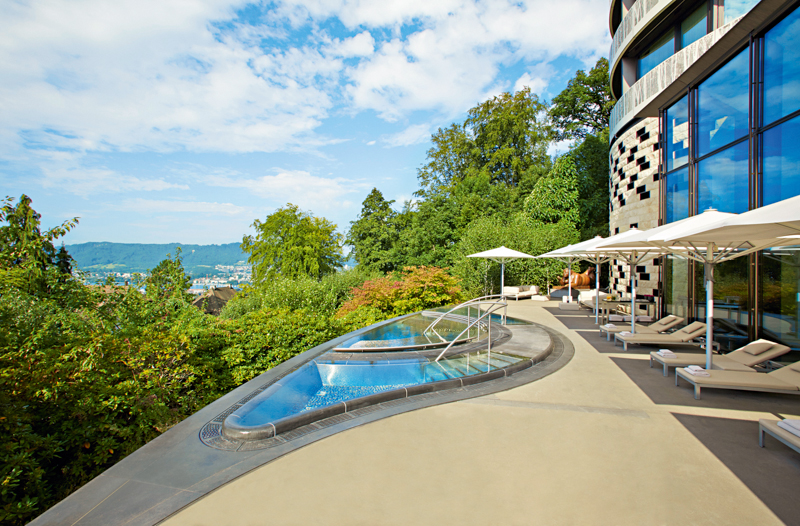 And if that is not enough, facials, massages and body rituals await, leaving you with the rejuvenating feeling of being pampered. They even offer tailor-made wellbeing experiences that cater uniquely to your own personal needs.  
Gastronomic and culinary experiences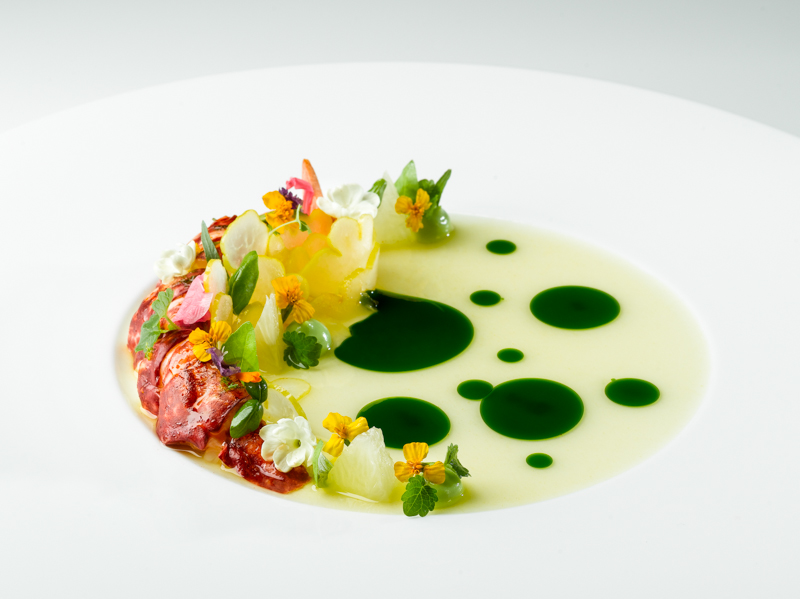 Indulge in innovative gourmet dishes at the Dolder Grand's in-house Saltz Restaurant. For fine dining, it is one of the best places to visit in Switzerland.
Here, you are sure to have an incredible mouth-watering culinary experience. On the stove is Heiko Nieder, a renowned chef who has received multiple awards including the "Rising Star of the Year" award given by Gault Milau. 
More so, the restaurant has welcomed many other awards and ratings, including 19 Gault Millau points and two Michelin stars. 
There is no surprise as to why. Within this stylish atmosphere, you can enjoy a 10-course gourmet meal, that sees Nieder spoiling you with his latest creations. These defy classic tastes, offering a spectrum of flavours that knows no boundaries. 
The Dolder Grand Hotel also organizes its own gourmet festival called the "Days of Culinary Masterpieces". It sees world-renowned guest chefs from Switzerland as well as abroad, come together to celebrate the great art of gastronomic seduction. 
Ready to start planning your trip to Zürich and experience one of the best places to visit in Switzerland? 
Book your flights to Zürich and treat yourself to a luxurious stay at the Dolder Grand Hotel.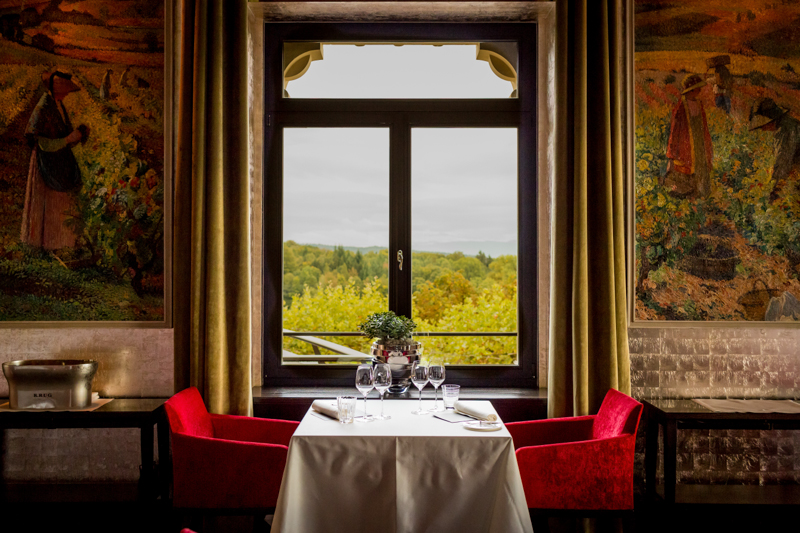 Have you visited Switzerland before? Share your favourite hotel with us in the comments below.
Also Read:
---
All information on this blog page was correct at the time of publishing and may change at any time without prior notice. Travelstart will not be held liable for loss or inconvenience resulting from the use of out-dated or incorrectly noted information.