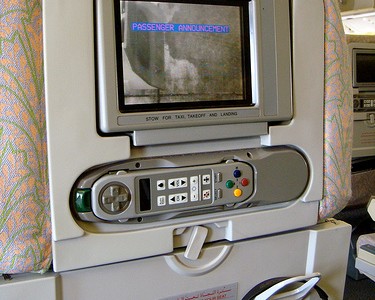 Temperatures have been rising on board Qantas flights and not because they're dealing with faulty air conditioners. The Australian national carrier is showing a racy documentary called The Female Orgasm Explained that was first run on an Australian TV network on its international flights till November 2011.
Mr Enright, a spokesperson for Qantas, said the film was chosen to be shown on board its flights to help viewers 'understand the intricacies of the female orgasm'. I guess they thought there was a great lack of knowledge in that department among Qantas passengers. I'm not entirely sure what facts and figures they based that on, but perhaps Qantas customer relations received an increase of complaints from female Mile High club members? Who knows? However the documentary has proven to be the most popular viewed programme of the IFE selection on Qantas flights since it was first shown.
Critics claim that it's not the right environment to be showing these types of shows as kids could be watching this as well. Indeed the French documentary contains very explicit shots taken from actual pornographic movies. Ooh la la. However Mr Enright says that 'a programme synopsis is provided in the in-flight entertainment guide and the channel carries a warning that some of the content is not suitable for children.' Also flight attendants can block the programme altogether for kids travelling as unaccompanied minors. Although cheeky minors might try to sneak a peek on their neighbour's screen.
One thing is sure, girls. When a man chats you up, make sure he's a Qantas frequent flyer member! He might have learned a thing or two.