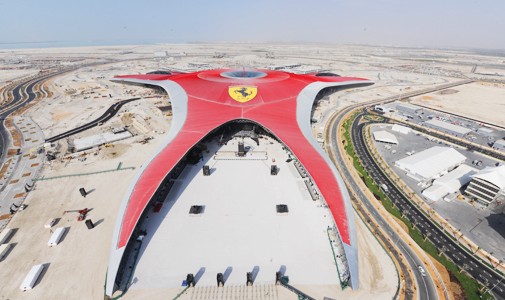 Etihad Airways is fast becoming an airline of choice for South African travellers, flying with them means you're going to change over in Dubai's neighbour, Abu Dhabi. South Africans have always just carried on to their destinations with little thought of what the United Arab Emirates' capital city has to offer, let alone stop over there for a few nights. Here are 5 reasons why I think stopping in Abu Dhabi is worth it:
A heaven for motor sport fans
With the first Grand Prix happening in Abu Dhabi in 2009, the city rapidly became known for it's motor sport. The track is a stones throw from the airport and at it's northern tip lies the incredible, the world's largest indoor theme park, Ferrari World! With something for the entire family you can experience everything from the history of Ferrari and a miniature Italian village to a huge list of rides for kids and adrenaline junkies alike.
The biggest and best buildings
Abu Dhabi is famous for other large and expensive buildings too, including the second most expensive hotel in the world by building costs – the Emirates Palace Hotel cost R23billion to construct! It is also home to the Sheikh Zayed Mosque, one of the largest and most expensive in the world. This brilliant white building with 18 carat gold accents has a capacity of 40,000 people, and is home to the world's largest carpet and the world's largest chandelier.
Abu Dhabi is rich in culture & history
AbuDhabi is often outshone by Dubai's glitz, but one thing it lauds over it's show-off neighbour is a much richer cultural element. You'll see this more traditional element at sites like the 18th century Qasr al-Hosn fort and the Al Bateen shipyard where traditional wooden ship-making techniques are still in use. Visit is the Heritage Village on the city's waterside corniche to experience some of the traditional Arab culture.
Abu Dhabi is great for the outdoors
Being an island city, Abu Dhabi has an extensive coastline, much of it covered by the city's corniche, a 6 km long pedestrian boulevard on the water's edge filled with parks to relax in. But the Emirate (state) of Abu Dhabi is full of excellent desert resorts and oases like Al Ain, making it possible to experience a more natural and authentic Arabian holiday.
Great news is that currently (and often) Etihad run deals where you can stay free at one of these desert resorts if you purchase a business class ticket, like the current 2 night's free at the Qasr Al Sarab Desert Resort. Enquire with our Travelbar consultants about Etihad business class.
Dubai Abu Dhabi Travel Guide: An exclusive travel guide for Dubai & Abu Dhabi, provides tourism oriented information for Dubai city and as well as for Abu Dhabi. Explore Dubai Abu Dhabi.