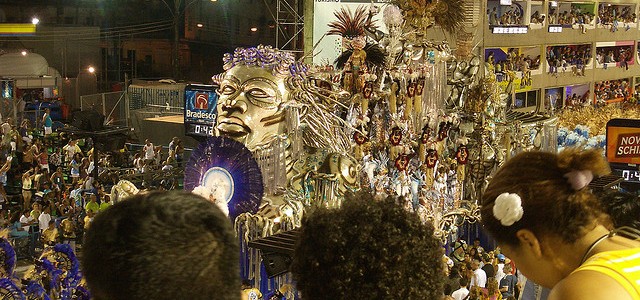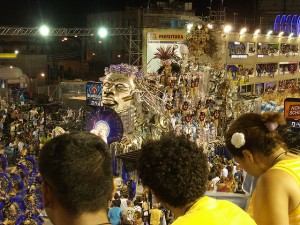 The Rio Carnival is not for the faint-hearted. Although Carnaval (as it's known in Portuguese) is celebrated all around Brazil, the focus is in Rio de Janeiro where thousands of people flock to this vibrant city for four days of Samba, Parades and pure, unadulterated fun.
If you've already booked your tickets to the 2011 Rio Carnival then you're in for a once-in-a-lifetime experience.  Rio Carnival is a huge tourist attraction and over 500 000 tourists are expected at this year's festivities.
Rio is a city that has it all and this is exemplified during Carnival. When you're not sipping Caipirinhas on one of Rio's beautiful beaches (think Ipanema) then there's ample opportunity to indulge in everything else this cosmopolitan city has to offer – inspiring architecture, lush rainforests, plenty of shopping and of course the amazing nightlife.
Visit the Rio Carnival Sambadrome in 2011
Let's not forget while you're going to Rio in the first place. The Rio Carnival is something else and anything I write here won't do it justice… you really have to experience it to believe it.
The Sambadrome at the Rio Carnival is the eye of the storm. Originally a long road, event organisers have now built seating for over 30 000 people on each side of the road. This grandstand of sorts stretches into the sky and if you have the right Rio Carnival tickets, you'll be well-positioned to witness the madness from above. The Sambadrome is the epicentre and provides awesome photo opportunities for your Rio Carnival experience.
Stand in awe of the Samba dancers as they parade down the street. Imagine the sight of thousands of dancers following colossal floats – it truly is like nothing you've seen before. The vibe is positively electric and all this goes on until the late hours of the morning!
2011 Rio Carnival Dates
Rio is a Visa free destination for South Africans and the 2011 Rio Carnival starts on Saturday, March 5th and ends on Fat Tuesday, March 8th.
Did you know? The Rio Carnival is considered an act of farewell to the pleasures of the flesh. After Carnival one must abstain from all bodily pleasures until after Easter.
Picture courtesy: Jacktwo on Flickr
[boilerplate bytitle="text"]