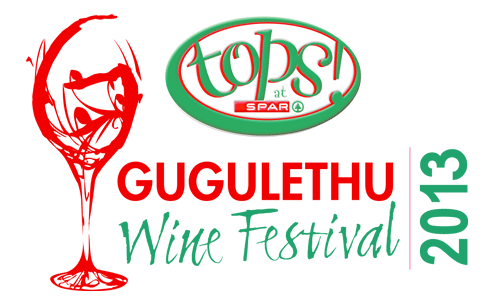 Start spreading the news and plan for a wine-divine weekend of wine tasting, music, food and wine-education at the 3rd annual TOPS at SPAR GUGULETHU WINE FESTIVAL taking place on Friday 24th May and Saturday 25th May 2013 on the rooftop of the Gugulethu Square Mall.
Festival co-founders and local entrepreneurs, Mzoli Ngcawuzele from Mzoli's place and Lungile Mbalo are promising visitors a divine wine festival whilst also celebrating Africa Day, which falls on Saturday 25th May 2013.
Says Mzoli Ngcawuzele, Co-founder of the festival and owner of Mzoli's Place in Gugulethu, "We look forward to this festival and invite all our Cape Town suburbs to come and learn something about our heritage wines and each other. This festival is beautiful, safe and an amazing experience. It is truly a mixture of colours and cultures all with something in common pulling us together. It is our love of wine and it's amazing ability to make us see what is important in life."
TOPS at SPAR, the festival headline sponsor and Friday VIP Lounge sponsor, have a great belief in this festival and audiences. Says Mark Robinson, TOPS Group Liquor Manager, "TOPS at SPAR is proud to headline the TOPS at SPAR GUGULETHU WINE FESTIVAL. Our motivation in business is broad enough to include the aspirations and needs of others; therefore a home-grown festival like this that encourages sustainable entrepreneurship is close to home at TOPS at SPAR. We are really looking forward to meeting our customers and friends at the festival too."
Lucindi Branfield, SA Brand Manager for J.C. Le Roux says "The glamorous J.C. Le Roux lounge is the ultimate spot for fashionistas to live Le Good Life at the TOPS at SPAR GUGULETHU WINE FESTIVAL. Visitors can choose from a stunning selection of Cap Classique and sparkling wines, from everybody's favourite, Le Domaine, to the prestige cuvée, Scintilla. There will be prizes to be won and nougat tastings on offer, as well as the opportunity to have your picture taken at the J.C. Le Roux stand. Cellar Master Elunda Basson will be available to chat to J.C. Le Roux fans who would like to know more about how wines at South Africa's leading home of sparkling wine are made" 
MasterChef South Africa Judge, Pete Goffe-Wood will be appearing alongside Nederburg winemaker, Wilhelm Pienaar, at this year's TOPS at SPAR GUGULETHU WINE FESTIVAL. They will present the winery's now famous Nederburg Taste Theatre, a fascinating journey of flavours.
Their joint appearance comes just a few weeks before the June 11 start to the second season of MasterChef South Africa that once again stars Goffe-Wood in a judging role, together with his colleagues Benny Masekwameng and Andrew Atkinson.
Guests, accommodated on a first-come, first-served basis in the Taste Theatre within the festival venue, will be encouraged to interact with the presenters, ask questions, express their opinions and share their own experiences of wine and food pairing favourites and fiascos.
The presentations will be staged at 17:30, 18:30 and 19:30 on the Friday, and at 16:30, 18:00 and 19:30 on the Saturday.
The TOPS at SPAR GUGULETHU WINE FESTIVAL objective is to create wine awareness and wine education amongst the broader consumer markets in the Western Cape whilst also expanding the wine consumer base for wineries, and for these wineries to meet and greet their present and future consumers. 
Festival Info
Venue: Rooftop @ the Gugulethu Square Mall, Corner NY 1 and NY 6, Gugulethu, Cape Town
Date: Friday 24 and Saturday 25 May 2013
Time: 4pm-9pm (Fri); 3pm-9pm (Sat)
Cost: R90 per person per night
Tickets from: www.webtickets.co.za or at the door on the night.
E-mail: info@gugulethuwinefestival.co.za