Cape Town, 16 July 2014 – It was recently bought to our attention that a Pretoria based company calling themselves 'Zambesi Toere' is fraudulently masquerading as a partner of Travelstart South Africa; using, without our knowledge, the recognizable Travelstart logo which appeared with their advert in Die Burger (pictured above) and Beeld newspapers.
Customers please note that Travelstart.co.za is in no way affiliated to Zambesi Toere. A case of fraud has been opened with the South African Police Service, and SAPS and Travelstart Risk Analysts are currently investigating the perpetrators.
Zambesi Toere Scam
An online search reveals a dormant 'Zambesi Toere' website domain; the only evidence of their existence is a host of Hello Peter complaints dating from August 2013.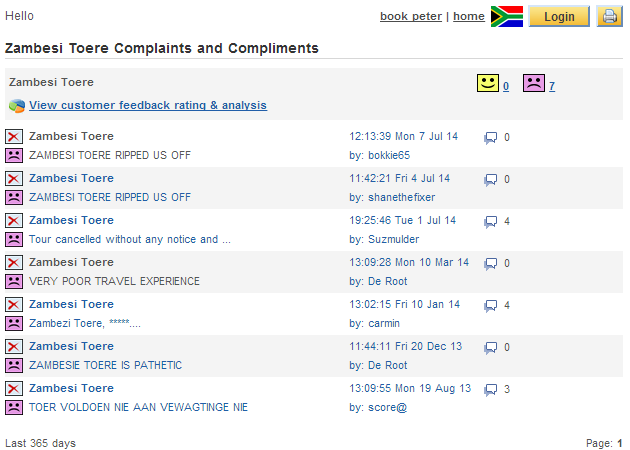 In addition to the Hello Peter complaints, we found two articles recently published on Beeld's website which further expose the Zambesi Toere con:
To open a case of fraud against Zambesi Toere please contact Sinoville Police Detective Branch on 012 543 0800. Cases are for the attention of Captain Barends and Sergeant Pelser; they are the Pretoria-based officers currently investigating the case.
Should you have any concerns regarding the 'Zambesi Toere' travel scam please contact Rodney Davids at Travelstart on rodney@travelstart.com or call him on 021 468 4398.